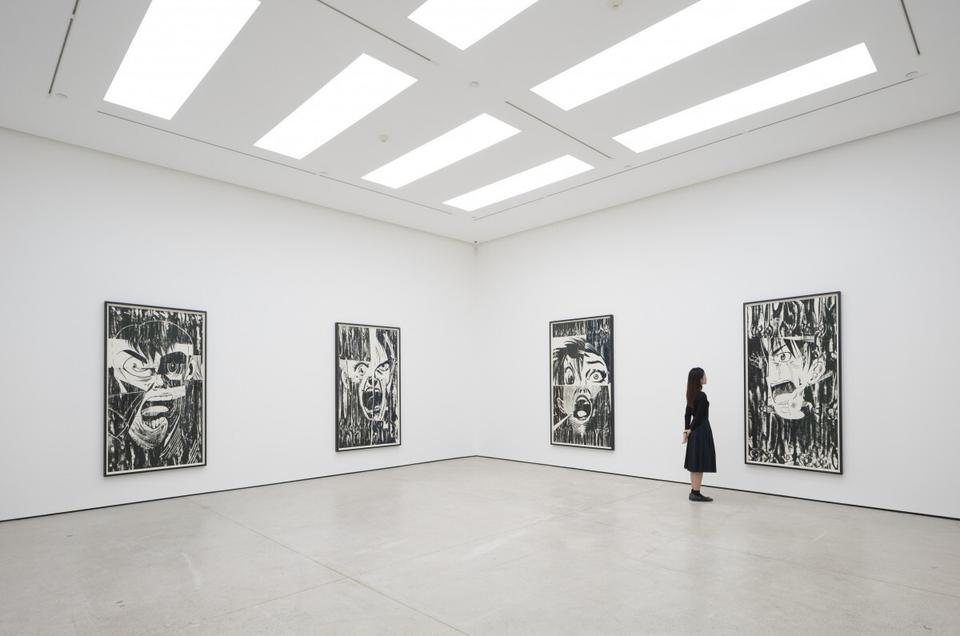 16 November 2017 – 13 January 2018
Dates
16 November 2017 – 13 January 2018
Location
50 Connaught Road Central
Hong Kong
This exhibition, his first in Hong Kong, included a series of unique, large-scale woodcut prints that explore the physical and cultural intersection of sound and vision, reflecting the artist's ongoing interest in the sonic perception of still images.
This series of expressive prints are created through a combination of collage, digital technology and traditional printmaking techniques. Fragments of screaming faces are cut out of Manga books and other comics and collaged into new, composite faces that take on a haunting, mask-like quality. These emotionally charged hybrid cartoon characters, often crying or sweating, emit a silent yet explosive energy with multiple narrative potential.
A starting point for this body of work was Norwegian painter Edvard Munch's lithograph print The Scream (1895), one of the most enduring and recognisable artworks of modernity. Like Munch's iconic image, which depicts a shrieking figure, Marclay's characters express an existential trauma that is seen but not heard.
Combining digital and traditional techniques, the prints originate from small-scale collages that have been scanned, enlarged and carved into plywood or OSB boards (Oriented Strand Board, made from wood chips) using a CNC machine (a computer controlled carving machine). The woodcuts are then printed using an etching press, incorporating the woodgrain pattern into the composition by carefully considering the unique texture and grain of each board before allocating them to a specific image. Knots appear like eyes, or growth rings like rippling sound waves which then morph into a chin, nose or ear, interfering with the carved design. In this way, Marclay creates an intriguing visual interplay of push-and-pull tension where image and texture, foreground and background, become compressed into one visual field.
'A lot of my work is about how an image is expressive of sound, how sound is expressed visually' Marclay has said. As with his well-known onomatopoeic works, these new prints reflect this concern. Making a correlation between visual scale and its sonic dimension, they suggest a notion of amplification, creating what curator Tom Morton has identified as 'mental collage' through the projection of a 'silenced' cacophony of aural and visual effect. And, like the Body Mix series (1991−92) which collages vinyl covers into 'exquisite corpse' or the early work Chorus (1988), where isolated mouths taken from found photographs are hung together like a singing ensemble, they create deliberate visual ruptures. Rooted in a sampling aesthetic fundamental to the artist's practice – from his early musical performances using vinyl records to more recent works in video, photography and printmaking – they use fragments from the ephemera of popular culture to arrive at new forms and meanings through re-contextualisation.