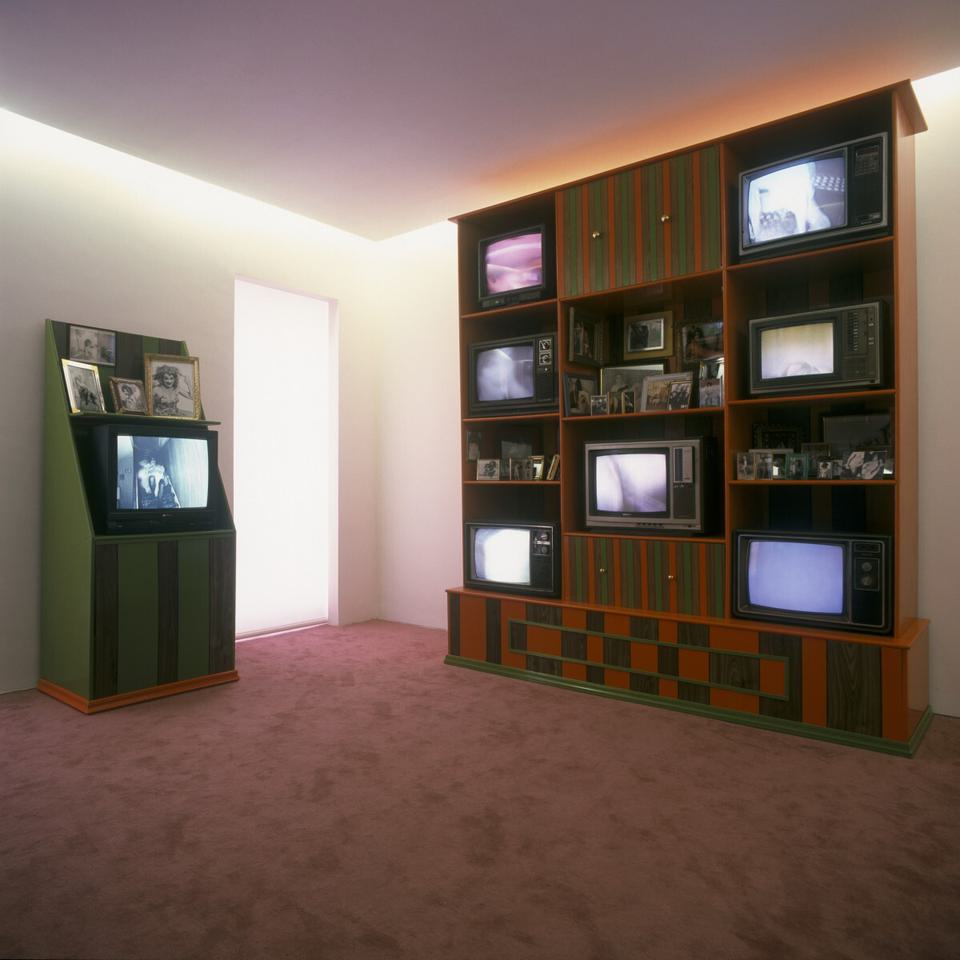 6 July – 2 September 2000
Dates
6 July – 2 September 2000
Robert Melee makes installations, films and photographs that feature an array of androgynous, eccentric characters, often depicted in bizarre scenarios. Melee frequently uses his mother as a subject, whom he portrays using an objective aesthetic that veers between the abject and the tragic-comic, a technique which exposes the darker side of suburban life, and dysfunctional filial relationships.
For this exhibition, Melee designed a set of three wood-veneered units that mimic the kind of generic built-in cabinets or 'entertainment centres' one might find in the living room of any average American home. But inside these domesticated frames, Melee creates an atmosphere that is at once pathetic and uncomfortable, a combination of fantasy and morbid beauty. Set within each unit are shrine-like arrangements of photos in cheap gilt frames, or old family TV sets simultaneously showing different short films that feature characters involved in a sequence of strange events. Shot using a Super 8 camera, the films employ a combination of auteur-style film techniques, such as blurred close-ups and montage editing, as well as the hand-held shots more common to video art or home movies. In 'Mommy Exercising', Melee's mother is shown doing exercises, wearing nothing except a grotesque mask on her face—familial relationships are turned into drag fantasy. The artist is dispassionate about his childhood memories, distancing the autobiographical subject matter through the use of a fictional scenario and the formal device of masquerade.

In a similar vein to the work in the show, Melee also makes painting and sculpture that plays with motifs of suburban life, such as shag-pile carpets, curtains, mobiles and garden furniture. Similarly, other paintings, although they reference the abstract surfaces of Modernist and Op Art—some are made from bottle tops embedded in plaster and coloured by layer upon layer of vibrant enamel paint—still celebrate a sense of low-brow, hand-made domesticity.