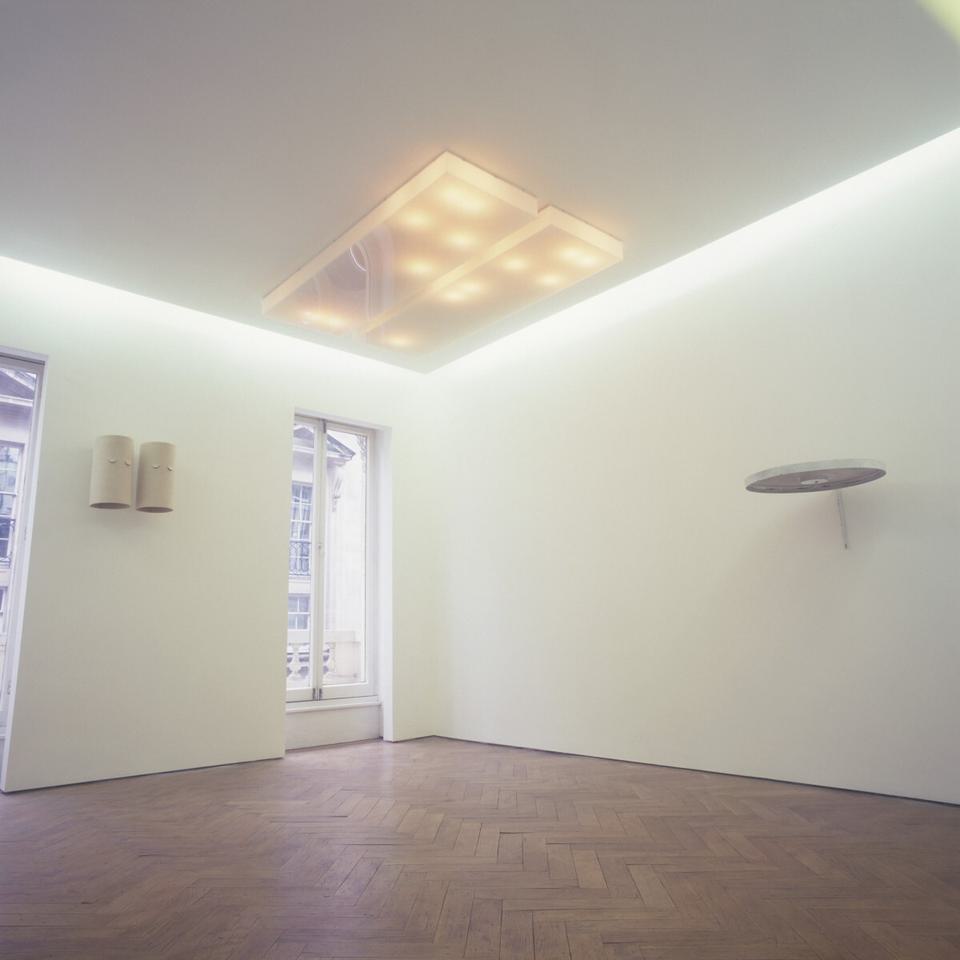 Miroslaw Balka's installation, Quit was made up of several distinct but interrelated elements. A steel cable wound with hair spanned the gallery and extended into the adjoining space, and two ceiling-mounted, oblong lamps—whose dimensions corresponded to some of those of the artist's own body—emitted a soft, milky light. Another sculpture, consisting of an inclined stool placed on the gallery floor, a shelf and a glass, and on a wall in the second space there hung two felt hoods made from felt, heavy with sorrow.
Balka works intuitively, arranging his elements to orchestrate certain relationships between them, and establishing an intense psychological mood of melancholy and loss. The starting point for all of the artist's work is his own experience: his childhood, his Catholic upbringing, and his memories of growing up in Otwock, a small village outside Warsaw. The works give tangible form to deeply-felt and intimate experiences, and their impact and resonance seem to elude language. Balka employs the materials that have formed his personal landscape, the everyday things he grew up with, as well as those that he now finds around him now in his studio: terrazzo, steel, wood, soap and ash.

The space the artist used as his first studio (near his parent's home) became available following the death of a neighbour he had known. Over seven years, Balka gradually transposed the contents and spirit of the house's modest, memory-laden interior into his art, developing sculptures from old planks, bits of wallpaper and linoleum, as well as a variety of objects, which had been left in the house. His special feeling for his surroundings is akin to that of Kurt Schwitters for his 'Merzbau', the domestic 'environment' the artist spent thirteen years creating inside his house in Hanover, between 1923 and 1936.
Balka extracts meaning from the layers of lives inherent in a given interior. Not even the smallest or the most humble material escapes his touch. These everyday materials are painstakingly assembled and treated with infinite care; they become almost ritualised, imbued with the soiled sanctity of relics. The artist's sculptures have a strong formal syntax of minimal shapes, made in wood and steel that often suggest the forms, which accompany the body, such as the bed, the coffin and the funeral slab. Whilst autobiography is the main source for his practice, the work also continually asserts history's inscription on his landscape.