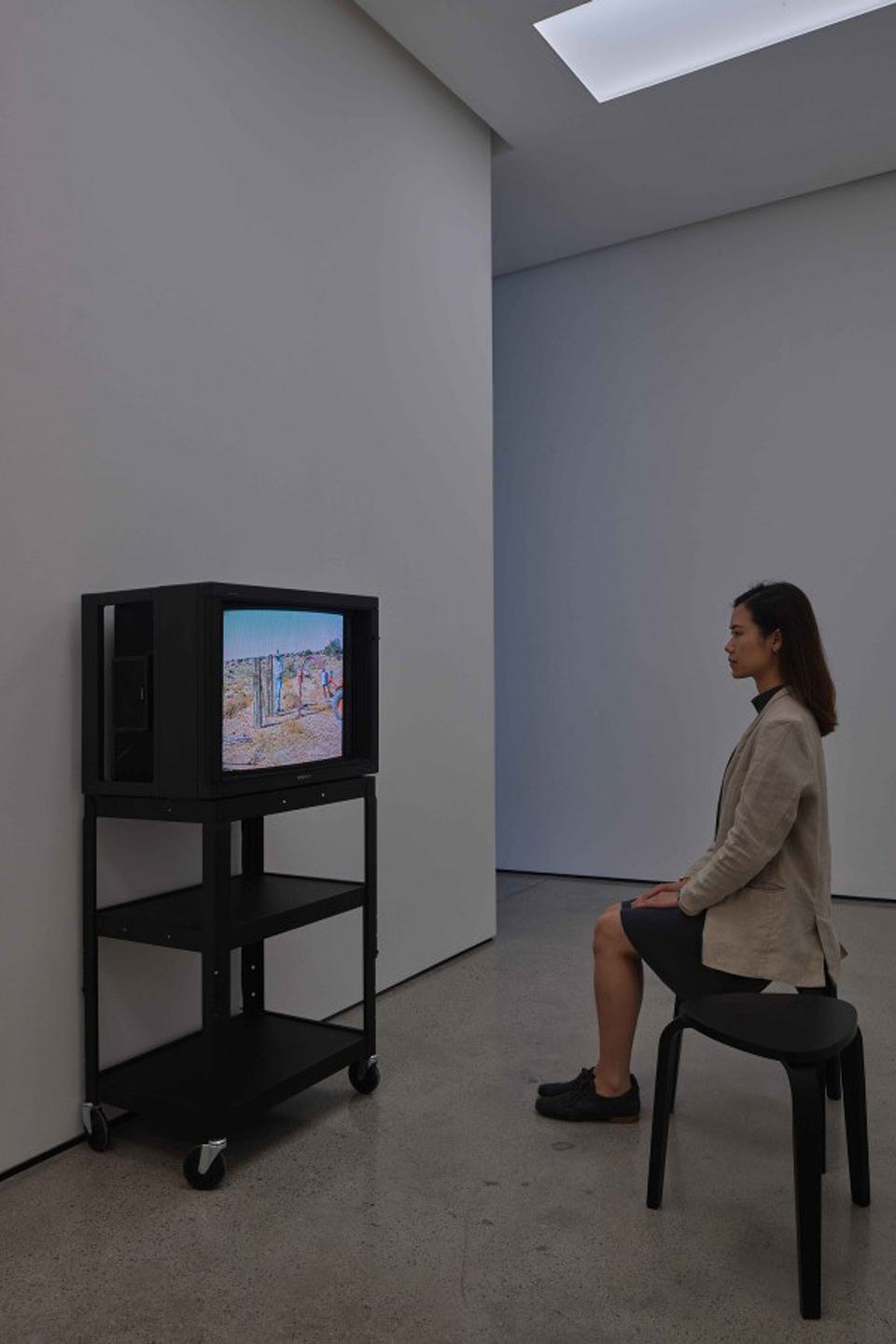 Dates
10 March – 8 May 2021
Location
50 Connaught Road Central
Hong Kong
Widely regarded as one of the world's most influential contemporary artists, this is the first exhibition of Bruce Nauman's work in Hong Kong.

'Presence/Absence' features two single-channel works, from 1999 and 2001, along with three dual-screen projections made in 2013, that foreground the artist's experimental approach, both in front of and behind the camera. Shot at his ranch in New Mexico, in his studio or the surrounding landscape, they are explorations of mind and matter. Employing elements of performance, labour, language, illusion and duration, the works investigate cognitive and social spheres.
Nauman has said that '[...] what makes the work interesting is if you choose the right questions. Then, as you proceed, the answers are what's interesting.' With an economy of means, and the length of the work often determined by the duration of the medium or of a given task, they are modelled on the artist's self-confessed desire 'to find the most efficient way to get what I want'.
Setting a Good Corner (Allegory & Metaphor) (1999), filmed on his ranch in Galisteo with a stationary camera, shows the artist building a wooden corner on which to stretch a fence and hang a gate. A job he identifies as having a 'real purpose', it involves digging holes, securing foundations, planting posts and setting tension wires. These tasks are steadily and methodically completed with only brief interruptions – from painter Susan Rothenberg, Nauman's wife, and their dogs.
While the film highlights the artist's commitment to ranch life, it also addresses, as its title suggests, wider concerns symbolic of Nauman's dual persona as constructor of both a fence and an artwork, as well as his longstanding practice of recording himself performing self-assigned tasks. Accompanied by ambient sounds – the wind, machinery at work, and snippets of conversation – the action unfolds slowly and purposefully. The durational limits of a video tape provide the form: filmed in real time, it runs for 59 minutes and 18 seconds, the standard length of a video cassette. 'You began when the job started; and when the job was over, the film was over', Nauman has stated.
By contrast, Sound for Mapping the Studio Model (The Video) (2001) was filmed inside Nauman's studio, created from footage originally used for the artist's celebrated Mapping the Studio (Fat Chance John Cage), (2001). Using the hours of recordings capturing chance occurrences in his night-time studio, the sequences were chosen for their audio content, so that the ensuing soundtrack, set on high volume, is as important as the image. Approximately one hour in length and shown on repeat, it features footage from seven different vantage points, filmed on a Sony Hi8 video camera with infrared capability. The sound of coyotes, horses, trains and rain can be heard outside the studio space, while inside, doors bang and a cat, mice and insects intermittently come into view. Experienced together, they attest to artist and composer John Cage's conviction that the world is continually composing chance symphonies.
Nauman has frequently used his own body as an exploratory tool – an expressive instrument that can expose the charged space between idea and action. Hands in particular recur throughout his work, their movements becoming vectors for communication or thought. In the two corner projections, Thumb Start and 4th Finger Start (both 2013), Nauman revisits the parallax effect which he explored in a number of room-scale corridor works in the early 1970s. An illusion occurring when objects are viewed from two different lines of sight, here Nauman uses his own hands to perform call and response routines with combinations of digits pointing towards one another, from thumb to fourth finger and in reverse order. Both videos present two views of gesturing hands: from the outside in the left-hand image, and from the inside in the right-hand image, the latter mirroring the artist's own viewpoint. Seen against a white background, the hands and fingers are superimposed, creating an illusion of detached fingers floating in the space between.
A similar effect occurs in Bullet Illusion/Pencil Illusion (2013), a work in which two projections (looped) feature Nauman's hands holding a pair of bullets and a pair of pencils, point to point in mid-air. Projected side by side, the images create a palpable sense of tension as the objects almost touch but never quite, wavering just slightly from the effort of being held aloft. Playing asynchronously, the dual projections form an illusion of doubled hands and of a third, double-ended object suspended between bullets and pencils. Characteristically, Nauman from time to time breaks the theatrical suspension by making matter of fact comments; double checking how the image looks with his longstanding technical collaborator, or if indeed filming has started.
Thumb Start, 4th Finger Start and Bullet Illusion/Pencil Illusion all offer a sense of physical and perceptual disembodiment, a gap between voice and hand, mind and body that echoes Nauman's early studio films and videos. In these works, repeated physical actions take on new meanings over time, as the artist exerts himself to perform them to the best of his ability. They reflect Nauman's drive to test perception and understanding, a process the artist has described as 'thinking through something until there's nothing left'.
Biography
Bruce Nauman was born in 1941 in Fort Wayne, Indiana and lives and works in New Mexico. He has exhibited widely including solo exhibitions at Los Angeles County Museum of Art, touring to the Whitney Museum of American Art, New York (1972–74); Kunsthalle Basel and  Whitechapel Art Gallery, London (1986–87); Institute of Contemporary Arts, London (1991); Walker Art Center, Minneapolis, touring to Museo Nacional Centro de Arte Reina Sofia, Madrid and The Museum of Modern Art, New York (1993–95); Kunstmuseum Wolfsburg, touring to Centre Pompidou, Paris, Hayward Gallery, London and Nykytaiteen Museo, Helsinki (1997–99); Dia Art Foundation, New York (2002); Deutsche Guggenheim, Berlin (2003); Tate Modern's Turbine Hall commission, London (2004); Berkeley Art Museum and Pacific Film Archive, California, touring to Castello di Rivoli, Italy, and The Menil Collection, Houston, TX (2007–08); Hamburger Bahnhof, Berlin (2010); Institute of Contemporary Arts, London (2012); Fondation Cartier, Paris (2015); Schaulager, Basel, touring to The Museum of Modern Art and MoMA PS1, both New York (2018–19). In October 2020 Tate Modern, London opened a survey exhibition which will tour to the Stedelijk Museum, Amsterdam and Pirelli HangarBicocca, Milan. An exhibition at Punta della Dogana, Venice is scheduled to open in Spring 2021.
Among numerous awards, Nauman won the Golden Lion at the Venice Biennale (1999) and the Golden Lion for Best National Participation for his exhibition in the US pavilion at the 53rd Venice Biennale (2009). Additional prizes include the Max Beckmann Prize (1990); the Wolf Prize in Arts (1993); the Wexner Prize (1994); and the Japan Art Association's Praemium Imperiale Award for sculpture (2004). He was made a Member of the American Academy of Arts and Letters, New York (2000) and has received honorary doctorates from the San Francisco Art Institute, California (1989) and California Institute of the Arts, Valencia (2000).
This exhibition is presented in collaboration with Sperone Westwater, New York.
A fully illustrated catalogue, with an essay by Joan Simon, is published to coincide with the exhibition.
Bruce Nauman Bullet Illusion/Pencil Illusion, 2013 Courtesy of the artist, Sperone Westwater, New York and White Cube. © Bruce Nauman / Artists Rights Society (ARS), New York and DACS, London 2020.