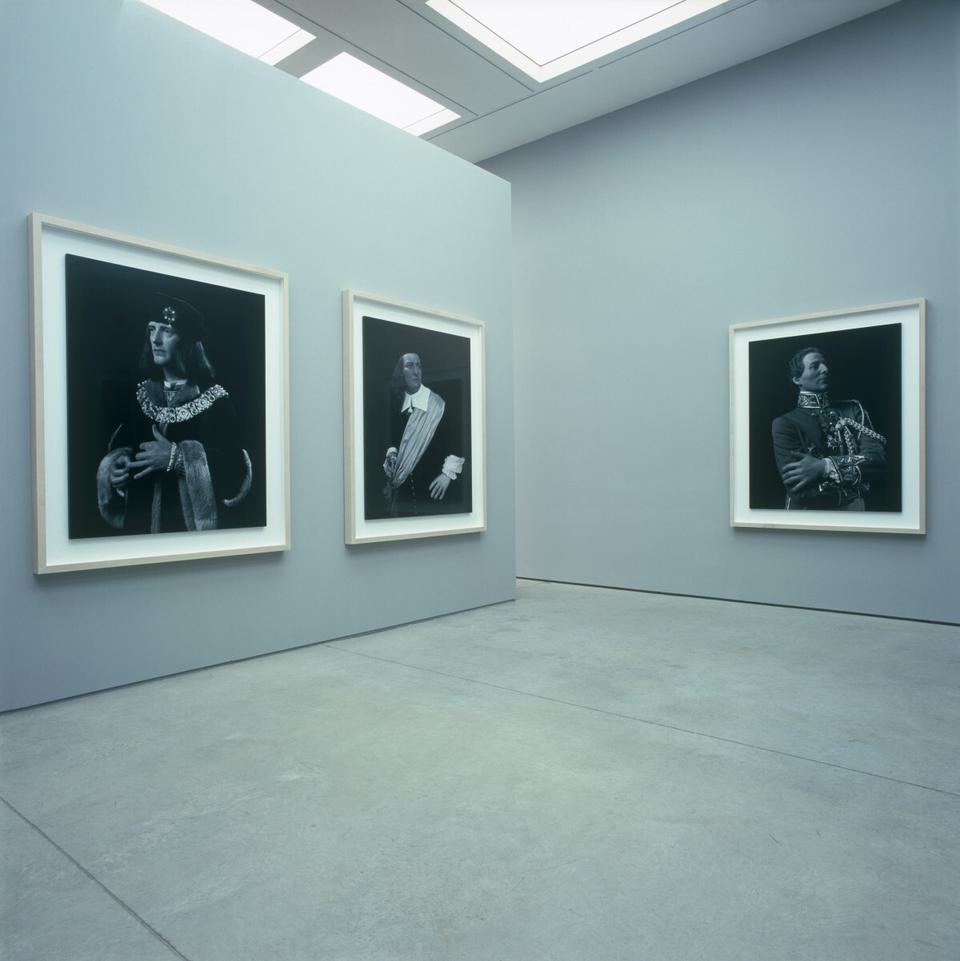 16 January – 3 March 2001
Dates
16 January – 3 March 2001
Jointly presented by White Cube and Gallery Koyanagi, Japanese photographer Hiroshi Sugimoto's exhibition featured a new series of photographs taken in museums of historical and contemporary waxwork figures such as William Shakespeare, Elizabeth I and Yasser Arafat. The waxworks themselves are based mostly on popular interpretations of these characters rather than on any necessarily realistic source. For Sugimoto, this layering of source material, from an iconic painting to a waxwork sculpture and then finally to a photograph represents a 'collapsing of time', a complex and fictional relationship between the subject and the origin of the image. Rembrandt, for example, is rendered after his well-known self-portrait ('Self-Portrait with Two Circles', 1665-69, Kenwood House, The Iveagh Bequest) and William Shakespeare after a well-known image (attributed to John Taylor, 'The Chandos Portrait' of William Shakespeare, c.1610, National Portrait Gallery, London). In this way, the photographs rekindle a dialogue that has existed since photography's invention: the relationship between painting and the medium of mechanical reproduction.
Life-size in format, these single portraits of historical figures are exclusively shot against a dramatically lit, shadowy black background. The images become curiously detached from any recognisable sense of place or time, evoking a bizarre and elegiac absurdity, at once tangibly 'present' yet emotionally distant. Like Sugimoto's earlier series of works, the Seascapes, where the artist photographed various seas around the world from exactly the same vantage point, the cool, objective technique and analytical rigour of the waxwork portraits belies their probing human sensitivity.

Sugimoto left his native Japan in 1970 to study art in Los Angeles, where he encountered Minimalism and Conceptual Art, two disciplines that continue to exercise a visible influence on his work. His photographs are executed with an unsurpassed technical precision and are characterised by their insistent seriality. He has repeatedly focused on just a few subjects throughout his career: Theatres (begun in 1978), Dioramas and Wax Museums (begun in 1976), Seascapes (begun in 1980), Sanjusangendo, Hall of Thirty-Three Bays (completed in 1995) and Architecture (begun in 1997). The serial approach that Sugimoto employs with all of these images allows for an absorption in the photographic process that borders on the spiritual.
The exhibition also included a photograph of The Last Supper, a wax rendition of Leonardo da Vinci's famous painting taken from a small Japanese waxwork museum. The photograph provides a kind of comment on the circulation of Western art historical images, presenting an instantly recognisable icon of Christianity re-configured through a popular, mass-cultural medium. The exhibition was organized in cooperation with Gallery Koyanagi, Tokyo.