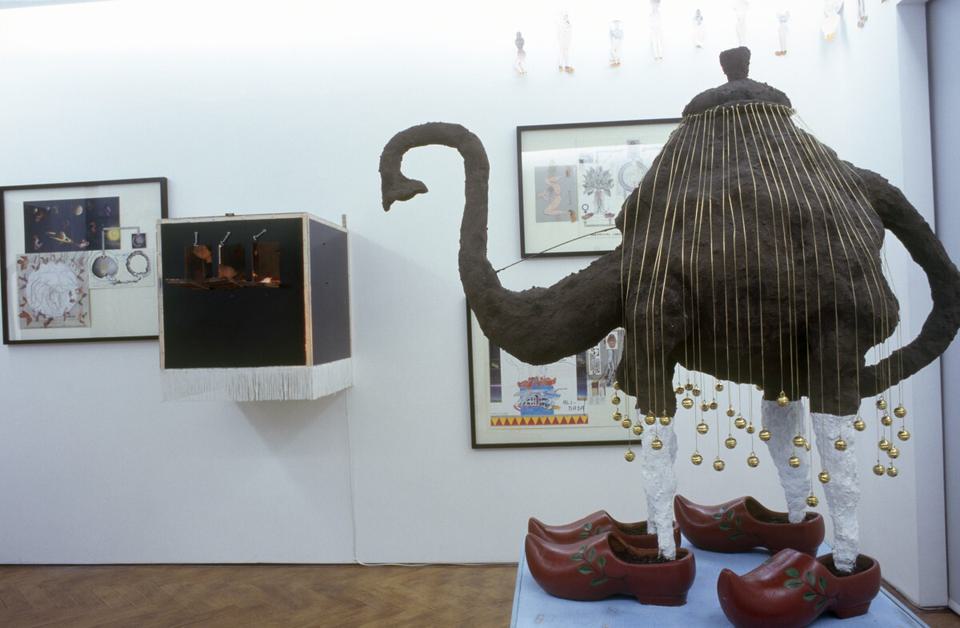 20 October – 25 November 1995
Dates
20 October – 25 November 1995
The work of Belgian artist Patrick van Caeckenbergh presents images of a fantastical world. Van Caeckenbergh adopts the persona of an eccentric, obsessive anthropologist, making sculptures and collages that offer a distinctly individual view of the world, and reveal the artist's uncontrollable urge to collect and to order. He sets out to explore grand universal questions, such as the origins of human existence and the inner workings of the universe, and then, in the long tradition of Belgian Surrealism, posits surreal answers.
Van Caeckenbergh's installation at White Cube included a collage, The Bum (1995), in which the earth is represented as a digestive system, centred on a pair of buttocks that discharges clouds of gas to produce an atmosphere, while being fed continually by pairs of winged hands. In its almost hallucinatory intricacy, this collage resembles an illuminated manuscript or an ancient map. This and other collages that were on display are filled with references to philosophers, writers and poets, and to the distorted myths that are passed down through the generations like Chinese Whispers. The incalculable plays an important part in van Caeckenbergh's work since the humorous systems he builds are based on instinctive, random ordering, rather than any rational logic. His works are motivated by a desire to escape what he calls the 'small-minded pigeon-holing of art history.'
Another part of the exhibition, mounted in the adjoining room, was directed towards those uninitiated in the world of Patrick van Caeckenbergh. The artist grouped together, as a wall of collage, a series of past works, under the heading A little introduction to the work of PVC (1995). This presentation included a work entitled Chapeau!, a sculpture based on a Russian story about a man who had hyperamnesia, being plagued by an inability to forget. This cylindrical cabinet, filled with hundreds of tiny drawers and test tubes, could possibly be put on and worn as a (metaphorical) means of bringing order to a tangled mind. Here, there is a parallel to be drawn with the artist's own situation: as his ideas spin off in ever-more tangential directions, van Caeckenbergh's work becomes increasingly characterised by both an anarchic excess of information, and a relentless quest for solutions.