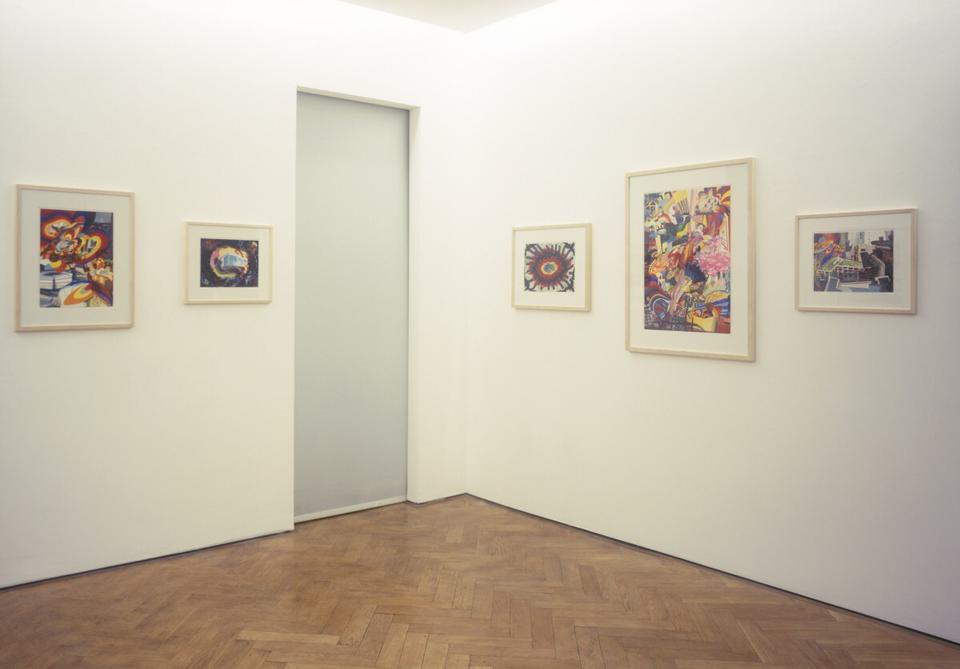 Dates
5 June – 11 July 1998
Berlin-based artist Franz Ackermann presented a series of small works on paper, executed during a three-month journey that began in Los Angeles and took him to Las Vegas, Sydney, Melbourne, Canberra, Buenos Aires, Montevideo, São Paulo, Rio de Janeiro, Berlin and London.
Ackermann works in two related but distinct veins: he produces both 'Untitled: evasions': large-scale paintings on canvas that recall the experience of his travels using material he has collected en route, such as postcards, newspapers and photographs; and 'Untitled: mental maps': images made on the spot that reflect the spontaneous and fluid process of travel itself.
Many of the 'mental map' drawings discharge a frenetic immediacy: the result of contrasts of bright colour, intersecting lines and dislocated spatial relationships. As he passes through places on his travels, Ackermann researches and physically investigates certain urban structures, and then records them in these small-scale images. Unlike the use of maps in Conceptual and Land Art, in which they provide technical, geographical information, these jewel-like drawings are beautiful, abstract topographies that communicate more the felt experience of each place than its scientifically-measured characteristics; this makes it impossible to disentangle the lay of the land from the state of the artist's mind when he experienced it.