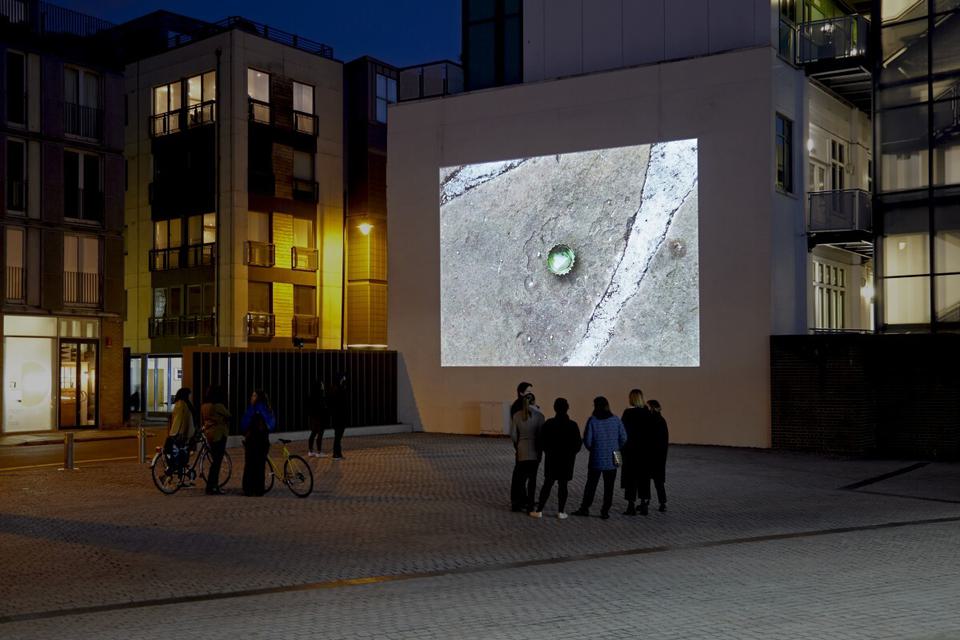 Dates
5 – 10 October 2016
Location
144 – 152 Bermondsey Street
London SE1 3TQ

White Cube Bermondsey presented a special outdoor projection of new videos by Christian Marclay during Frieze London. Six silent animations were projected outside in the courtyard of the Bermondsey gallery from 6.30pm. A different work was screened each evening.
Christian Marclay routinely takes photographs during his daily walks through London. By assembling and editing many thousands of these images, Marclay has created six frenetic and mesmerising animations that unlock new possibilities inherent in the concept of 'street photography'.

Each animation focuses on a particular object that is commonly discarded: chewing gum, cigarette butts, bottle caps, cotton buds, plastic lids and straws. Countless photographs, taken at different times of day and on different streets, constitute the frames of each animation. These static images are then edited into sequences which, played back in rapid succession, give the illusion of motion: burnt cigarettes grow back; colourful bottle caps pop and blend; cotton butts wiggle; bits of chewing gum divide and multiply like cells; and plastic lids and straws rotate like the hand of a clock.
Unlike traditional animation in which the setting is consistent and spatial continuity is maintained, in these works the background changes constantly. The flickering images recall flip-books, early cinema and animation devices of the late 19th century, such as the zoetrope used by Eadweard Muybridge. Marclay's animations set the discarded trails of rubbish in motion, giving the humble objects new life and transforming his chance encounters with detritus into visual poetry.
Projected at large scale and returned to the environment in which they were originally encountered, mundane details are enlarged to architectural proportions, drawing the eye into a world of magnified, overlooked detail.