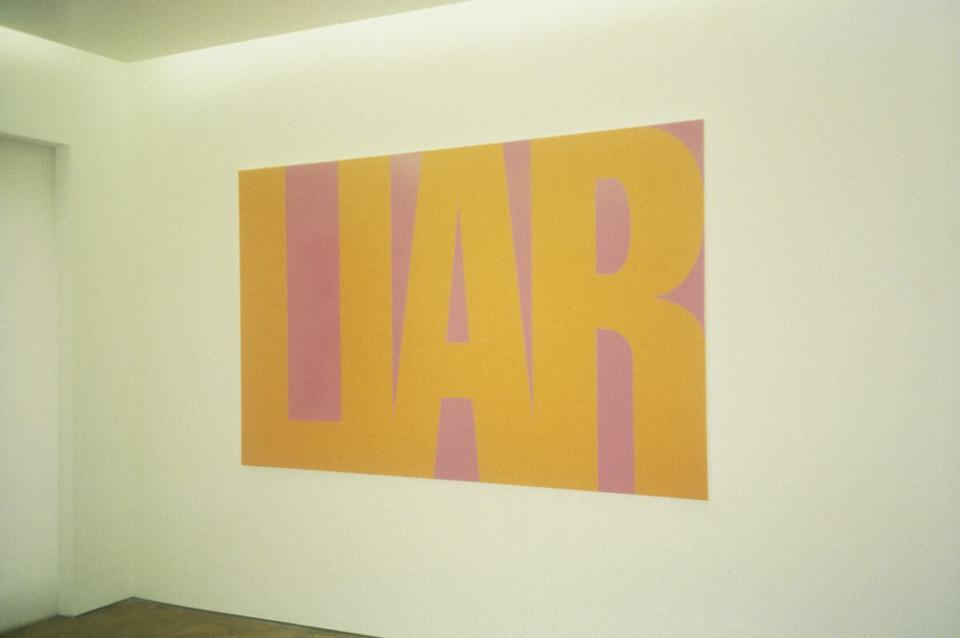 Dates
8 March – 13 April 1996
Sarah Morris is interested in 'finding the most direct way of having a conversation with the viewer.' Although her work employs a highly-charged, reductive aesthetic that triggers multiple associations, it also suggests narratives steeped in celluloid Americana and fast, urban living. The series of paintings entitled One False Move feature single words or pared-down images and act like a series of visual short cuts.
Morris creates hard-edged imagery that communicates rapidly, and dips into popular culture to borrow the graphic style of magazines, film posters and record covers. In one work, High Heels (1995), the outline of a pair of white, high-heeled sandals worn over black feet pictured against a soft, blue background is captured in household gloss paint. In another, Chopper (1996), a comic-book police helicopter hovers against a blank, acid-green sky. Morris uses saturated colours and a slick, reflective sheen to compress space, emptying the images of detail, until they look more like signs than representation of anything in the real world. This semiotic balancing act is carried through in her text-based paintings. 
There is a Pop influence in the strategy of using single words such as 'Liar', 'Mental', and 'Never' in the same utilitarian, san serif typeface that is used for cheap American signage. But unlike the words that appear in paintings produced in the 1960s by Ed Ruscha or Robert Indiana, Morris's text appears as a series of terse exclamations designed to get the viewer's adrenalin flowing. Her letters are painted against backgrounds of jarring colours and are blown up until they brush against the top and sides of each canvas. She invites the viewer to consider the exhibition as a whole, providing a series of starting points from which to invent his or her own fragmented storyboard. In doing so, Morris examines the way we interpret words not only through their assigned meanings, but also in relation to each other and the context suggested by her coded imagery.