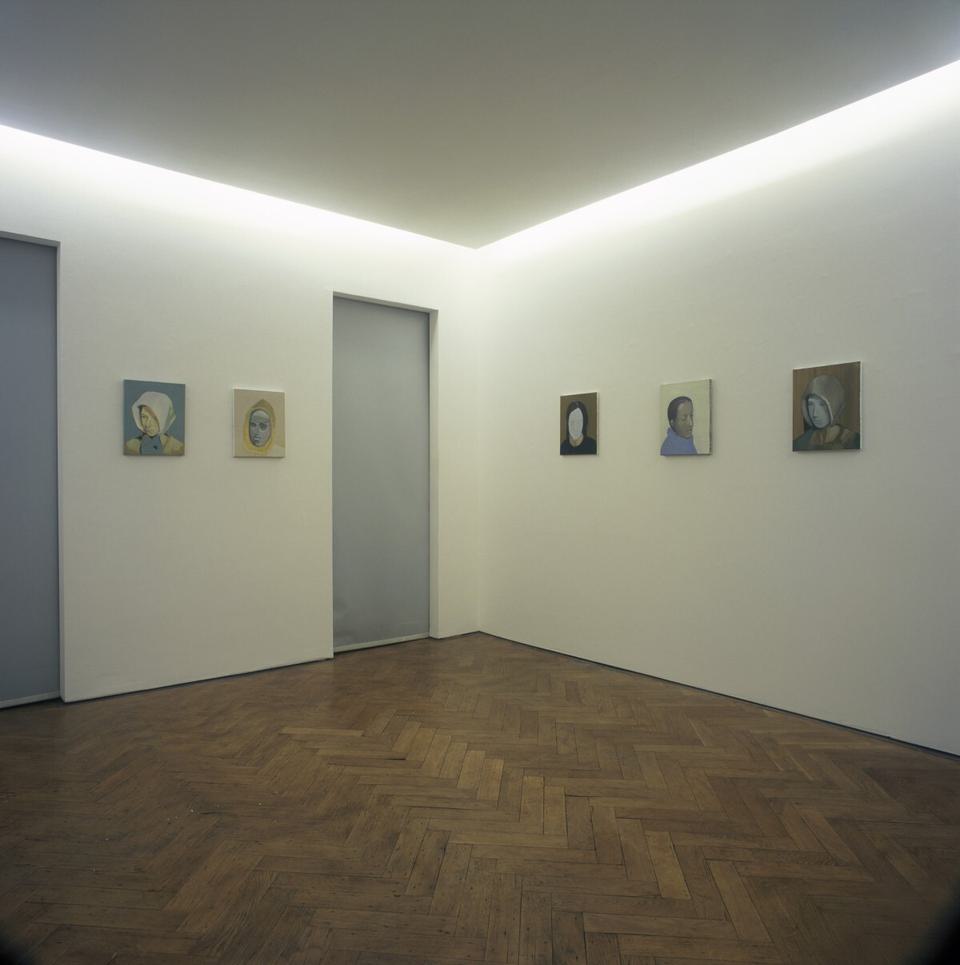 25 February – 1 April 2000
Dates
25 February – 1 April 2000
Neal Tait's paintings possess a kind of blankness; it is as if he invests his work with a silent presence that holds the viewer at distance. The artist's subjects have what he calls a 'sealed-in-ness' that recalls the on-screen 'closedness' of characters found in Fassbinder films--the people on the periphery, the displaced, the overlooked.
In Tait's work, mood and atmosphere is sometimes conveyed through colour. In many of the paintings, an individual's features are reduced and schematic, culled through memory. In some, the features seem variously bleached out, or latent beneath a mask-like layer of translucent paint, not having yet emerged into full view. The combination of grey/green pallor and dark eye sockets in one of the paintings, Untitled (1999), gives the impression of a death-like mask rather than a living presence, while in another, Explorer (1999), the pale yellow hood of a sports jacket appears like a gothic cowl.

Tait describes how a particularl person, photograph or newspaper cutting can be the catalyst for a work, but that his individuals are only really discovered through the painting process. In the development of all the artist's paintings, an 'event' occurs—there is a point at which these people become their own things. The figures appear to resolve so that they could be no other way; they are nomadic, self-contained. What is most distinctive about the figures is the way they avert their eyes: seeming unavailable, refusing the gaze of the viewer.
At Duke Street, the artist also exhibited a small group of works on paper in the adjoining space. These gouaches contrasted strikingly with the paintings, appearing more immediate, liberated, and spatially complex. For Tait, drawing is often the first 'intervention' before making a painting, and he has talked of utilising 'dumb and inert paint' to then slow the process down even more, thereby allowing for what he calls a 'slow looking time.'