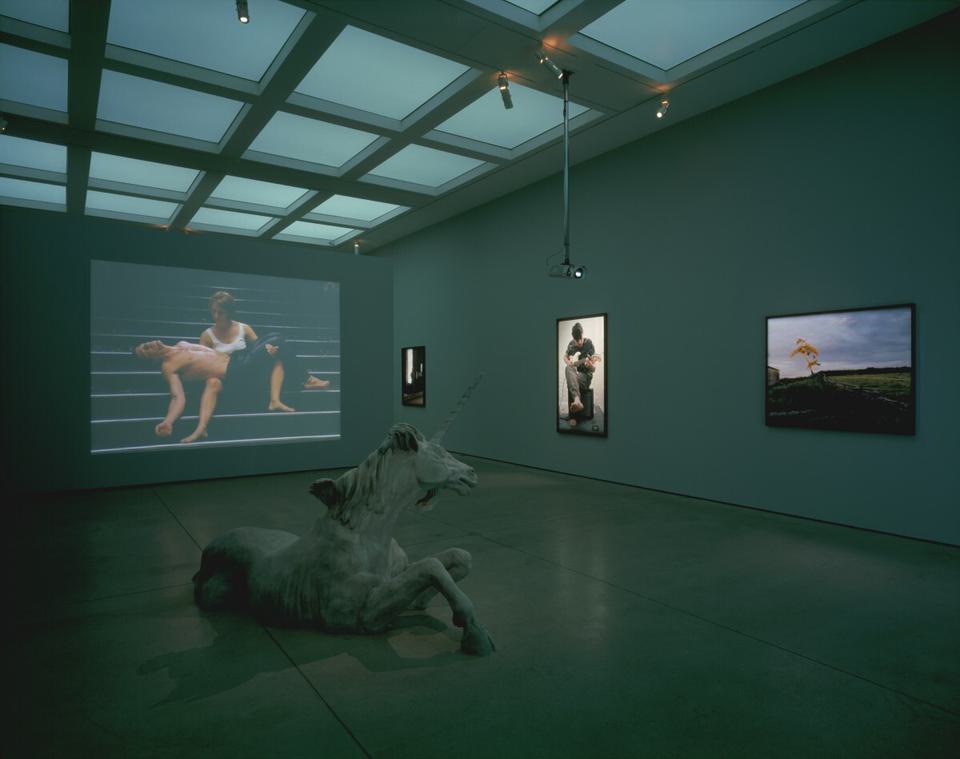 23 November 2001 – 12 January 2002
Dates
23 November 2001 – 12 January 2002
In her exhibition Mute, British artist Sam Taylor-Wood exhibited a number of silent films, a series of new single-subject photographs and new sculptural works that together expose the vulnerability and resilience of the human body and psyche when tested to its limit. The exhibition was a barometer measuring the intensity of the psychological and emotional field each work describes.
The film Mute, from which the title of the show is drawn, presents a young man singing a passage from an opera with the sound removed, denying immediate gratification. Yet, it is through our inability to hear the imagined beauty of the voice that seems to pass through and animate the singer - precisely, through its failure to reach us- that the film's extraordinary pathos is discharged. Still Life is a film work that shows a sensual bowl of fruit at its most full, lush and ripe caught in a moment of Cézanne-like perfection. Slowly the fruit rots and folds in on itself, disintegrating into a green unctuous mass. The perfect form becomes unformed and corrupted; a kind of Vanitas painting across time.

In Pietà the artist is seen carrying the actor, Robert Downey Jr. in her arms, recalling Michelangelo's religious Pietà in the Vatican in Rome. Pietà presents relations of dependency, nurture and support, distilling a sense of peace and calm that is in sharp contrast with the alienation of Breach (Girl with Eunuch); a single-take silent film shot in real time, where a girl sitting on the floor becomes increasingly anxious and distressed by some unseen yet threatening presence. It is not clear whether there is a real traumatic 'other' outside of the shot who is generating the fear or whether it is something in her own mind. 'Breach (Girl with Eunuch)' also recalls Andy Warhol's film 'Beauty #2', in which Edie Sedgwick's jealous ex-lover, becoming increasingly upset and agitated, shouts at her. In proximity to Breach (Girl with Eunuch) Taylor-Wood's beautiful large-scale sculpture of a unicorn,  struggles to defy its own concrete material and lift itself up and out of the ground.
Taylor-Wood's new single-subject photographs punctuate the space like details distilled from religious paintings; even the most quotidian image of a cow in a field appears somehow displaced from its witnessing presence in a Renaissance painting of the Nativity. Bound Ram slips in and out of being a symbol of Christ's passion; Self Portrait as a Tree shows a fragile and impossibly angled tree shot in the golden glow of twilight; and another work, 'The Leap', presents an image of a young man suspended in mid-air, as if bestowing benediction, against a backdrop of leafy tree-tops.
All of Taylor-Wood's works are full of narrative possibilities yet resist any specific symbolic meaning. These works continue to explore the relationship between the sacred and profane, fusing religious imagery informed by Renaissance and Baroque painting with the secular, urban and contemporary landscape that the artist herself inhabits.