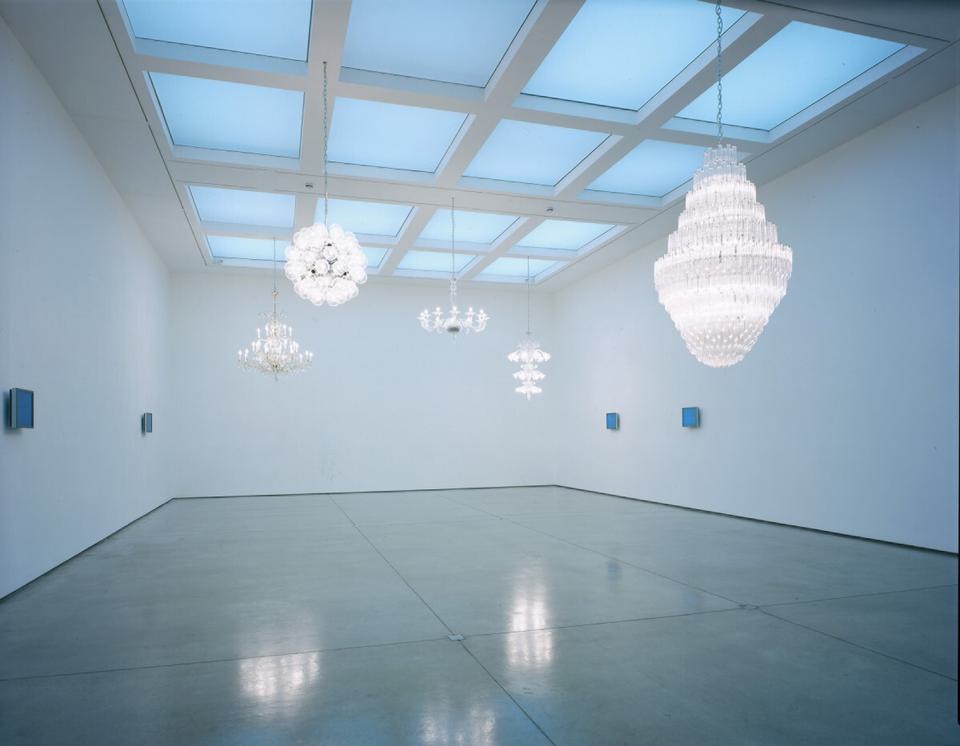 Cerith Wyn Evans
Look at that picture How does it appear to you now? Does it seem to be Persisting?
31 October – 6 December 2003
Dates
31 October – 6 December 2003
For his exhibtion at White Cube Hoxton Square, British artist Cerith Wyn Evans presented a field of transparent, crystal chandeliers momentarily flashing on and off, rendering Morse code from a series of texts driven through a network of hidden computers. The chandeliers are from different historical eras and as each lamp turns on and off, a soft, mellifluous language is created, one that suggests a wholly other structure of communication with intimations of an otherworldly presence or an improbable séance. Although each chandelier has its own particular text, the installation worked as a polyphonous whole, a matrix of different narratives that transmit layers of possible and associative meaning. The text for each chandelier was visible simultaneously on adjacent computer screens embedded in the gallery walls.
The exhibition developed out of Wyn Evan's readings of the American writer James Merrill, whose late poetry was written through a Ouija board: an ostensible organising principle that allowed the author the freedom of creating non-sequential notations. Wyn Evans has often harnessed the potential of language to create moments of rupture, as well as delight, where romantic longing, desire and reality conjoin. His focus is not so much on the art object itself, but rather the things that it can suggest and most of his sculptural work seems to deal with trace and residue – not necessarily in a direct reference to a particular cultural source – but rather through emotive allusion, obfuscated by various layers of textual complexity. For Wyn Evans, an installation should work like a catalyst, a reservoir of possible meanings that, for the viewer, could unravel many discursive journeys.
Wyn Evans originally made experimental films, and like the process of watching a film, most of his works rely on the power of imaginative potential and the liberating possibilities of fantasy. He has said that many of his works develop out of a fascination with 'entropy and decay', 'taking great care to do something that is seemingly inconsequential, ephemeral or entirely absurd' and for Wyn Evans, this notion of 'excess' is an artistic rebellion against the formalisms of obedience inherent in everyday culture. Chandeliers are an over-determined symbol of luxury, fantasy and grandeur and by using them, Wyn Evans creates a sense of theatrical occasion. However, like most of the artist's previous work, the installation contains a self-reflexive criticality of the conditions of its reception. In some senses, the show aimed to disrupt any modernist notions of the 'purity' of an artwork, and seems to acknowledge as well as send up Michael Fried's Modernist dogma and well-known critique of Minimalism as an 'impure' theatrical encounter. The use of crystal is also poignant as it is a material that is known to channel energy, a natural transmitter that, in this case, has been 'hijacked' to transmit an encrypted language from elsewhere.
Wyn Evans has often worked with existing texts, both in his earlier Firework pieces – literal constructions in wood of erratically remembered narrative excerpts – as well as in his Subtitle Series, which employed a projected phrase on a wall to conjure up the idea of a film and with this, an entire romantic horizon. The artist has also made various other works with Morse code, employing specific texts that resonate with the particular location where the work is installed. For the Welsh Pavilion at this year's Venice Biennale, for example, he translated a text from a Welsh poet into Morse code and emitted it from a World War II searchlight. In his earlier Cleave installations, he refracted the light signals of Morse code off a rotating mirror ball to create dazzling and intense sensory environments. These works in turn developed out of his installation entitled Dreamachine (1998), which, as its name suggests, was a remake of Brion Gysin's Dreamachine, an experimental instrument invented as a way to tap into dream states and the unconscious of the 'viewer' ('the first artwork made to be looked at with closed eyes' – Gysin) occasioning the creation of 'autonomous movies'.