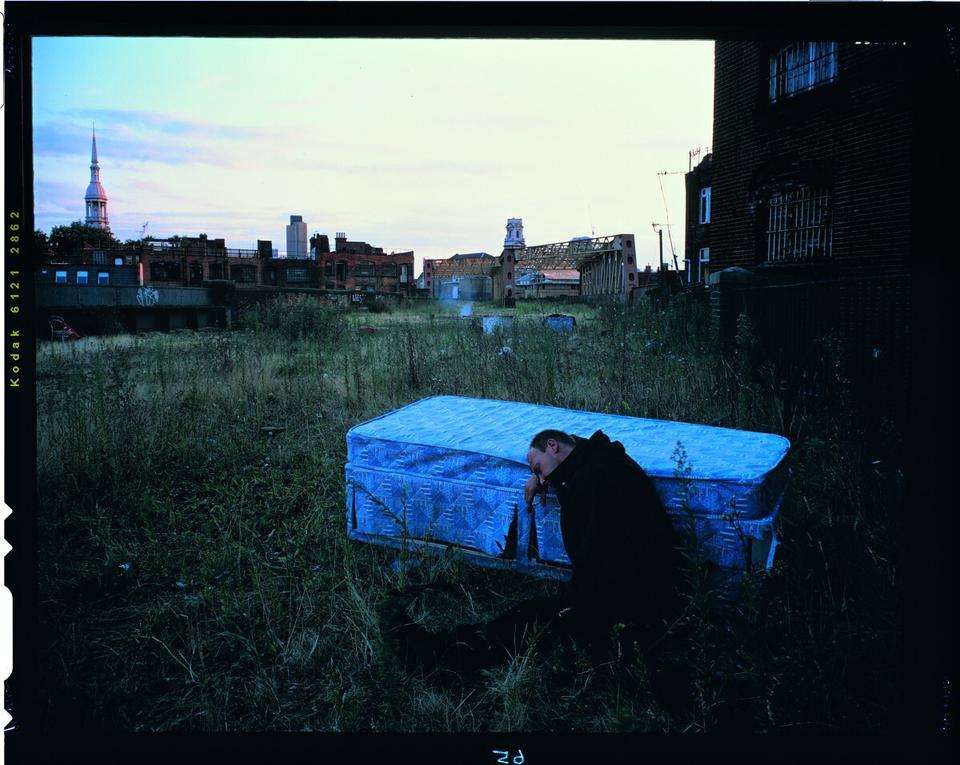 Tom Hunter
Life and Death in Hackney
30 November 2000 – 13 January 2001
Dates
30 November 2000 – 13 January 2001
Tom Hunter is known for making sumptuous, colour saturated cibachrome prints that illustrate the lives of various sub-cultural groups, such as squatters and travellers, among whom the artist lives and works. Hunter's concern with the political issues surrounding the rights of all those generally viewed as society's outsiders was clearly reflected in the series of photographs exhibited at White Cube. With their formal, stylised compositions, partly based on historical paintings, the works have a grandeur and epic sense of scale that belies the modest, low-key events they depict.
Celebrating the lives of travellers who have occupied the Lea Valley basin (an area on the fringes of Hackney in London), many of the pictures are loosely based on iconic paintings, such as Charles Allston Collins' Convent Thoughts (1850-51), and Henry Wallis' Chatterton (1855-56). Much like the Pre-Raphaelites, who often used well-known myths as the basis of their images, each of Hunter's photographs is based on a particular story. In one, referring to the painting by Millais, Ophelia (1851-2), a girl is lying in a shallow canal, a picture which developed after Hunter heard about a girl falling into a canal, late at night after a party. In this way, his photographs overlay art-historical references with more everyday material, sourced from stories that are not written down, and which focus on the lives of a particular, and generally overlooked, community.

There is a tangible sense of melancholia pervading all of these works, most of which depict single figures in listless, contemplative poses, illuminated by a strong and direct light source that contrasts with the dark, brooding surroundings. Like Hunter's earlier photograph, Woman Reading a Possession Order (1997), where a young woman with a baby beside her stands by a window reading an eviction notice, these works employ very deliberate composition and strong colours to ennoble and elevate their subjects.