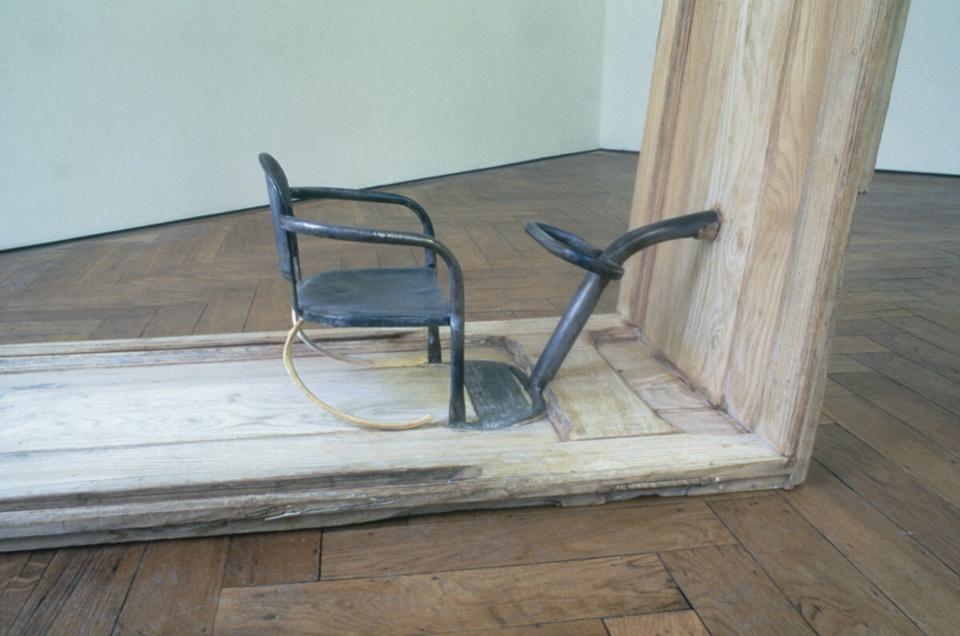 15 September – 14 October 1995
Dates
15 September – 14 October 1995
To make her work, Colombian-born artist Doris Salcedo salvages mundane, domestic items—such as pieces of clothing and furniture—and combines them with organic materials to form dysfunctional objects that retain poignant traces of their former use. At White Cube, Salcedo presented La Casa Viuda VI (1995). The title refers to the Colombian expression, la casa viuda, meaning 'a widow's house', which is used to describe the homes of those whose family members have suddenly 'disappeared' as a result of political violence. Two worn, wooden doors were sawn in half and the pieces folded at right angles to each other, one half resting on the gallery floor. To bridge the angle of one of these bent doors, Salcedo used a rusty, metal seat, that once formed part of a child's toy. This small chair was supported on the curves of two human rib bones, creating a sinister rocking device.
 An accompanying work, Untitled (1995), was exhibited in the adjoining space: a stark metal bedframe with, in places, white shirts strapped to its bars. As with much of Salcedo's work, this piece can be read as embodying several metaphorical elements. The white-shirt bindings resemble restraints, or wrappings used to splint fractured bone, and invoke ideas of incarceration or torture; but at the same time, they allude to a process of healing. In this context, the use of domestic objects destabilises our notion of the home as a place of safety. By using an unsettling combination of human remains and personal objects, Salcedo makes tangible the effect of violence on the individual.
The artist's work is an ongoing exploration of how to address and articulate violence and loss. The objects she makes are works of intimate remembrance. Travelling through Colombia with humanitarian groups, Salcedo gains inspiration from the testimonies of people who are struggling to rebuild their lives after suffering the loss of a family member. She acts as a witness, meditating on the loss of freedom and human life in a country enduring a culture of collective fear—the result of years of civil war, drug-related crime, state-sanctioned torture and executions.