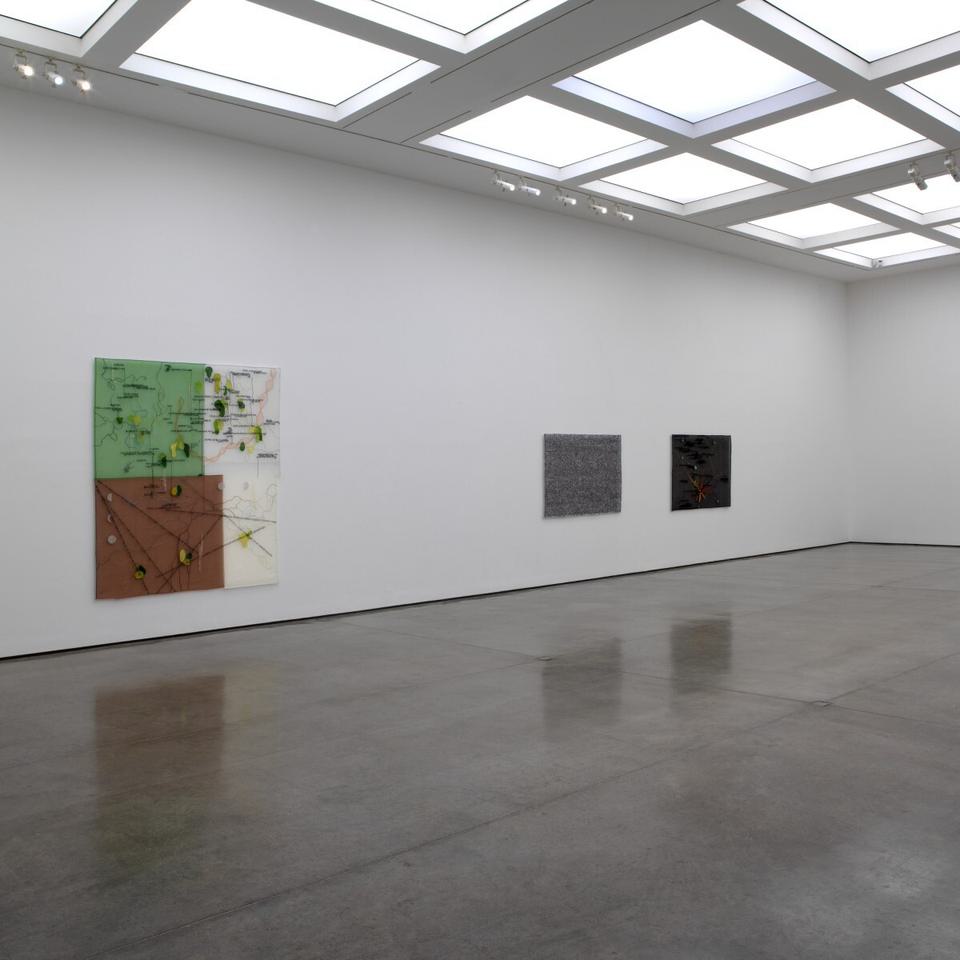 Dates
20 April – 19 May 2007
Appropriating methods traditionally identified with feminine pursuits – embroidery and needlework – Rankin's work features a series of 'mental maps', with codes, signs and symbols that explore ideas of memory, intuition and interpretation. Rankin's embroidered paintings begin with coloured panels of organdy, a fabric known for its sheer, diaphanous quality. Into this material the artist stitches renderings of mountain terrains, thermodynamic charts and astronomical maps, all of which mutate into lines of text before collapsing back into landscape drawing. The text assumes an abstract quality, executed in capital letters that call to mind the embroidered works of Alighiero Boetti. Taking the form of random thought patterns, these strings of words slip into phrases that avoid narrative structure from one to the other WHENYOUHIDEINTHESHADOWSYOUBECOMEME;IWANTEDTOSCREAMBUTINSTEADDIDSOMEWEIRDSORTOFJIG. An interest in Surrealist and concrete poetry is evident in the work, with the arrangement of words as objects and rhythmic lines that form an integral part of the imagery.
Rankin's compositions are influenced on one level by personal experience – a road trip, camping under the night sky or snippets of conversation – and on a more universal level, by cartographic, cosmological or genetic diagrams, amongst others. Commencing with what she terms 'a decisive act' – a particular phrase or image – these elements develop organically, winding through the work like a street or river. Positioned several inches from the wall, the translucence of the organdy enables the forms to reverberate, casting faint shadows on the surface behind. As a whole, Rankin sees the structure of the work as an 'embodiment of thought'.

The exhibition, her fist solo show in the UK, included a selection of drawings and watercolours that provide insight into Rankin's working process. Sketches of biomorphic forms feature alongside abstract representations of astral or lunar cycles, while other studies depict recognisable scenery. Together with the organdy paintings, these works serve as a kind of visual diary, combining direct experience with abstract thoughts.

Jessica Rankin was born in 1971 in Sydney, Australia and lives and works in New York. She has participated in numerous group exhibitions in the US, Europe and Australia. Recent solo exhibitions include PS1 Contemporary Arts Center, New York (2006) and Franklin Artworks, Minneapolis (2005).

A fully illustrated catalogue, with a text by Sarah Kent accompanied the exhibition.