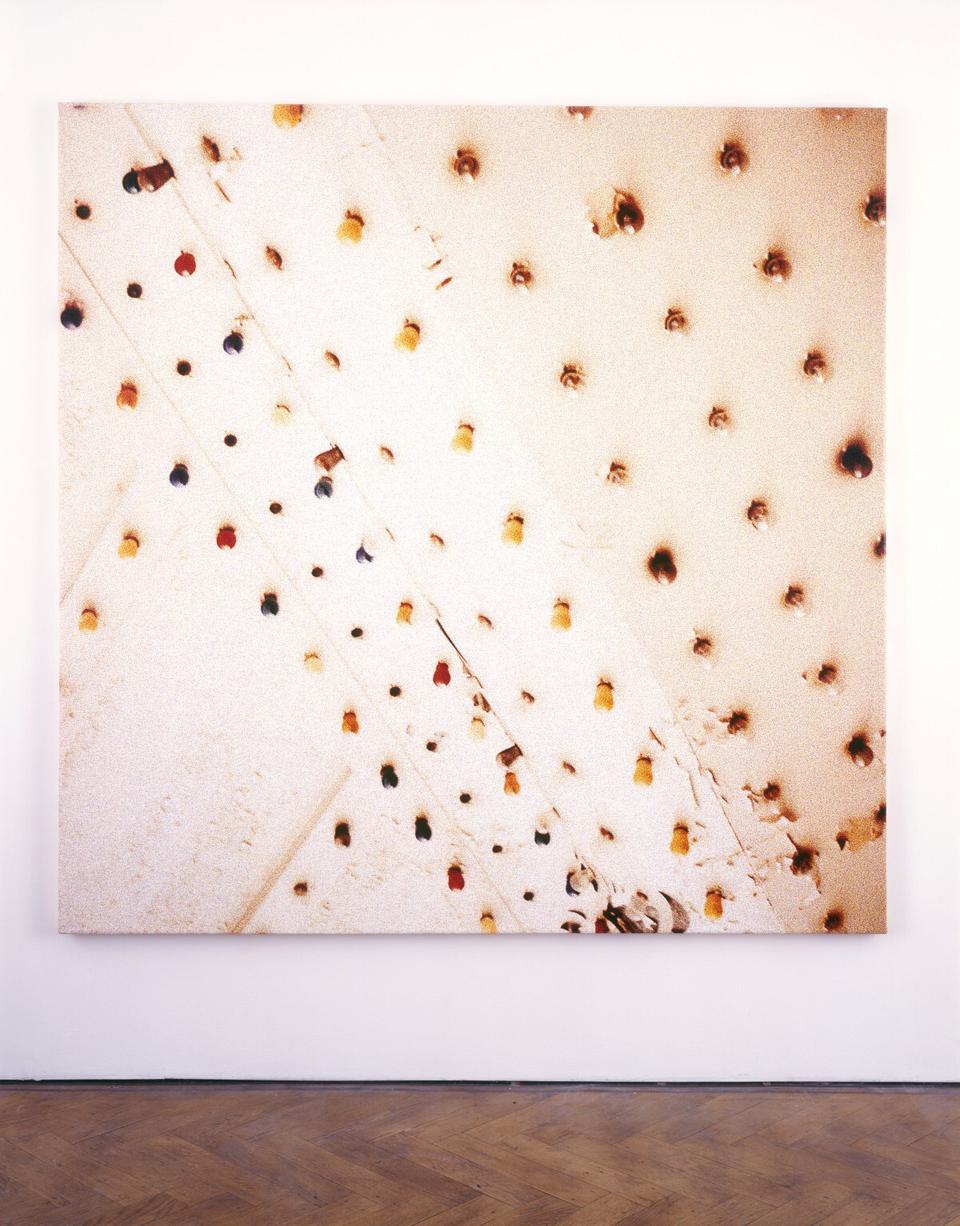 5 July – 7 September 1996
Dates
5 July – 7 September 1996
Jack Pierson is best known for his melancholic photographs, vaporous drawings and 'word pieces' formed from old signage that 'document the disaster inherent in the quest for glamour.' At the gallery, Pierson exhibited two large 'photo-paintings' that seemed to bathe the gallery in sunny light.
In one painting, Atlantis (1996), light washes over a still, blue sea beyond a glinting window. In the other, 42nd Street (1996), small bulbous forms are revealed to be coloured light bulbs that stud the flaking metalwork of, perhaps, a fairground ride or theatre front. The surfaces of the paintings 'hover on the border of representation, constantly threatening to slip into the scattered abstraction of individual coloured dots.' The fragility of these images is due in part to the way they were made: photographic images were scanned into a computer that then sprayed them, in paint, onto canvas. Close up, these paintings, wedded to the mechanics of their making, dissolve into a mass of tiny, computer-placed pixels.

Between the paintings hung Maybe (1996), a word sculpture composed from second-hand signage. Floating on the edge of the viewer's vision as they looked at the paintings, Maybe encapsulates the essence of Pierson's work: it is unwilling to declare itself as either document or fiction, preferring to inhabit a territory somewhere in-between. Visually sumptuous, the paintings are infused with a lyrical optimism; emphatically not 'parables of doomed glamour,' they are, instead, sensual meditations on the everyday, emitting a languorous sense of the past and muted suggestions of leisure and celebration.