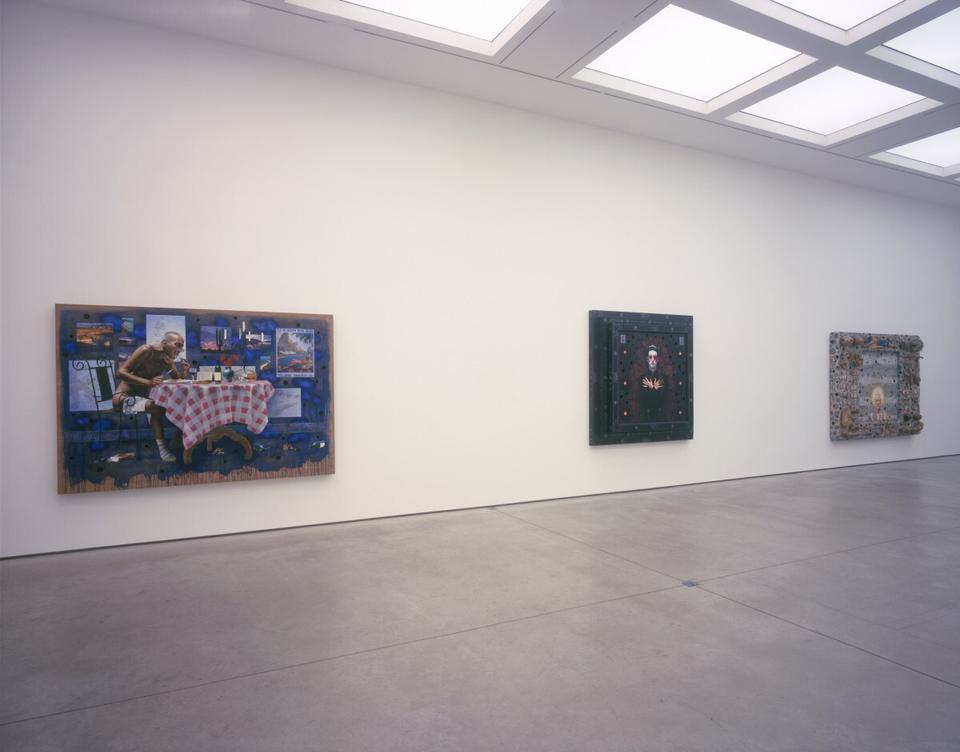 17 October – 17 November 2001
Dates
17 October – 17 November 2001
Bickerton came to the critical fore in the 1980s, acclaimed for his complex fusion of Pop, Minimal and Conceptual Art. Since 1993 he has embarked on a series of paintings that display his formidable skills as a draftsman to savage the self and the human condition. The group of large-scale paintings exhibited at White Cube Hoxton Square presented a cast of hyper-real figures set against highly worked grounds, complex portraits with multiple possible meanings and locales.
One work depicts a couple who seem to be on the last gasp of youth, fighting the passage of time with their highly tanned skin, peroxide hair and steroid induced, gym-trained bodies. Bickerton has portrayed them naked, in the demise of what was obviously an intimate relationship with the man in mid-anger, annexed by his own childish tantrum and evident frustration with closed eyes, thinning grey hair flying wild, the woman, taught and emotional. Another work features an extraordinary nude, a kind of earth mother, who signifies fecundity and abundance with her absent gaze, impossibly full breasts and pregnant stomach. With her wide set eyes, full lips, slim body and large breasts she is a kind of aberration of the ideal form of Western beauty, a grotesque figure whose beauty has been over-emphasised to the point of repulsion. With strange nooses around her neck she is strapped down and immobile, set against a background of strange objects tied to the canvas. Another work depicts a garlanded and haloed cultic figure isolated against a detailed background of various kinds of detritus such as bones, driftwood, soles of shoes, coconut halves, things that might be washed up on a beach, directly referencing the sea shore and the south pacific where Bickerton lives.

In a double self-portrait Bickerton explores the potential of portraiture to subvert its own meaning. Here the artist is depicted as both malevolent and benevolent, a double figure smirking and grimacing reflecting classic Renaissance portraits such Leonardo da Vinci's Mona Lisa, with their fragile and shifting characteristics. Rendered in the most painstaking and refined manner, his tightly wrought paintings also recall the graphic brilliance of northern European panel painters as well as the more recent, popular iconography of Norman Rockwell. Bickerton's detailed technique enhances his acerbic reworking of ideas of nature, authenticity and the exotic but his concerns as a painter are also traditional, reflecting his interest in the way that the surface of a picture can create an altered reality with figures floating in a kind of illusory plane and space. By heightening the image and its reality, it flips over into the hyper-real, becoming degraded, artificial and synthetic. Bickerton's exotic is necessarily impure and psychotropic.