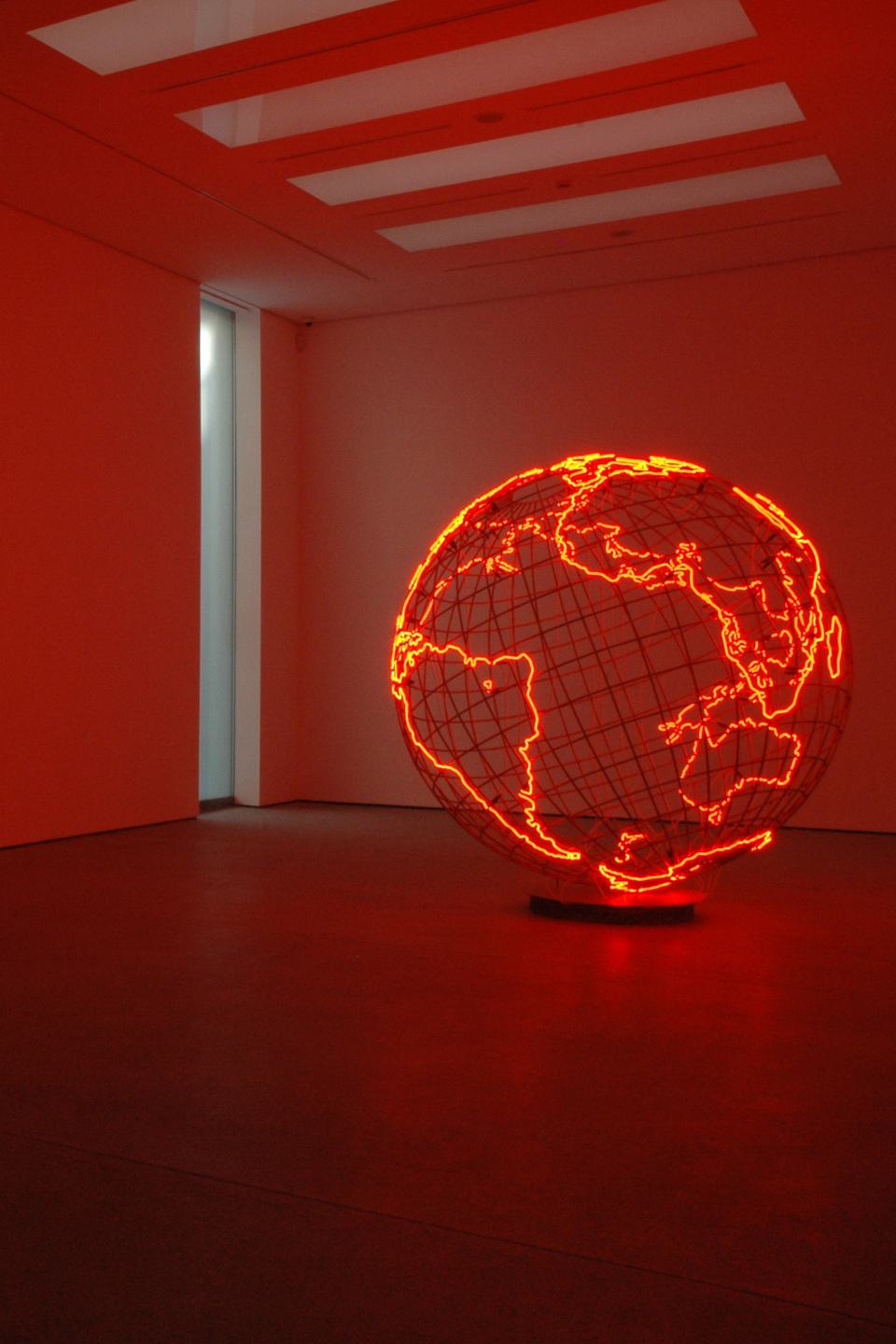 Hot Spot
24 November – 22 December 2006
Dates
24 November – 22 December 2006
Location
25 – 26 Mason's Yard
London SW1Y 6BU

In the ground floor gallery, Hatoum exhibited a new sculpture entitled 'Hot Spot'. The work interrogates the notions of 'boundaries' through the depiction of a world map – an ongoing theme in the artist's work. Hot Spot is a cage-like globe, approximately the size of a person's height and arm span, which tilts at the same angle as the earth. Using delicate neon to outline the contours of the world on its surface, the work buzzes with an intense energy, bathing its surroundings in a luminescent red glow. Compelling and seemingly dangerous, Hot Spot suggests that it is not simply contested border zones that are political hot spots but an entire global situation: what Hatoum describes as a 'world continually caught up in conflict and unrest'. The gallery also contained another map in the form of a work on paper entitled Projection. A white on white work that uses cotton and abaca to create its image, Projection presents what to most viewers is an unfamiliar image of the world since it uses the 'Peters' projection, an egalitarian representation of land mass in true proportion as opposed to the more usual visualisation of the globe from a dominant northerly perspective. The image in Projection presents a positive-negative reversal, where the continents appear like fissures or gaps, as if they have been etched or corroded away.
For the basement gallery, Hatoum created a delicate and minimal spider's web – a total environment that is full of metaphoric association. Made from delicate, transparent crystal spheres that appear like drops of dew, the work softens and transforms its surrounding architecture and is hung low enough so that it becomes both a visual 'field' and an engulfing, nest-like enclosure. Web appears to have emerged organically, re-working ideas of mental entrapment in what has been described as 'an expanded object in process'.

Hatoum also presented Cube, a sculpture that is constructed from wrought iron using an interlaced technique employed since medieval times for use in window grills. A cage with no entrance or exit, the work nods to the industrial materials and reduced forms of minimalism while implicitly referencing the artist's body, which determined the size of its interior space. As Andrew Renton has noted, although Hatoum has consistently employed the shape of the cube in works such as Socle du Monde (1995), Current Disturbance (1996) or Cage-à-Deux (2002), this sculpture 'seems to be called Cube not just to indicate what it is, but to mark how far from the form it is able to stray while retaining cognitive markers'.
Mona Hatoum was born into a Palestinian family in Beirut, Lebanon in 1952 and now lives and works in London and Berlin. She has participated in numerous important group exhibitions including The Turner Prize (1995); Venice Biennale (1995 and 2005); Documenta, Kassel (2002) and the Biennale of Sydney (2006). Solo exhibitions include Centre Pompidou, Paris (1994); Museum of Contemporary Art, Chicago (1997); The New Museum of Contemporary Art, New York (1998); Castello di Rivoli, Turin (1999); Tate Britain, London (2000); Hamburger Kunsthalle, Hamburg; Kunstmuseum Bonn; Magasin 3, Stockholm (2004) and Museum of Contemporary Art, Sydney (2005).
A fully illustrated catalogue with an essay by critic and curator Andrew Renton, accompanied the exhibition.
Installation Views