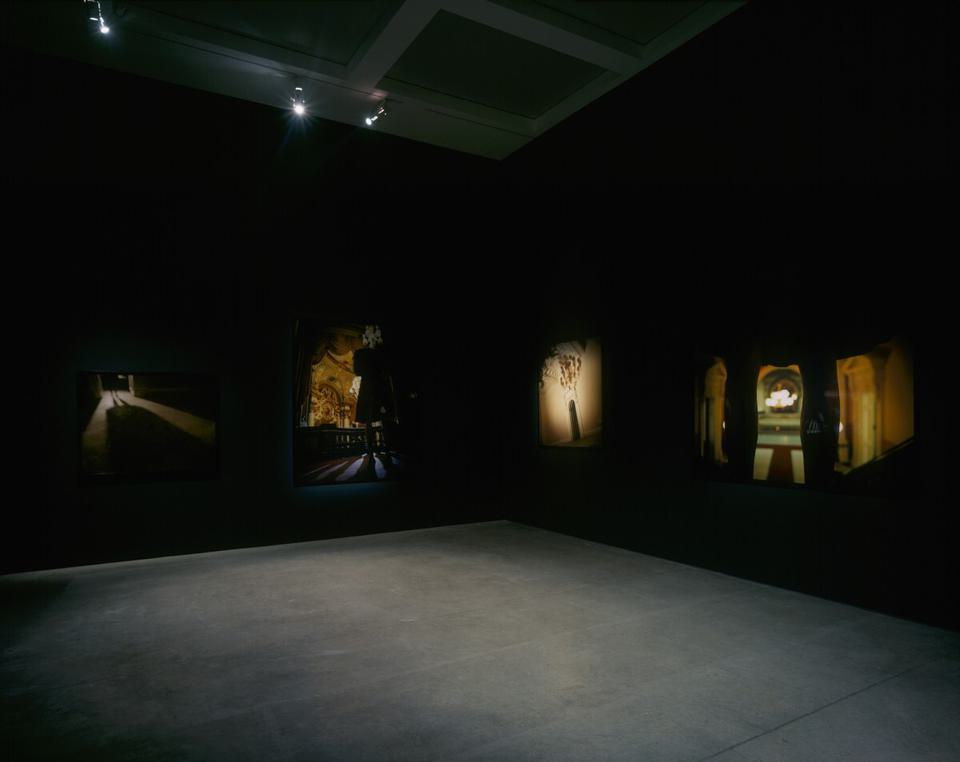 13 December 2002 – 25 January 2003
Dates
13 December 2002 – 25 January 2003
American artist Anna Gaskell's exhibition at White Cube Hoxton Square featured a group of photographs and a film, loosely based on the well-known Gothic novel Rebecca (1948), by Daphne du Maurier, that also makes reference to ghost storytelling made famous in works such as Henry James's The Turn of the Screw and Edgar Allen Poe's Telltale Heart. Gaskell often takes a literary starting point to explore the imaginative potential of the surreal, with her previous series of photographs, wonder (1996) and override (1997) based on Alice in Wonderland by Lewis Carroll. In all of these works the focus is on the slippery nature of fantasy and the distortion of believable reality that the mind can create.
Gaskell's photographs frequently use pre-pubescent or adolescent girls as their models to cunningly play on presumed notions of objectification and the potential for voyeurism. Gaskell's camera angles, combining tight choreography and a dramatic use of angled lighting, create unsettling, memorable images loaded with meaning. Her scenarios are highly charged, richly coloured tableaux with exaggerated foreshortening and menacing shadows. Gaskell has often used the notion of the double as a way of evincing trauma. In her resemblance series (2001) for example, she presented multiple, dislocated, body parts of young girls, such as their hands and feet, which are terrifying in their apparent replication and isolation from their owner.

In half life, however, the artist moved away from using groups of figures to focus on a single character or body or, in the case of some photographs, no body at all. Although the overbearing sense of fragmentation still exists, here the girl is seen only partially from behind, above or below. Gaskell's camera angles often seem impossible, and we glimpse elaborately decorated interiors - a large stately house or a theatre - from behind a girl's skinny legs, down a flight of stairs or looking down from a bird's eye perspective as if dangling from the ceiling. These compositions are statuesque in their proportions, with an uncanny charge that is equally buoyed by a discernible erotic undertow. There is a sense of vertigo and claustrophobia, the objectifying coldness of the image at odds with the dissolution of the figures, blurred in their nearness or shadowy in their distance.
In contrast to the technical gymnastics of Gaskell's photographs, the accompanying 21-minute film uses a single, static camera angle throughout, presenting a girl floating under water in a state of 'non-being', neither fully alert or dead. The girl holds her breath, her eyes opening and closing periodically to suggest amniotic gestation or, more perilously, drowning. The film is looped, emphasizing its liquidity - a continuum of weightlessness between the real and the fantastical.