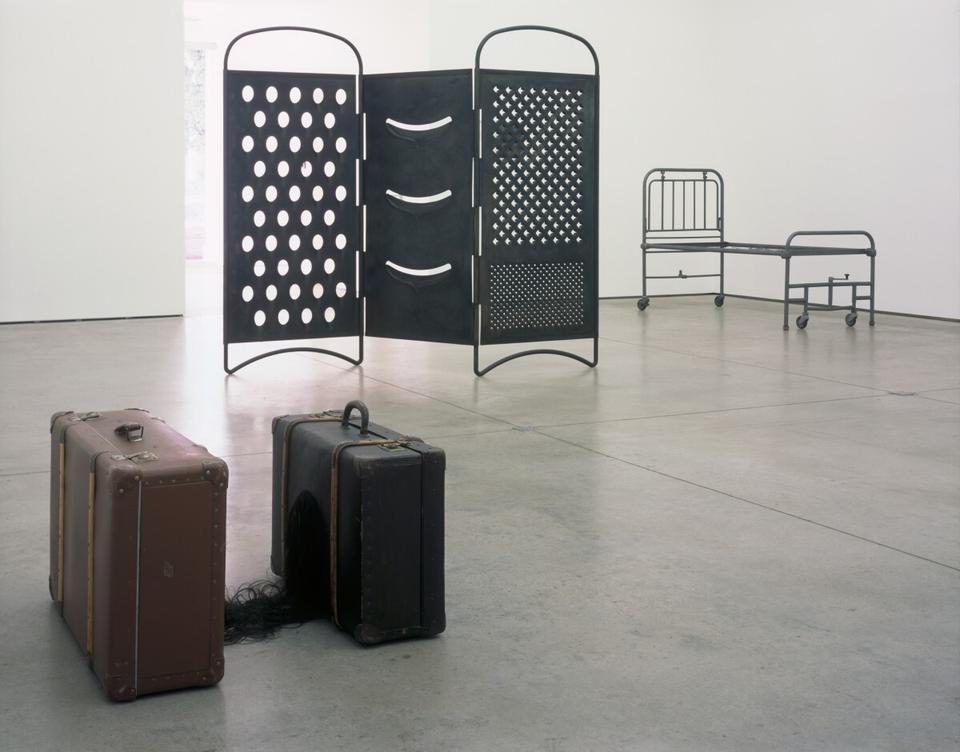 Dates
24 May – 22 June 2002
For her exhibition at White Cube Hoxton Square British artist Mona Hatoum presented a body of new works. Hatoum has developed a highly articulated visual language over a more-than-twenty-year career explored through a wide range of media including performance, installation, sculpture, video and photography. Her work is characterised by a disquieting and subversive use of materials and an examination of recognisable, familiar objects such as chairs, beds or simple kitchen utensils. All of Hatoum's work references the body either as an absent core - as seen in her sculptural work - or more directly through a penetrating and explorative use of film and photography. Although Hatoum's work frequently refers to Minimalist and Surrealist forms, it is also imbued with a psycho-cultural and feminist slant. Her sculptures are both uncanny and profound, creating a sense of unease in the viewer that has become the artist's most recognisable strategy.
This exhibition included work in a diverse array of materials such as human hair, pure marble or hard steel. Hatoum's use of these materials is distilled and precise, ranging in scale from the monumental to the fragment, and in style from the graphic to the hand-made. Grater Divide (2002) is a human-sized, fold-out cheese grater that takes on the appearance of a room divider or 'paravent' confronting the viewer on entering the gallery. Scaled up from the original kitchen utensil nine fold, the object is eloquent in its architectural proportions and highly decorative but at the same time potentially macabre with its hazardous, razor-sharp surface.

Hatoum has repeatedly employed some key motifs throughout her career. One such motif is the bed, which she has used as a starting point for numerous works from Silence (1994), a baby's cot made entirely of glass tubes, to Quarters (1996), an installation comprising of institutional bunk beds. For this exhibition Hatoum reconfigured a grey metal bed - the kind found in a hospital or similar medical institution - by replacing the bed springs with a fine network of wires that spiral into the centre to form an intricate spider's web. The work is delicate but also uncomfortable, recalling our psychological fear of illness and entrapment of the body. It brings to mind the socialised control of institutions and the ritualised use of furniture as a place where the body is evoked as both a site of aggression or, equally, submission.
Likewise, Hatoum has frequently drawn on the cage as a motif of incarceration - whether it be actual, psychological, or ideological. Cage-à-Deux (2002) is a monumental steel cage, scaled up from its original prototype --a rodent cage-- by seven times to become human in scale. Originally designed to house two animals, Hatoum's cage, with its human proportions, could refer to the couple as the nuclear basis of society. Sinister in its connotations, however, the cage's twin-feeding basins and the bars of the cage also refer to incarceration, and to histories of political repression and violence. (Hatoum's earlier work, Untitled [Baalbeck Birdcage] (1999), is a similarly scaled work; this time the measurements are based on the actual size of the prison cells in Alcatraz). Hatoum also included a group of three, modestly scaled willow cages, which are left unwoven towards the top, unravelling and unfinished suggesting a moment of relief and possible escape from the confines of an imprisoning structure.
Another work, entitled Traffic (2002), is a meticulously crafted sculpture, consisting of two old suitcases connected by a swathe of dark human hair. The hair seems to pour out from the inside of the suitcases, as if its contents have been allowed to accidentally spill out. The work suggests the constant ebb and flow of human migration, and the experience of exile and uprootedness that underpins Hatoum's entire oeuvre.