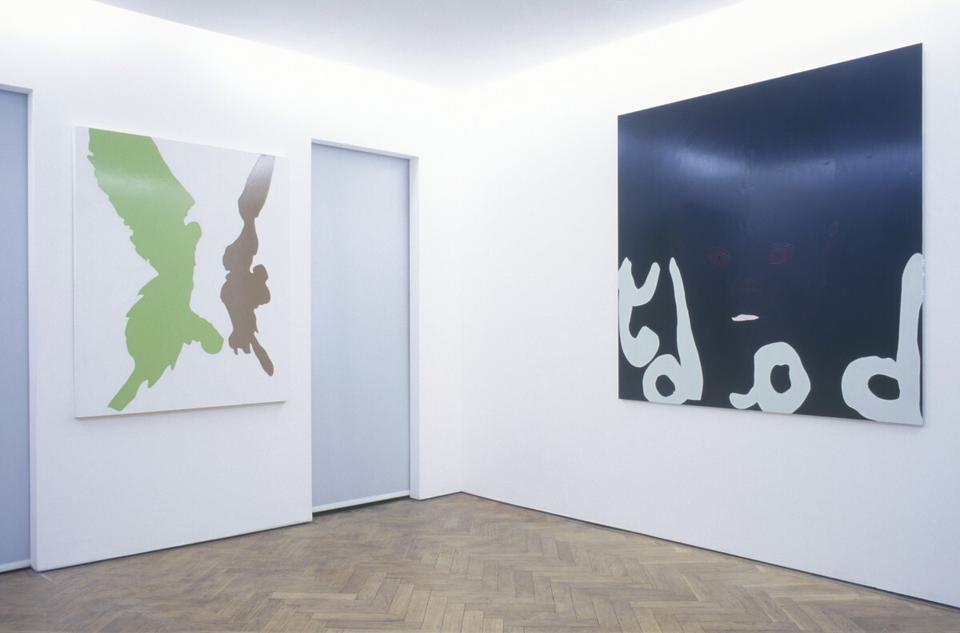 Dates
7 April – 13 May 1995
Gary Hume is best known for his paintings that use gloss paint on aluminium panels to present a visual vocabulary distinguished by a bright palette, singular and graphic imagery, and flat areas of colour. In the four paintings exhibited at White Cube, symmetry and mirrored forms are recurring motifs, both in the backwards writing that appears in one, and the Rorschach-style doubling up that flattens the pictorial space in others. In Four Feet in the Garden (1995), a stark lilac silhouette maps out the shape of four pairs of feet, while in Fairy (1995), crisp pastel green and brown blots resemble two wings; in Baby (1994-1995), a face emerges from a jet-black background to stare out with an unsettling, feline intensity, and in Funny Girl (1995), Hume blanks out the eyes of a ghostly face by filling in its nest-like eye sockets with two rounded, yellow birds. These lyrical paintings move towards figuration, but one that possesses an abstract impulse.
 Hume has continually returned to particular subjects, such as the garden, the portrait, the angel, as well as, with his images of polar bears, snowmen, rabbits and owls, the pictorial idiom of childhood. His pictures often have a dream-like quality, like recollections of our earliest years—the emotional vantage point is that of a child: looking at trees from below, at a bird's nest through a lattice of twigs and branches, the pink of a rabbit's eye, a faceless adult.
Hume once commented that, 'all you ever get from me is the surface,' and he continues to draw our attention to the seductive skin of his paintings by covering his base panels with layer upon layer of household gloss paint, and then tracing the lines of his imagery in the thick glaze. However, unlike the Pop Artists, for whom the surface was all, in Hume's work, there is always a sense that there is more beneath the surface—that things are being hidden, disguised or withheld.