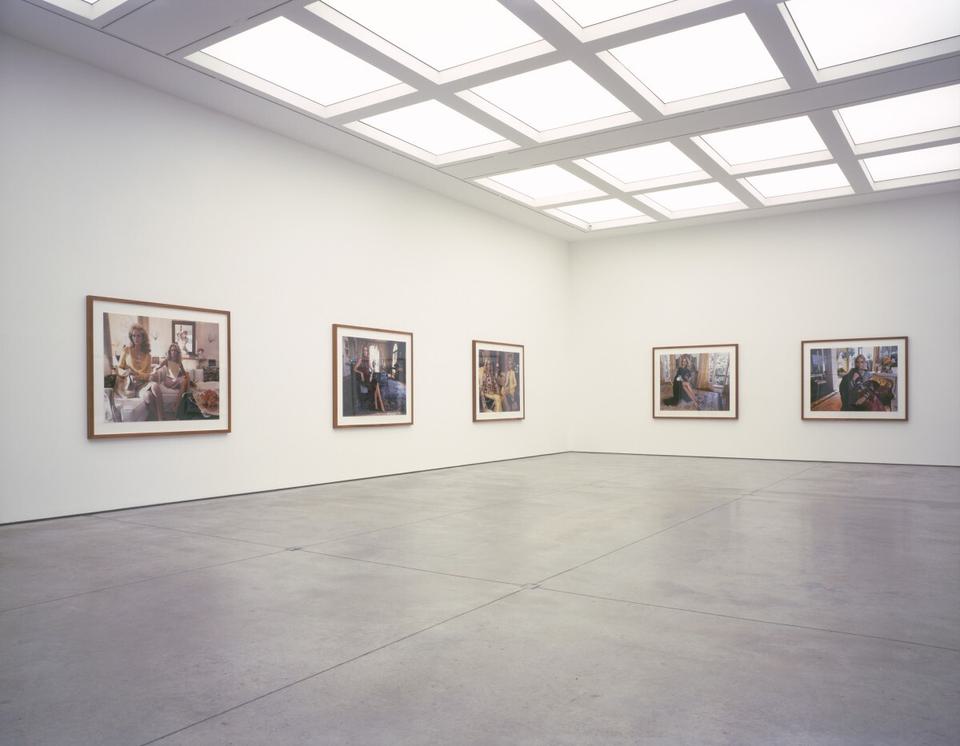 Steven Meisel
Four Days in LA: The Versace Pictures
19 July – 1 September 2001
Dates
19 July – 1 September 2001
In his first-ever European gallery presentation Steven Meisel exhibited a number of large-format photographs that form the core of the acclaimed advertising campaign he had recently shot for Versace. At a time when the teenager continues to be the cultural staple catered for in both the fashion and music world with Teen Vogue, boy bands and singers like Britney Spears, Meisel's Versace Pictures reintroduce the notion of the grown-up woman.
The pictures, shot in just four days in palatial Los Angeles residences, feature leading fashion supermodels Amber Valetta and Georgina Grenville as virtually identical women with their elegant frocks, dressed platinum hairstyles, full make-up, and huge rock-like jewels. Posing demurely in their anonymous interior-decorated homes, like their pampered pets, they appear perfectly tamed, preened and manicured.

If the images present a kind of over-the-top extravagance, it is a frozen opulence, languorous and rarefied - a throw-back to the fifties, a pre-teen era, evoking the styles and subjects of Pasolini and Fellini by way of Beverly Hills. These women, like their interiors, are perfectly arranged, tranquillised and in control. Often placed high in the picture plane they recall the Mannerist portraits of Bronzino and Pontormo, where the sumptuously adorned female subjects are both hieratic and untouchable. Now, as then, it is wealth that signifies. Bruce Hainley suggests that what Meisel is doing with these images is giving us an 'opulent fantasy structure' about the power of the female adult 'at a time when what many desire is forgoing adult responsibility (a Californian stereotype)'. We want to be told what to do and these women know how to tell us.