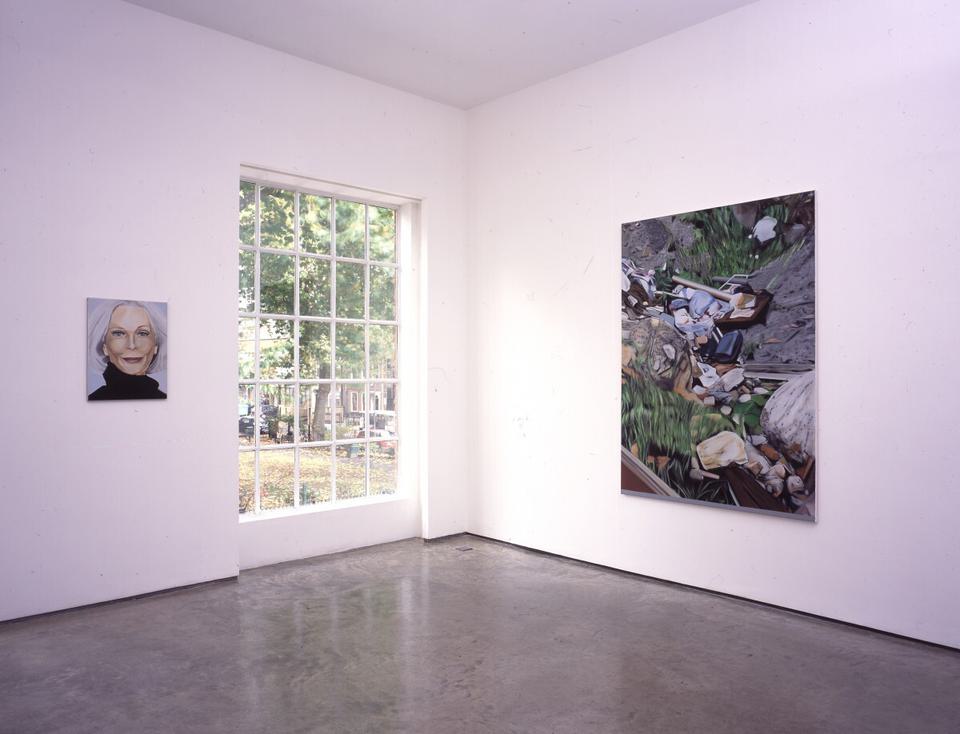 31 October – 6 December 2003
Dates
31 October – 6 December 2003
Havekost exploits the tension between the highly mediated image and the visceral immediacy of a gorgeously painted surface. Working from photographic sources, shots from TV and video and images culled from magazines and catalogues, he selects prosaic subjects – anonymous buildings, garbage areas, trains and trailers – scanning them into his computer where he modifies them, making inkjet prints as the starting point for his paintings. His paintings are difficult to decipher, quotidian images that are abstracted into a kind of mannerism of the everyday.
Havekost's paintings are made slowly and with immense care, composed in colour over a series of six underlying and alternating coats of grey and white. They are permeated by a luminous atmosphere of light generated not by the radiance of the colours themselves and the light effects of their combinations but rather by the even quality of 'chiaroscuro' – light and shade – that runs beneath all the imagery. Havekost has described this as a 'democratic light' comprised of a white light that is employed not for its dramatic effect to spot-light individual instances but to reveal the immanent brilliance of everything.
The End against the Middle is a landscape painting of the most humble and partial kind, a close-up cropped view of a section of a garbage depot, seen as if through a pane of frosted glass or the haziness of a TV screen. The painting is constructed with sharp diagonals in the lower foreground that compete to lead the eye back, their ever-changing dynamic creating an essentially unstable image in which the eye scans to find a stable point of entry but is continually thrown off. Likewise, a bold horizontal band of grey runs across the bottom of the picture acting as a visual barrier, a distancing device to refuse the viewer's gaze. Along with these vertiginous angles the painting displays dramatic shifts in focus – a blurring effect sweeps across the image, softening grass, stones and bits of rubbish – a visual distortion like a filmic pan. The instances of visual clarity appear strangely intense and heightened.
The End against the Middle is a fluid and dynamic painting and, in contrast, Luft, has a quiet atmosphere of stillness and solitude. Luft is a partial painting of a male figure in trousers and a jumper, which seems strangely abstracted, as if the body itself has escaped. The figure is cropped, squeezed and elongated to fit its frame, sitting hunched on a chair in an introverted attitude, yet disembodied and made abstract and light.
Stop the Panic and Start the Panic are two dynamic paintings, which superficially offer very similar views of the same lightweight glider plane whose smooth streamlined forms speak of Modernism's quest for speed and flight. They explore a serial view of the same object shown from the same angle but at different moments as if the subject is crossing the planes of both pictures at once.
Havekost paints a world that refuses to be still and sit within a frame, one that is continually on the move. He deconstructs perception and explores its fleeting contingency, making freeze frames that pause the visual process, transforming it into an arresting, material instant.