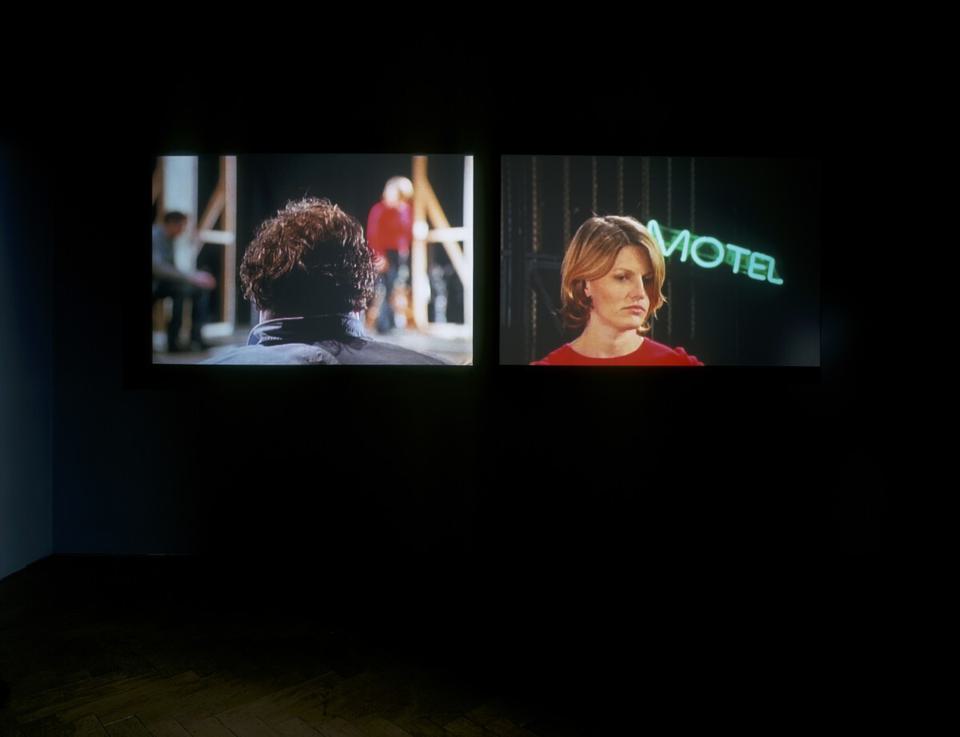 Runa Islam
Directors Cut (Fool for Love)
7 March – 21 April 2001
Dates
7 March – 21 April 2001
Runa Islam's two-screen film installation, Director's Cut (Fool for Love) (2001), takes as its starting point the way in which a director and his actors interact during a vigorous rehearsal. Comprised of improvisations based loosely on the script of the 1975 play, Fool for Love by Sam Shepard, the film depicts the point in the rehearsal at which the director is working on shaping the actors' performances, and in doing so, 'creating' the play's individual characters. Islam's film foregrounds the theme of performance and, in particular, explores the power structures that seem to naturally develop between a director and his 'progeny'.
Director's Cut (Fool for Love) is primarily a satire on the role of authority, as well as an exploration on the fluid nature of human identity, and the contradictory process of revealing personal 'truth' through role-play.

Pared down and aesthetically pristine, Islam's films are frequently very brief, describing eloquent cinematic 'moments' that remain potentially open-ended. Adopting the device of fragmented narrative, they are at once compelling and opaque, offering an impenetrable view of human communication and language. Islam's work is further enriched by a personal history of involvement in filmmaking and references to auteur techniques abound in her work. In her film Tuin (1998), she recast a pivotal moment from Fassbinder's cult movie Martha, remaking a particular sequence to further complicate the film's central narrative.