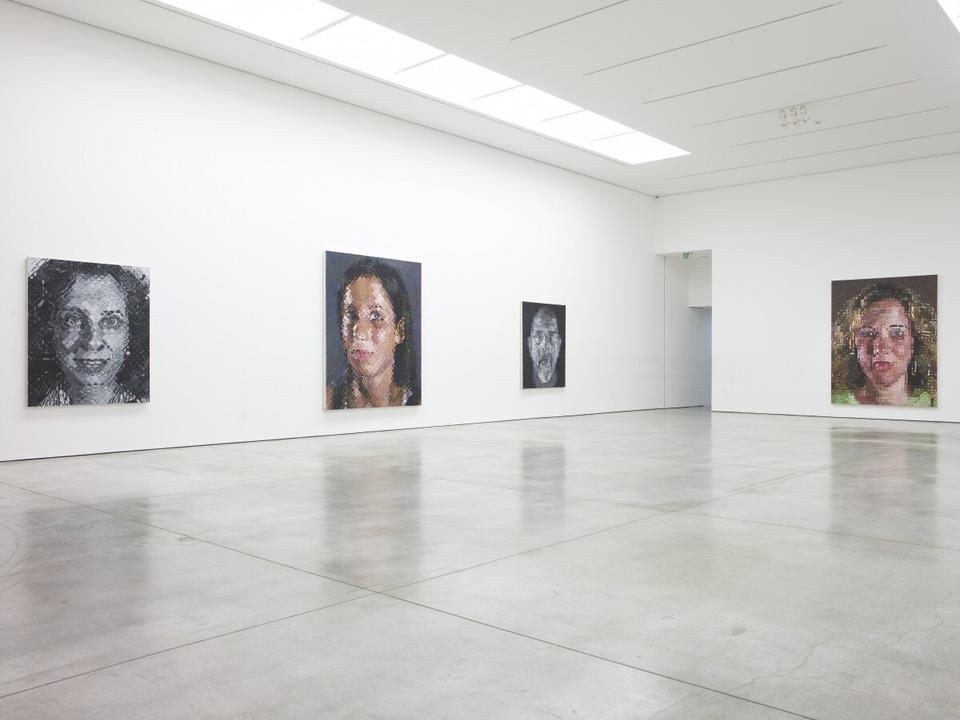 Chuck Close: Family and Others
10 October – 17 November 2007
Dates
10 October – 17 November 2007
Location
25 – 26 Mason's Yard
London SW1Y 6BU

White Cube Mason's Yard presented an exhibition of new paintings, tapestries and photographs by American artist Chuck Close. Over the past 40 years, through his unstinting study of the human head in both painting and photography, Close has transformed our understanding of portraiture and carved out a unique space in contemporary art.
In an interview with Ingrid Sischy, Close discusses his earliest forays into large-scale portraiture by comparing himself to a Lilliputian who examines the human head as if it were a giant landscape. 'I was trying to rip it loose of the context in which we normally saw portraits and normally saw people, and try to make it a scanning experience, an experience of stumbling through this landscape.' This 'scanning experience' he describes has always been facilitated by Close's uses of the grid, which allows the artist to make a kind of geographical survey of the face. In his early photorealist work the grid would disappear into the uniform pictorial surface that brought seemingly insignificant details such as pores or facial hair into sharp relief. In recent work, however, the grid is brought to the foreground, creating a cadenced space of 2.5-inch cells. These cells are occupied by a riot of abstractions and biomorphic shapes, from gooey lozenges and lopsided bubbles to more geometric rods and circles. The shapes often traverse across two or three cells, or conjoin in L-shapes. Viewed up close, each cell comes across as a mini-abstraction or pool of liquid pigment only just held together by the rhythm of the grid. Stepping back, the picture coalesces into a remarkable likeness of the sitter. This double life – the pulsating abstraction combined with vivid portrait – gives each painting a remarkable complexity and richness of visual experience.

The exhibition featured seven large-scale paintings: five members of the artist's family, a self-portrait and a portrait of President Bill Clinton. Close has always refused commissions, preferring instead to choose his subjects, especially from among his friends or family members. Taking three or four months to paint, these methodical depictions of the unique visual structure of each face are vivid collisions of rigorous study, intimacy and abstraction.
The exhibition also featured eight tapestries made on modern Jacquard looms. Based on Close's daguerreotypes of artist friends – Cindy Sherman, Kiki Smith and Andres Serrano among them – the tapestries transfer the photographic space of the original, with its shallow depth of field and sharp detail, into the weft and woof of a tapestry. The resulting portraits are at once intimate and, with their enormous, looming presence, monumental. Finally, a series of daguerreotypes of the model Kate Moss were also exhibited.
Chuck Close has exhibited in solo and group exhibitions internationally, including a retrospective at the Walker Art Center, Minneapolis (1980) that also travelled to four venues including the Whitney Museum of American Art, New York. Close has also participated in other major exhibitions such as Documenta V and VI (1972 and 1977) and the Carnegie International (1995). In 1998, The Museum of Modern Art, New York, organized a retrospective that travelled to four venues closing at the Hayward gallery, London (1999). 'Chuck Close Prints: Process and Collaboration' travelled to several venues including the Metropolitan Museum of Art, New York (2004), 'Chuck Close: Self Portraits 1967-2005' (2005) opened at the Walker Art Center, Minneapolis and travelled to SF MOMA (2006), High Museum, Atlanta (2006) and Albright-Knox Art Gallery, Buffalo, NY (2006). A painting retrospective 'Chuck Close Paintings: 1968 / 2006', opened at the Museo Nacional Centro de Arte Reina Sofia in Madrid (February 2007) and then travelled to the Ludwig Forum für Internationale Kunst in Aachen, Germany (May 2007).
A fully illustrated catalogue, with an essay by Diarmuid Costello and an interview with Ingrid Sischy, accompanied the exhibition.