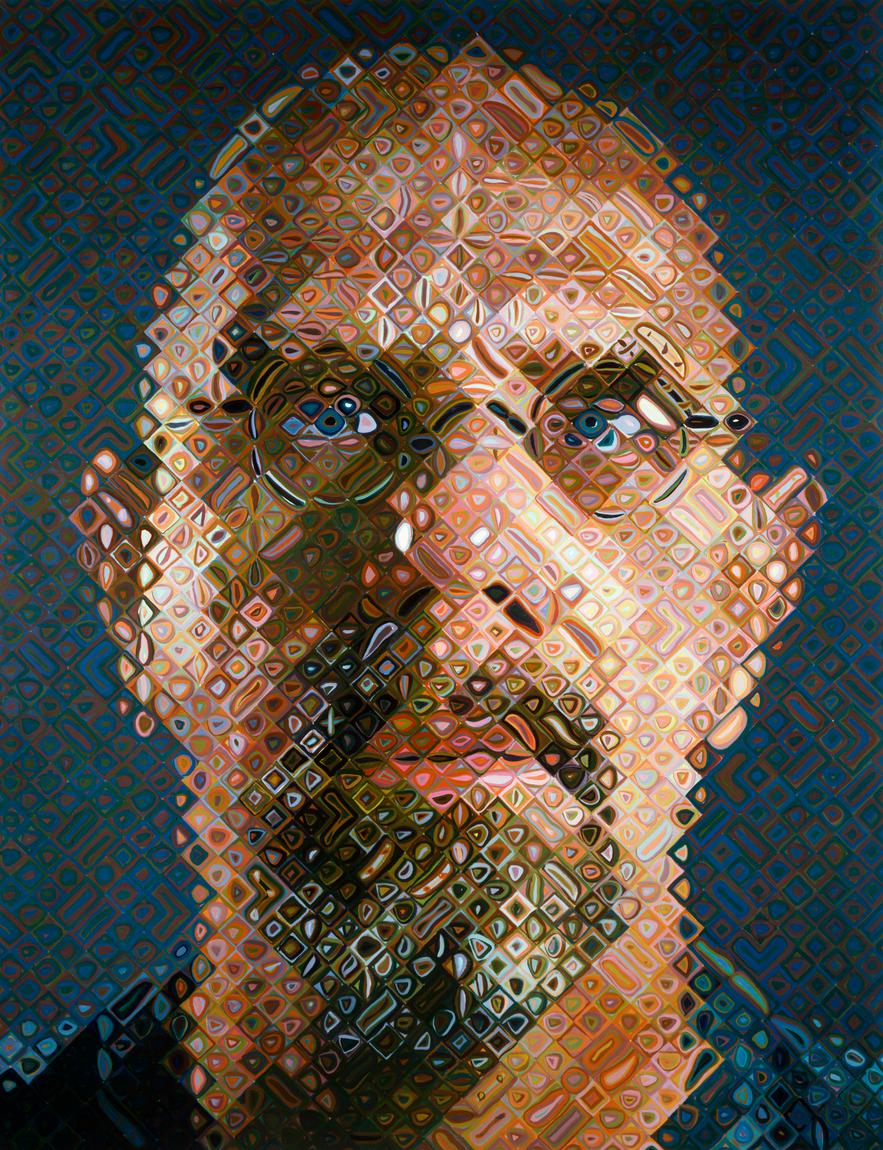 Chuck Close
Born in Monroe, Washington
(1940–2021)
One of the most celebrated artists of his generation, Chuck Close (1940–2021) defined the language of portraiture. Since the 1960s, Close concentrated solely on the human face in both painting and photography, often taking his family and friends as models. These monumental, classical works are bold in their simplicity as well as intangible, since the construction of the images makes them appear as if viewed through a thick layer of glass or as if a reflection, rippling on the surface of water. In this way, the subjects of his paintings can seem like apparitions, dissolving and resolving when viewed from different distances.
Although Close employed various painterly styles throughout his career, including an intense neo-realism in the 1970s and a shadowy Pointillism in the 1980s, he is perhaps best known for his later works which are made up from a fragile grid set on the diagonal. Close's paintings are all-over images where the background of the picture – the negative space – is as important as the subject itself and one cannot exist without the other. Similarly, in Close's daguerreotype photographs, the background defines the limit of the image plane as well as the outline of the subject, with the inky pitch-black setting off the lighter, reflections on the subject's face.

Close's method of painting was always indexical, an incremental process whereby associative colours and shapes built up a pictorial syntax and a recognisable figurative whole. Warm colours are set against cold, circles against squares and the organising principles of the grid are constantly broken by minute areas of expressive abstraction.

Chuck Close was born in 1940 in Monroe, Washington and died in New York in 2021. He exhibited extensively throughout his life, including solo exhibitions at Ravenna City Art Museum, Ravenna (2019–20); Parrish Art Museum, Southhampton, New York touring to NSU Art Museum Fort Lauderdale, Florida, Pennsylvania Academy of Fine Arts, Philadelphia and other venues (2015–17); White Cube, London touring to The State Hermitage Museum, Saint Petersburg (2007–08); Museo Nacional Centro de Arte Reina Sofia, Madrid touring to Ludwig Forum für Internationale Kunst, Aachen, Germany (2007); Aperture Foundation, New York touring to Art Gallery of Ontario, Toronto, Austin Museum of Art, Texas and other venues (2006–13); Walker Art Center, Minneapolis touring to San Francisco Museum of Modern Art, High Museum of Art, Atlanta, Georgia and Albright-Knox Art Gallery, Buffalo, New York (2005–06); Blaffer Gallery, University of Houston, Texas touring to The Metropolitan Museum of Art, New York, Miami Art Museum, Museum der Moderne, Salzburg, Austria, White Cube, London, Museum of Contemporary Art Sydney and other venues (2003–16); and The Museum of Modern Art, New York touring to Museum of Contemporary Art Chicago, Hirshhorn Museum and Sculpture Garden, Washington, DC, Seattle Art Museum, Washington and The Hayward Gallery, London (1998–99).

Selected group exhibitions include The National Gallery, London (2018); Whitney Museum of American Art, New York (2017); 50th Venice Biennale (2003); 46th Venice Biennale (1995); 45th Venice Biennale (1993); Carnegie International, Pittsburgh (1995 and 1996); Whitney Biennale, New York (1991); Documenta 6, Kassel, Germany (1977); and Documenta 5, Kassel, Germany (1972).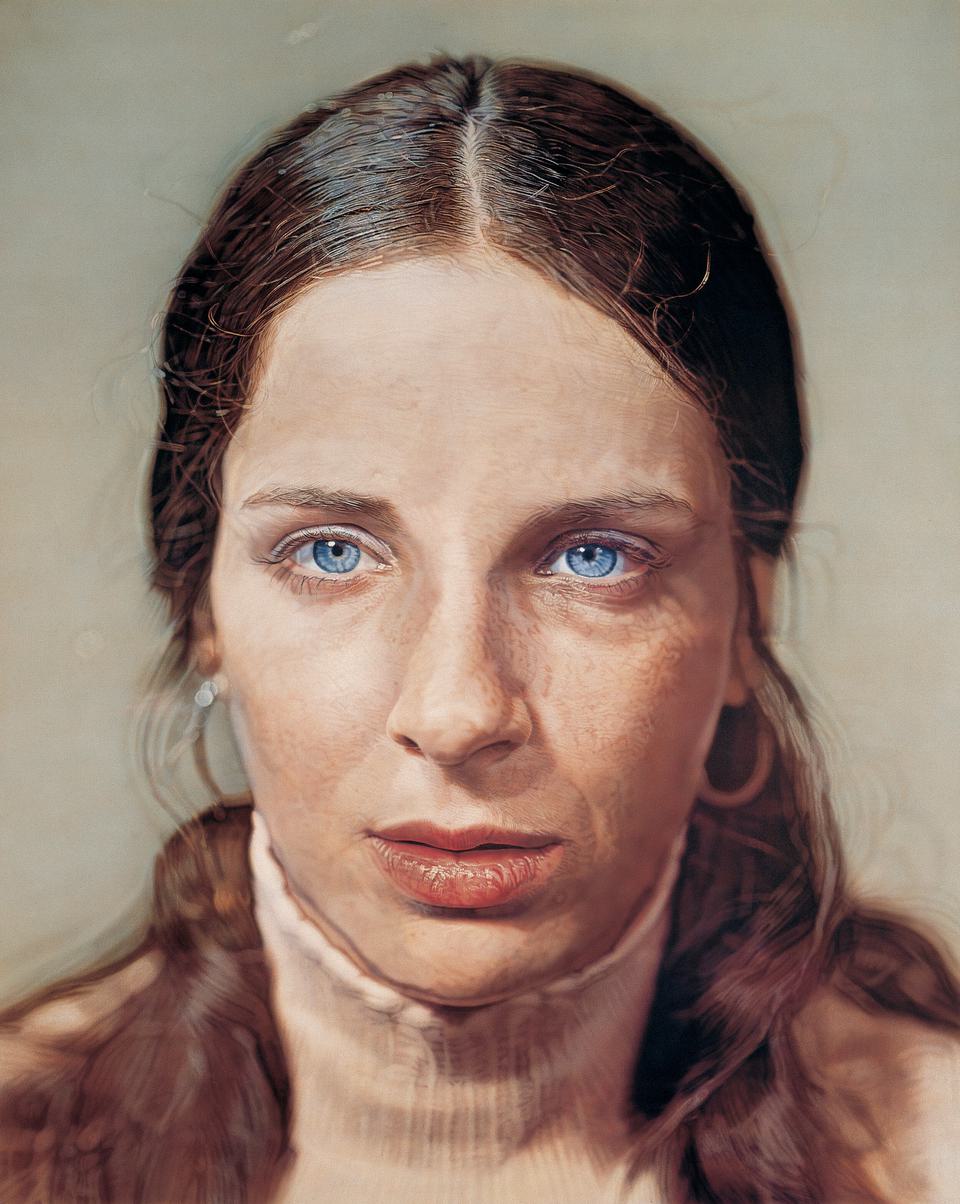 1972-73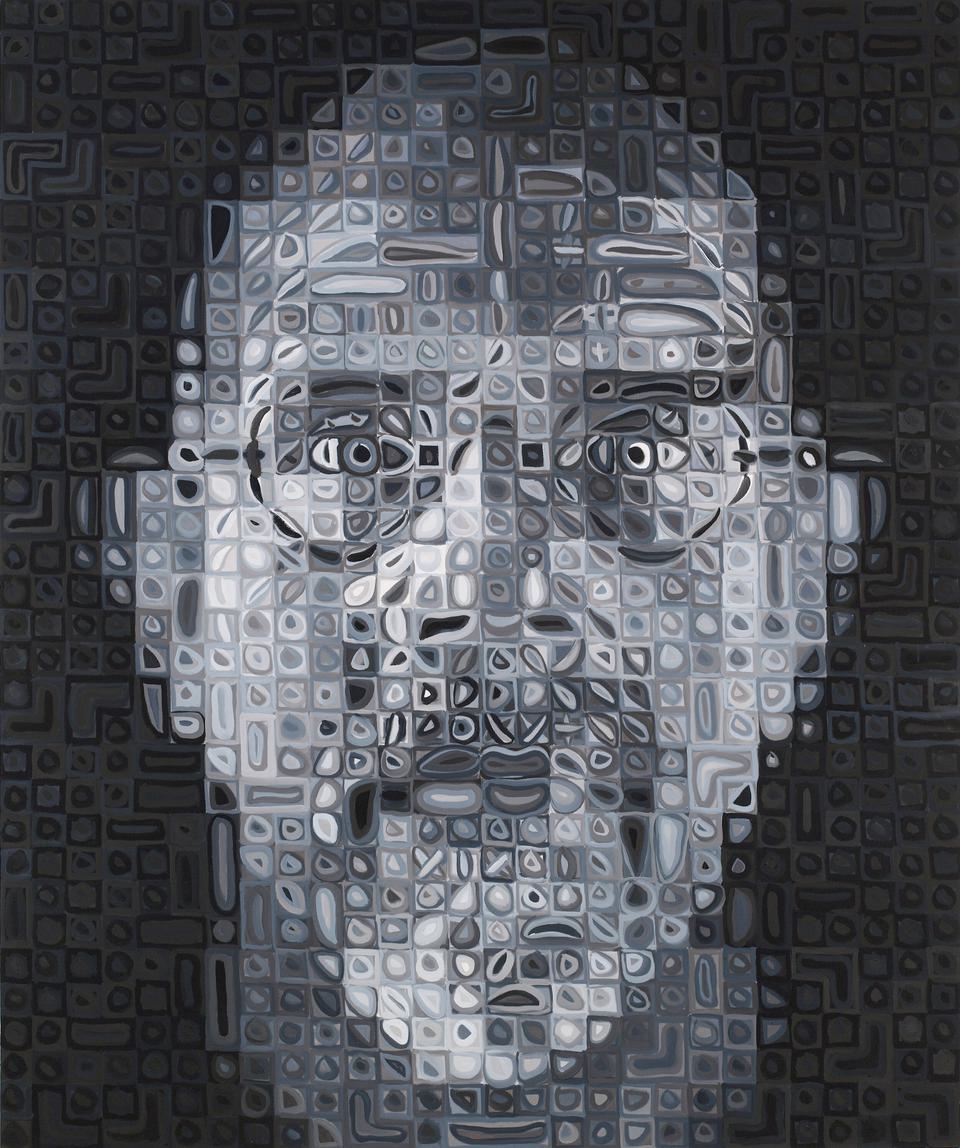 2007
---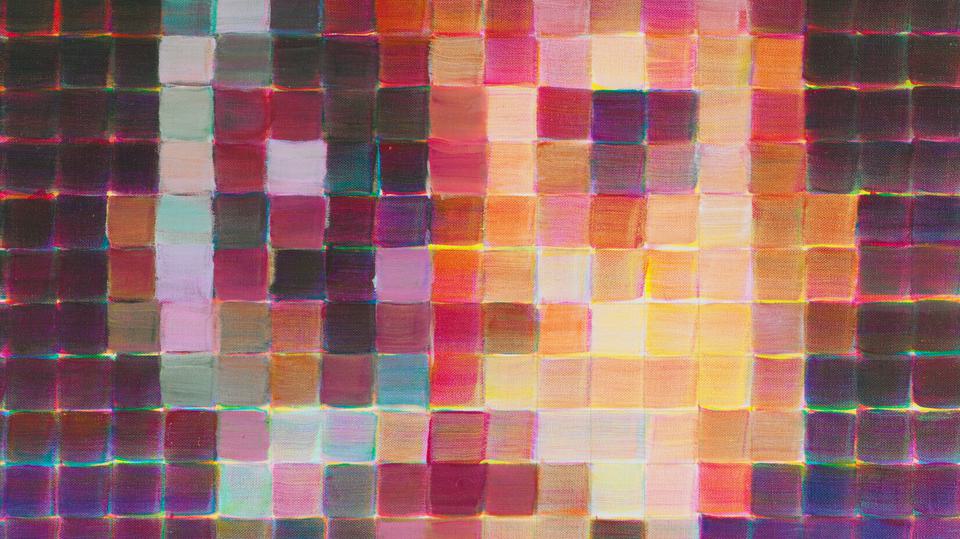 Contact us about available Chuck Close works
Enquire
---
---
In the Studio
Chuck Close
From his studio in 2011, Chuck Close discusses his artistic process, his interest in photography and his technique of recycling imagery with Tim Marlow.

In the Gallery
Chuck Close Prints: Process and Collaboration
Chuck Close discusses his career-long involvement with print making. Close likens making a print to a meandering, experimental journey that demands active participation from both the artist and the viewer.
In the Studio
Chuck Close
From his studio in 2011, Chuck Close discusses his artistic process, his interest in photography and his technique of recycling imagery with Tim Marlow.
---