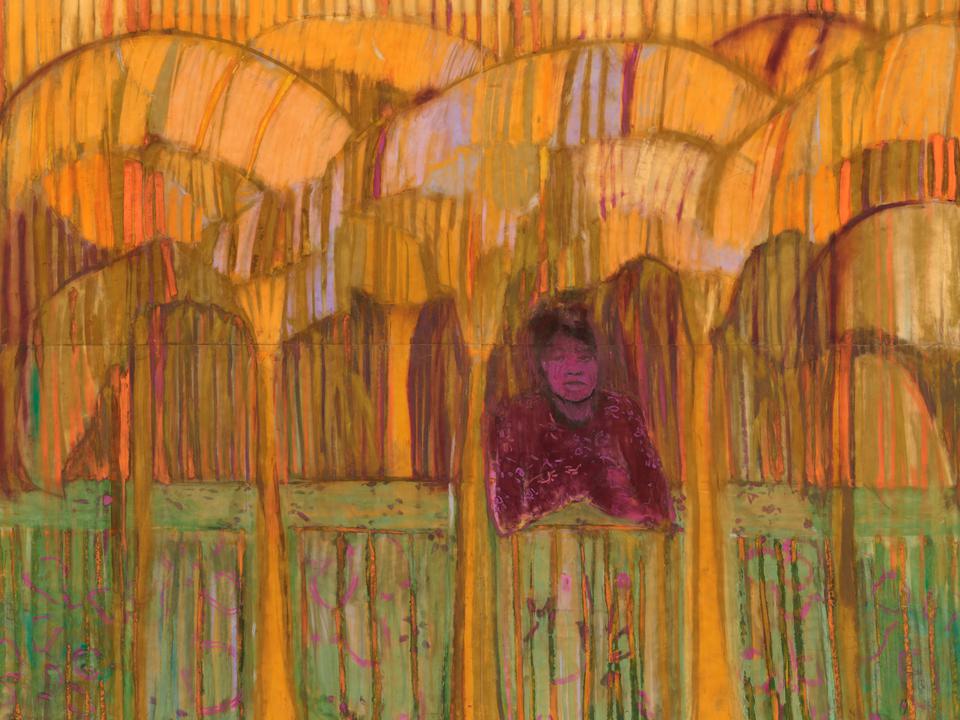 Christina Kimeze (2023)
Inside the White Cube
Christina Kimeze
Something other than the world might know
Dates
9 June – 27 July 2023
Location
10 avenue Matignon
75008 Paris

The works feel deeply personal. [They] belong to a new exploration of the idea of existing between two emotional spaces and the feelings of "otherness" that can arise from this space.
White Cube Paris is pleased to present 'Something other than the world might know', Christina Kimeze's first exhibition in France. Featuring both paintings and works on paper, Kimeze lends form to the rich quietude of our internal lives, in works that capture feelings and sensations born of memory and found through reflection.

Kimeze's paintings attain a completeness that transcends any singular narrative. Her female protagonists, often depicted within a framework of richly coloured foliage, are characterised by a stillness which the artist describes as 'an active state and full of possibility'. This idea of openness, not only to interpretation but to potential, is rooted in the writings of Kevin Quashie, specifically The Sovereignty of Quiet: Beyond Resistance in Black Culture, published in 2012, from which many of the works in the exhibition take their titles.
Emerging or retreating, the female figures of Kimeze's works inhabit a space of thresholds – curtains, partitions, canopies or stairs –favoured motifs which serve as devices to both conceal and reveal the subject's presence. Partly veiled by their surroundings and possessing an ethereal quality, her subjects are emblematic and relational, composed of many identities drawn from family and friends or modelled on her own form, but equally, the product of the recesses of her memory. The paintings Quiet and Something other than the world might know (both 2023) as a pairing can be seen to encapsulate the key ideas embedded in this exhibition. The former shows a composed female figure, a golden expanse of curtains to either side of her, she appears self-contained, retreated into her inner thoughts. The latter, which lends its title to the show, depicts another female figure, also in regal purples, making an offering or perhaps in service, a tray lightly held aloft. The paintings can be seen as two facets of ourselves that define what it is to be human: the necessity to nurture and protect our inner world at the same time as wishing to be at the service of others.

Executed with both dry and wet mediums including oil paint, oil stick and soft pastel, which are applied to suede matboard - a material which has a softness and texture that yields to paint and pastel - her luminous paintings have a powdery, hazy surface and a tactile, physical presence. Through this unique artistic process, whereby pigment is rubbed and crushed into the painting ground, Kimeze creates a delicate palimpsest of marks that trace the progress of her hand. 'I think ambivalence and ambiguity is a nod to interiority and "indulging in the whimsy", a sovereign space that isn't always legible.' Kimeze says. 'I reference this in my work using repeating motifs and forms and mark making to navigate these spaces that are not always representational but suggestive.'

The form of a winding staircase is a significant metaphor for Kimeze, representing passage from one selfhood to another. It is the subject of several paintings in the exhibition, including four distinct but related works, I dwell in possibility I, II, III and IV (all 2023), in which the figure represented in each ascends or descends a circular staircase. The images, together akin to an echo, recall the exploration of identity and self-separation depicted by Frank Bowling in his signature work Mirror (1964–66) in which he appears simultaneously at the top and bottom of a circular staircase. The dynamic movement in Kimeze's paintings might equally recall the compression of movement in the iconic modern masterpiece Nude Descending a Staircase (No.2) (1912) by Marcel Duchamp. In three large-scale paintings, Kimeze represents a figure reclining, recalling a classical European tradition of literary figures such as Ophelia depicted at the moment of death. Stilled, somewhere between worlds, these figures are a ghostly presence, crowned and protected by a canopy of leaves.

Drawing on a wide literary arsenal, including contemporary writers and poets Elizabeth Alexander, Victoria Adukwei Bulley and Saidiya Hartman, Kimeze also references a rich lineage of Black, feminist 20th-century writers, in particular the writing of Toni Morrison, Marita Bonner and the poet Gwendolyn Brooks. Brooks' seminal novel Maud Martha (1953) is of particular importance for its ideation of an inner life taking the form of a botanical interior, a concept also traced through the poems of Emily Dickinson. In Kimeze's smaller scale, single panel paintings, she reflects on these ideas, using the matoke tree and its distinctive arcing canopy of leaves in a semi-transparent, searing sunshine yellow. Dominating almost the entire composition of each work, the leaves are schematised, pushed towards an expressive form of abstraction. A familiar subject in Kimeze's painting, matoke plants point to colonial and personal narratives, being linked to the movements of the Baganda tribe of Uganda to which the artist's family belong, who travelled with Christian missionaries across Africa planting them as they journeyed.

The artist's practice is grounded in the idea of belonging and of 'home' as a condition rather than a specific place, rooted in her African heritage and collective family memories: 'The works feel deeply personal' Kimeze comments. '[they] belong to a new exploration of the idea of existing between two emotional spaces and the feelings of "otherness" that can arise from this space.'

Christina Kimeze lives and works in London. She received her undergraduate degree in Biological Sciences from the University of Oxford and her postgraduate degree from The Royal Drawing School, London. Unusual surface materials form an important part of Kimeze's practice, which she uses to explore how texture and luminosity help to investigate themes of interiority, oneness and belonging. Frequently working on suede matboard, Kimeze combines dry chalks, oil pastel and wet paints, applying, crushing and crunching them on the surfaces. Kimeze recently completed a residency at the Palazzo Monti in Brescia, Italy and has been included in several recent group exhibitions such as Palazzo Monti, Brescia, Italy (2022); Michael Werner, London (2022); Buckingham Palace, London (2022); and Borgo Pignano Royal Drawing School, Volterra, Italy (2022). In 2022 she was awarded the Sir Denis Mahon Award.
Installation Views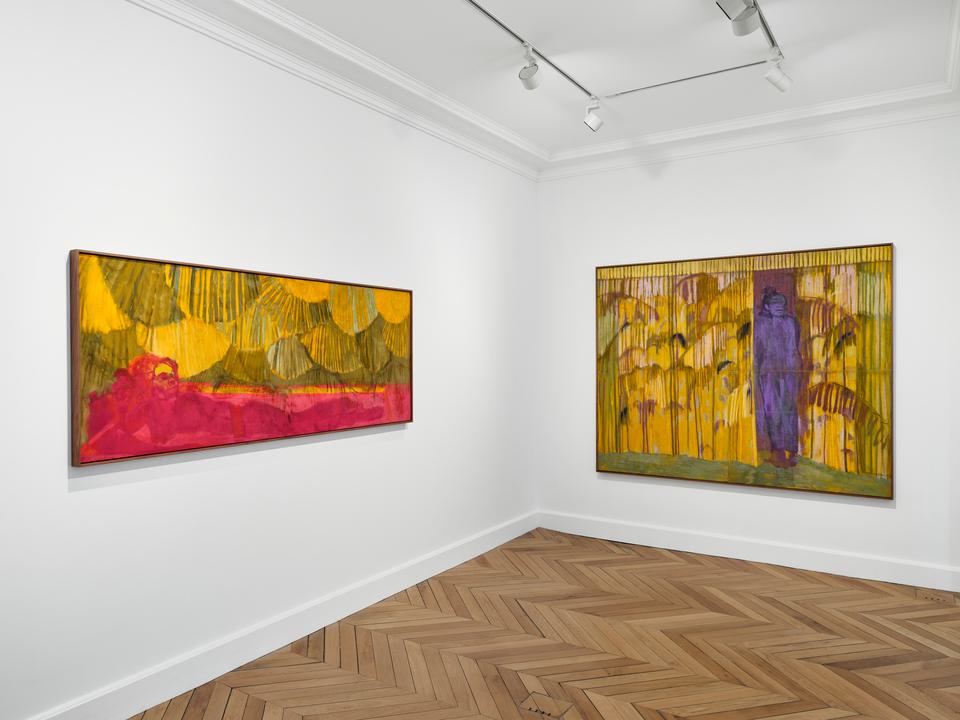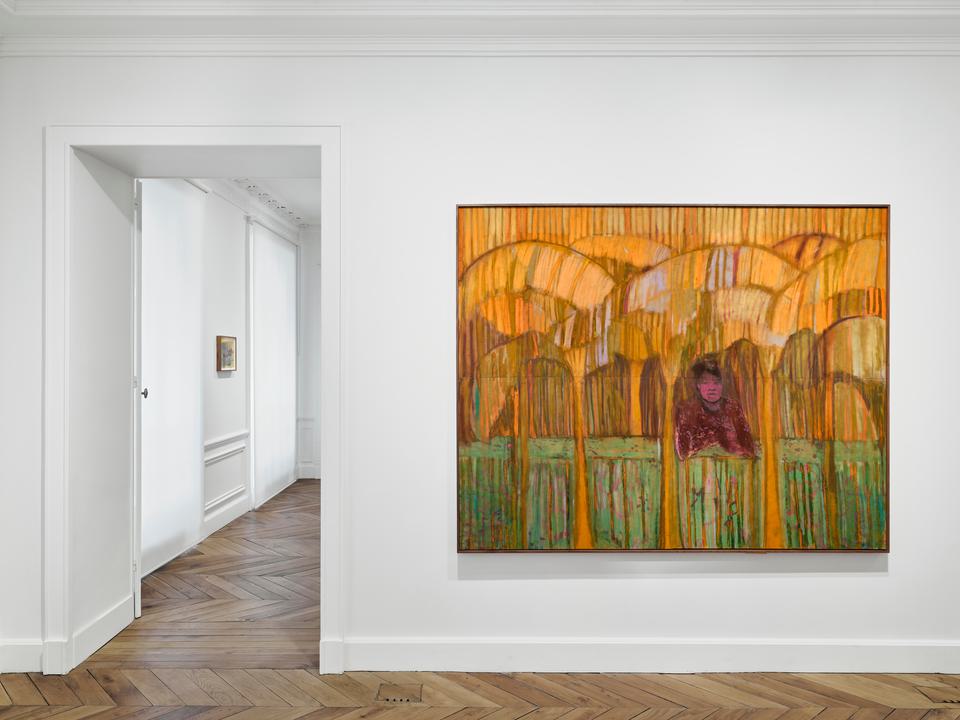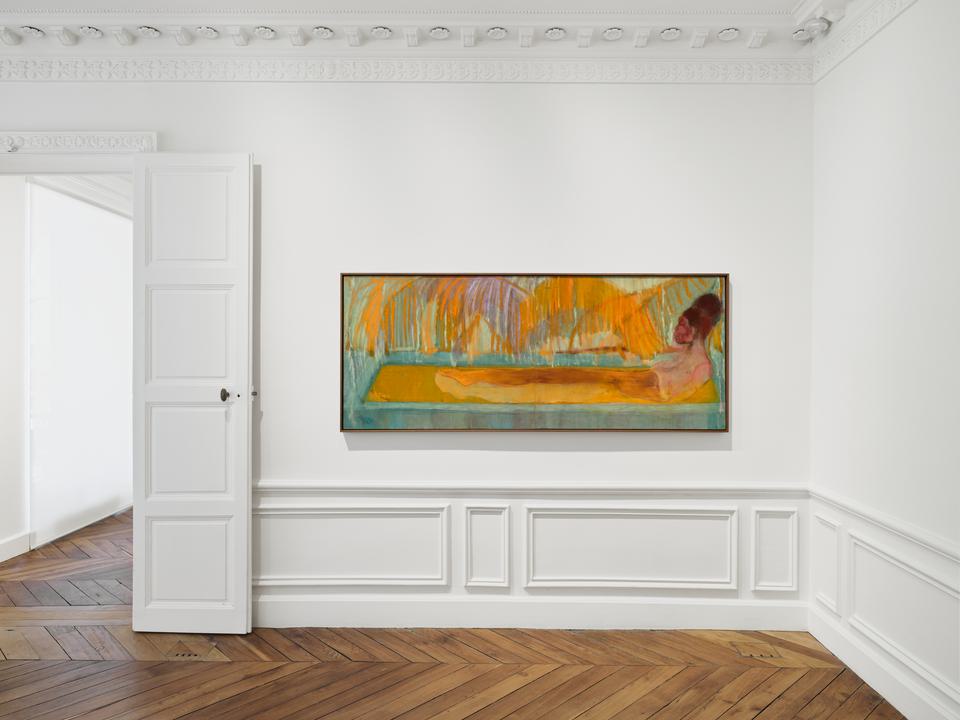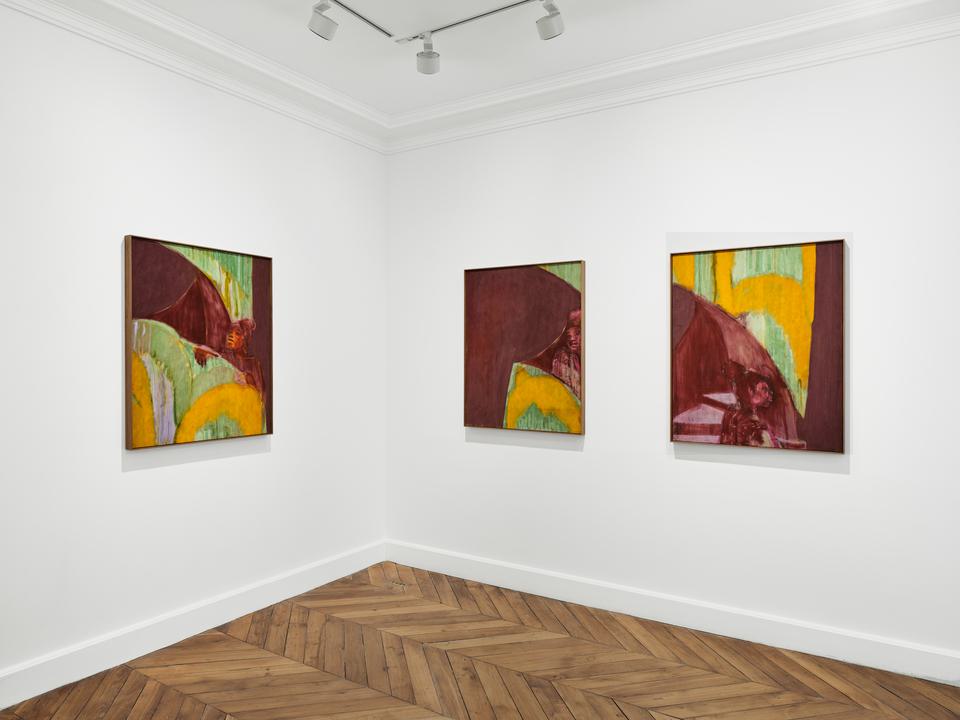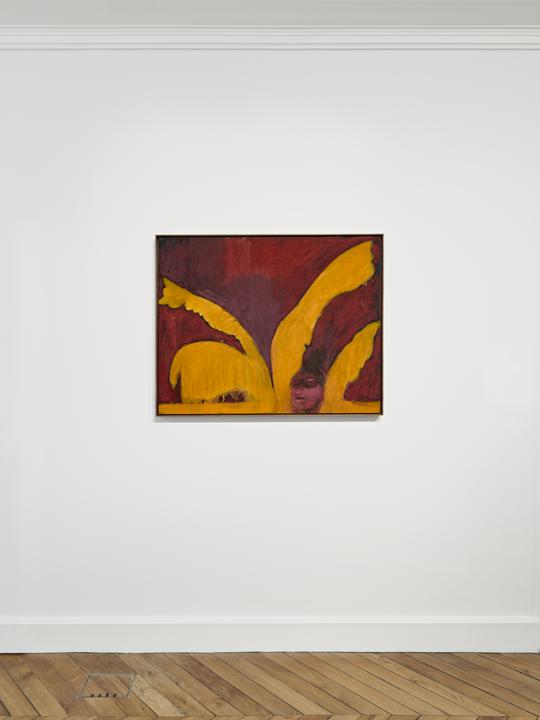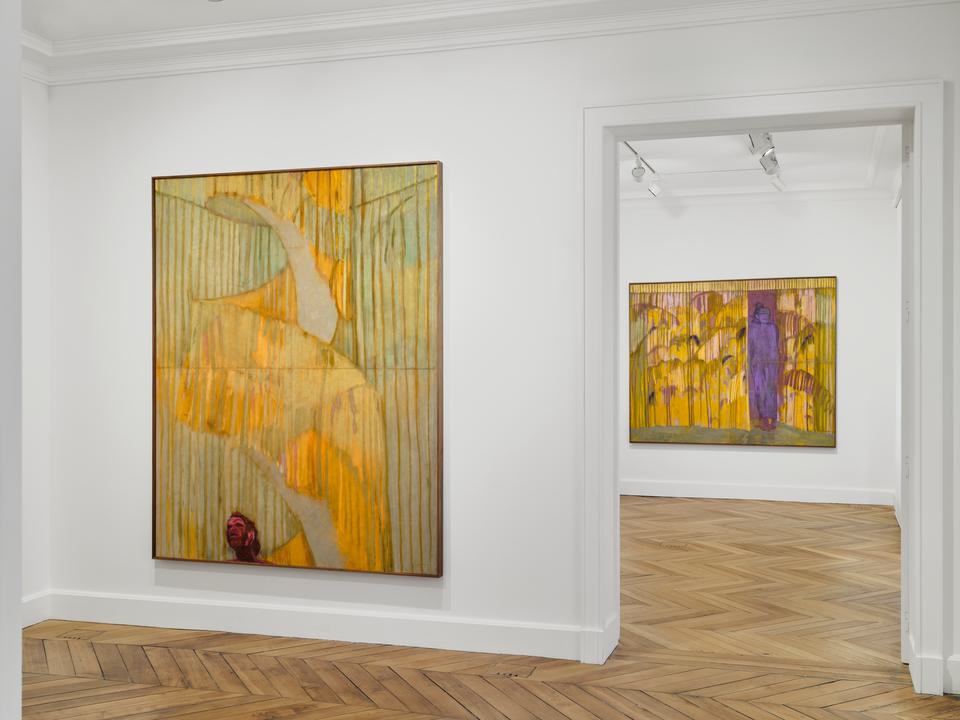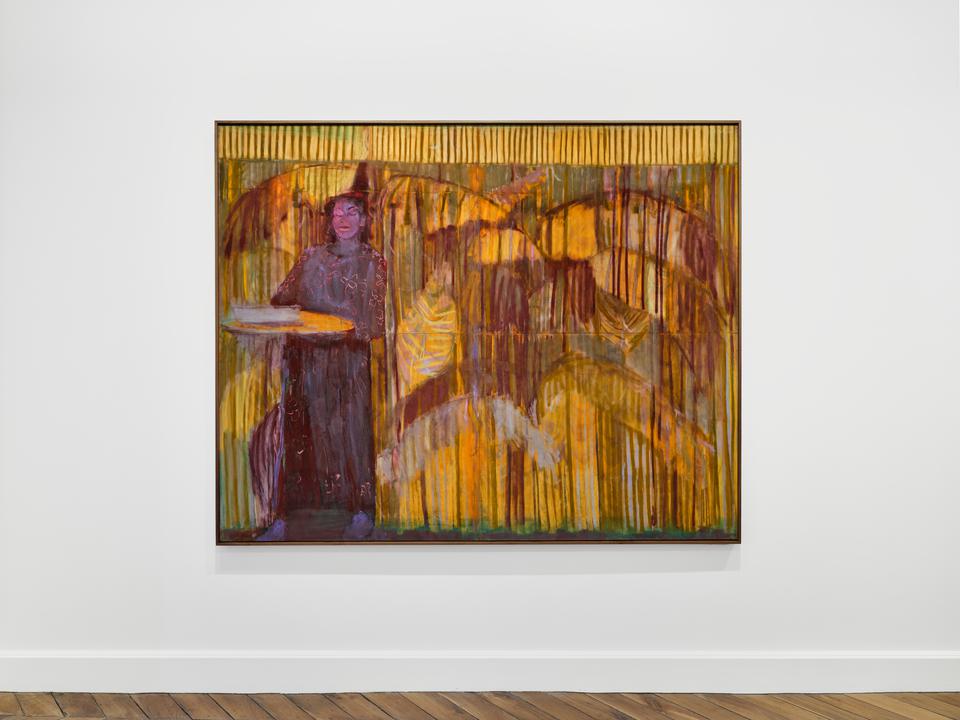 ---