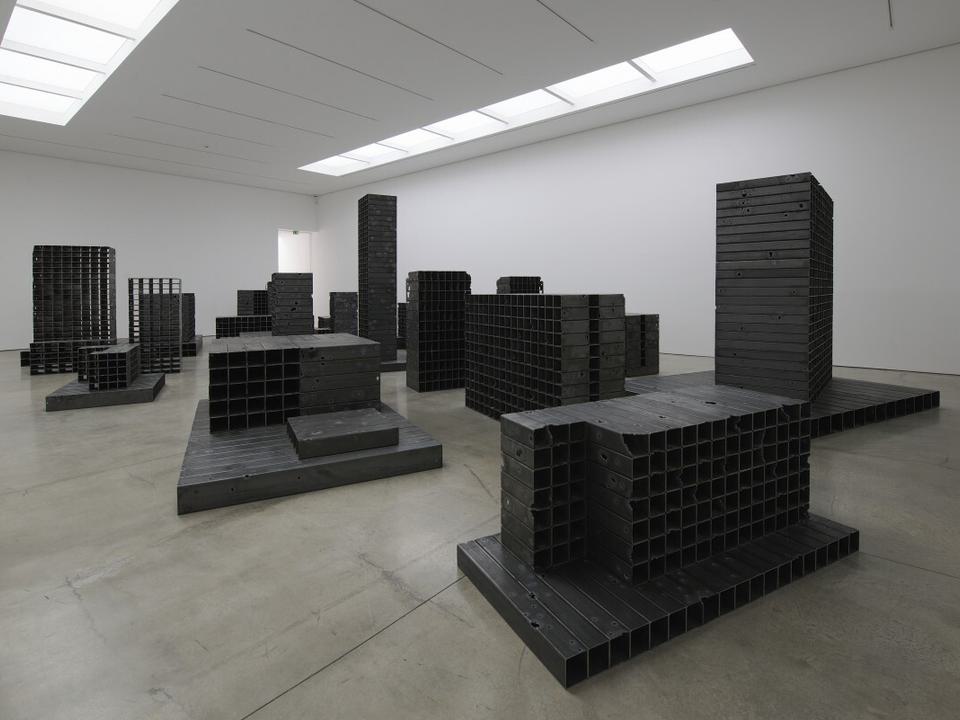 Bunker
25 February – 2 April 2011
Dates
25 February – 2 April 2011
Location
25 – 26 Mason's Yard
London SW1Y 6BU

White Cube Mason's Yard presents an exhibition of new work by Mona Hatoum. For this exhibition, entitled 'Bunker', Hatoum transformed the gallery spaces into sites of heightened tension, where global geographies are abstracted and condensed, and themes of mobility, belonging and displacement are explored through three new artworks.
On entering the ground floor gallery, visitors were confronted with 'Suspended', a room densely packed with red and black wooden swings, appearing like a floating archipelago of islands chained to the ceiling. On closer inspection, each of these 35 swings has the street map of a capital city carved into its seat, randomly chosen from six of the seven continents of the world. Each swing is hung at an oblique angle to its neighbour, creating a sense of geographical dislocation rather than connection, alluding perhaps to the constant flux of migrant communities across the world that shape the contemporary urban experience. The swings are constantly in motion as visitors circulate in and around the space and continue gently rocking even after they have left, lending the work an eerie and distinct sense of unease.

For the lower ground floor gallery, Hatoum created 'Bunker', a major new installation consisting of what appears to be models of 23 empty and derelict architectural structures. Each basic building structure is made up of stacked steel rectangular tube sections that have been subjected to cutting and burning, giving them the appearance of buildings that have been scarred by war. Although 'Bunker' seems to be an imagined cityscape, and seemingly generic in form, many of the structures refer specifically to buildings from Hatoum's native Beirut. As viewers walk among the steel skeletons of these model buildings, each with its own patina of burnt-out holes, we are reminded of the violent conflict that has etched its way into both the physical surface and collective psyche of the city.
In the smaller basement gallery, Hatoum presented '3-D Cities', a trio of printed maps of Beirut, Baghdad and Kabul mounted on tables linked by wooden trestles. Hatoum has cut out sections of each map with delicate crater-like concentric circles that either recede downwards or project outwards from the surface, as if marking the locations of some kind of seismic disruption or areas that have been affected by bomb blast. Riddled as these cities are with conflict, Hatoum's beautifully crafted incisions imply both the positive and negative impact of war, where the forces of destruction and reconstruction are manifest.
Mona Hatoum was born into a Palestinian family in Beirut, Lebanon in 1952 and now lives and works in London and Berlin. She has participated in numerous important group exhibitions including The Turner Prize, Tate Britain, London (1995); The Venice Biennale (1995 and 2005); Documenta, Kassel (2002) and Biennale of Sydney (2006).
Solo exhibitions include Centre Pompidou, Paris (1994); Museum of Contemporary Art, Chicago (1997); The New Museum of Contemporary Art, New York (1998); Castello di Rivoli, Turin (1999); Tate Britain, London (2000); Hamburger Kunsthalle (2004); Kunstmuseum Bonn (2004); Magasin 3, Stockholm (2004); Museum of Contemporary Art, Sydney (2005); Parasol Unit, London (2008); Darat Al Funun, Jordan (2008); Fondazione Querini Stampalia, Venice (2009); Beirut Art Center (2010) and MAC/Val, Paris (2010).
Installation Views