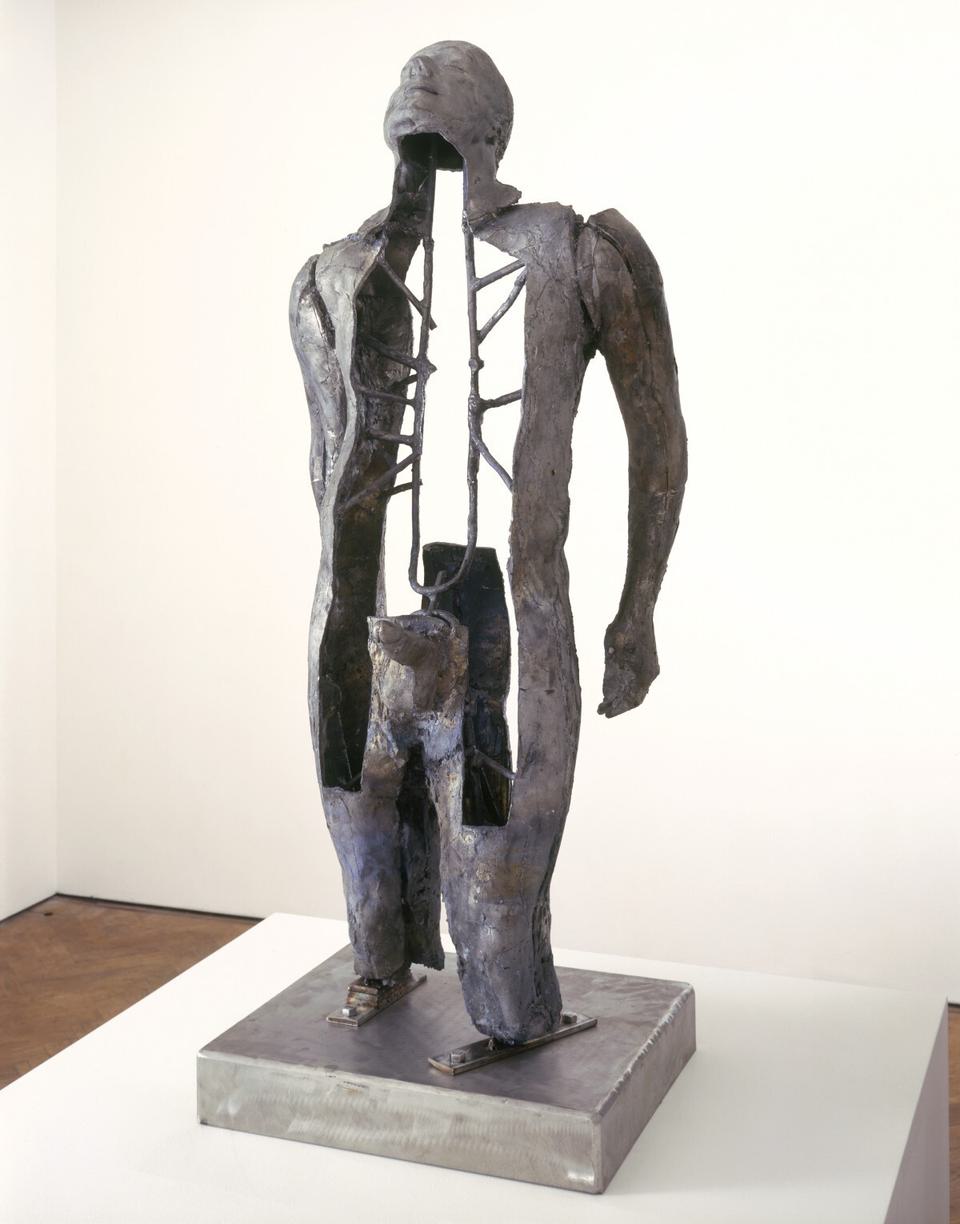 7 July – 9 September 1995
Dates
7 July – 9 September 1995
Marc Quinn exhibited Blind Leading the Blind (1995), a life-size three-quarter cast of his own body. This sculpture is one of a series of pieces based on the seven deadly sins, entitled 'Emotional Detox', in which contorted torsos represent heightened states of both physical and emotional expression.
Quinn's choice of lead as a material for this piece was determined both by the metal's dense physical properties, and its symbolism. Lead is toxic, yet historically, it was used as a base metal in alchemy and, as such, is associated with a process of transformation—these two associations link to the artist's personal experience of overcoming a dependence on alcohol.

The figure of The Blind Leading the Blind is contorted in a state of what might either be ecstasy or agony, with eyes closed, head thrown back and penis erect. As with much of his art, Quinn used a representation of his own body to explore a preoccupation with the mutability of the human form and its ability to encompass different states: the spiritual and the physical, the cerebral and the sexual. Resembling an exposed shell or an anatomical model, the interior of the figure is hollow, and a network of lead rods inside the torso (evidence of the original casting process) look like the veins and arteries of a petrified circulation system. The rough surface, the fractured seams between neck and chest, arms and torso, and the matt dense surface, suggest the vulnerability of a body in crisis. On one level, the sculpture could be interpreted as an ironic comment on male sexuality. However, there are also visual parallels with religious Baroque sculptures such as Gian Lorenzo Bernini's Ecstasy of St Theresa (1645–52), or the work of Austrian sculptor Franz Xavier Messerschmidt. In this sculpture, Quinn used the anatomy of ecstasy to draw out the differences and similarities between states of spiritual and physical abandon. Casting directly from his own body serves to give the work an emotional immediacy, enabling the viewer to identify directly with the artist's physicality.