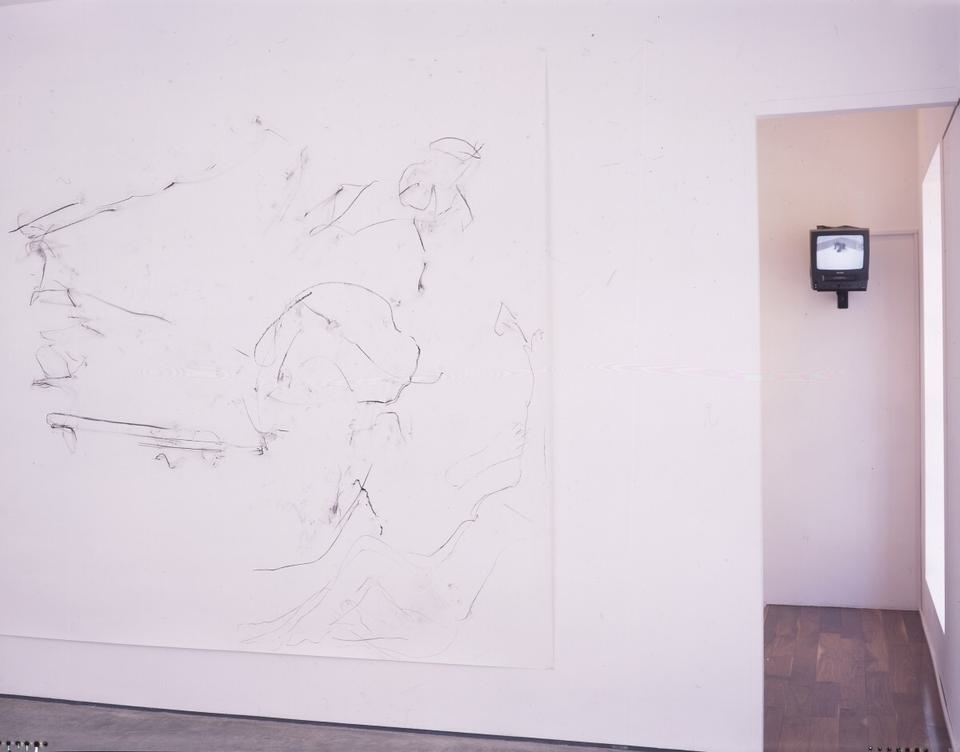 Trisha Brown
Antipodes 7 "Choreography"
1 April – 3 May 2003
Dates
1 April – 3 May 2003
The term choreography refers to the symbolic representation of dance, literally 'dance-writing'. In Antipodes 7, Choreography, White Cube explored the relation between the pure entropy of dance movement and its potential transfiguration into plastic form through the work of two leading international choreographers - legendary American iconoclast Trisha Brown, and young French experimentalist Boris Charmatz, working with collaborators Julia Cima, Dimitri Chamblas and César Vayssié of the Paris-based collective Association Edna.
Trisha Brown

It's a draw
1-19 April 2003
For world-renowned choreographer and dancer Trisha Brown, her solo project, It's a draw permitted her to reveal the inner tension of her movement, to revel in 'the honour of error' (sic) that she considers to be her artistic right. In doing so, she returns to the original trace of her choreographical gesture. Performing or plastic arts? Brown collapses the distinctions between drawing, movement, music and video as she explores her vocabulary of movement improvisations - lying down, curling up, stretching out, standing up - on gigantic sheets of paper fixed to the floor of the gallery, registering this restless passage with sticks of charcoal and pastel grasped in her hands and feet. The resulting drawings migrate from floor to wall immediately after they are made; the creative process itself is captured on video.
Brown's trace materializes movement's pulse without otherwise consigning to it a form: thus the commonly accepted notion of dance as possessing a magic which is by nature ephemeral and self-effacing begins to falter, just as certain assumptions about notation begin to lose definition. This kind of action drawing confounds and embodies the instants of two simultaneous projections of the self, in three and two dimensions. A certain majestic solemnity asserts itself at the moment where the sheet of inscribed paper is raised from the floor and suspended vertically. But despite this, the artist persists in describing her process in terms of 'play' rather than theories of artistic experimentation. Brown's studied nonchalance, which toys with the evidence of her very presence, works determinedly to debunk her own mythic stature, constructed four decades and an ocean away.
Since the beginning of her career in the 1970s, drawing has been integral to Brown's artistic process. She has used movement to generate graphic works and drawing to catalyse movement. Although she has previously exhibited drawings in America and Europe in addition to her extensive performing schedule, this will be the first time in Europe that she has made and exhibited drawings in situ, thus transforming the gallery space into a private working studio. The resulting drawings intimately reflect Brown's experience of her athletic body in motion, and record the subtle activities of a consummate mover, who works, as she says, 'between muscle, music and muse'.
A major figure in post-modern dance, Trisha Brown was born in Aberdeen, Washington, in 1936. She was an original member of the vanguard Judson Dance Theater in New York in the 1960s, and has spent her life working at the crossroads of dance, performance and visual art, collaborating with sculptors, painters and filmmakers. She founded her own company in New York in 1970, with whom she has conceived pieces for alternative sites, most notably the rooftops and façades of Soho buildings. In the 1980s she began exploring more complex ideas of cyclic dramaturgical structure, recently extending to interpreting opera (Monteverdi's Orfeo). A travelling retrospective of Brown's work opened at the Addison Art Gallery, Massachusetts in 2002.
Boris Charmatz, Dimitri Chamblas, Julia Cima and César Vayssié
Association Edna
22 April - 3 May 2003
The second stage of Choreography commenced with a three-day live improvisation Danse suggerée/Suggested Dance by choreographers Boris Charmatz and Julia Cima. Instrumentalising the chamber-like nature of the gallery space and its audience, Charmatz and Cima conducted specific improvisational activities investigating concepts of active and passive performance, which directly involve visitors to the space.
From April 25, Les Disparates by César Vayssié, an innovative 'danced film' made after the choreographical work of the same name by Boris Charmatz and Dimitri Chamblas, was screened continuously until May 3.
Working as a dancer and choreographer since 1990, Boris Charmatz formed Association Edna in 1992 with fellow dancer and choreographer Dimitri Chamblas, accompanying their first choreographical works, including A bras les corps (1993) and Les Disparates (1994). Association Edna coordinates diverse choreographical activities in order to develop a context open to multifaceted experimentation in the performative field. This research assumes various forms: thematic sessions, film production, exhibitions, and the creation of settings for critical reflection on artistic practices. Most recently, Charmatz has developed a series of critical projects - Education, Facultés and Statuts - aimed at a multiplicitous approach to dance and the body.