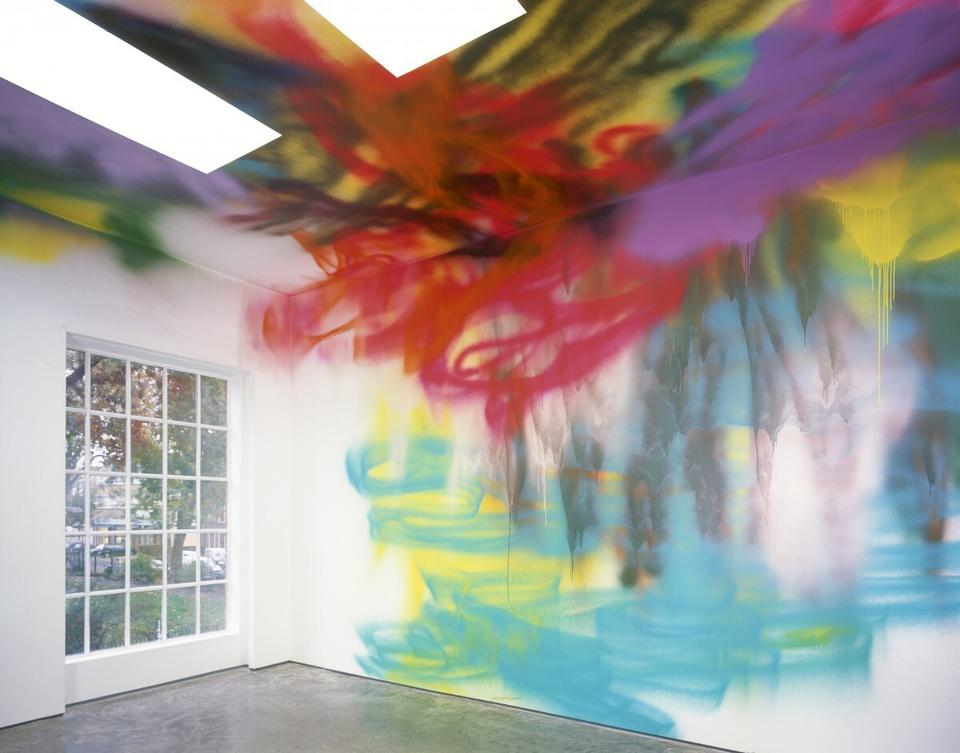 Dates
5 – 30 November 2002
For her project at  White Cube Hoxton Square Katharina Grosse worked on-site, using the diffuse impact of a compressor to explore and evince a new and unimagined physiognomy for the given gallery space beyond the bounds of its Platonic dimensions.
Whether working site-specifically or autonomously - she paints equally on canvas, aluminium and paper - Grosse's working process might best be described as stochastic: skillful and intentional, yet exuberant and open to chance and random variables in the articulation of different layers, reaches and depths of field, harmonies and clashes of colour. Like the improvisation technologies of dance and music, hers is a highly conscious act that embraces the outcome of its first phase of activity in a non-judgmental way; in other words, nothing can go 'wrong' or 'right' in terms of the final outcome. Freely exploring the space in the first phase of the working process, she starts to control it in a second phase. Throughout this second phase, she describes herself as 'the recipient of her own work', in constant dialectic with the certain 'status' that she has created in the previous phase.
As with all abstract art, Grosse's work could be said to function purely in terms of Gestalt; and yet, conversely, it is in this most seemingly essential, indivisible quality that hybrid metaphors and associations proliferate. Laurie Anderson once sang, unforgettably, that language is a virus, and in this painter's hands, the sublime language of abstract painting turns virulent and deeply evocative as it 'contaminates' the neutral space and its surroundings in a sudden release of baroque energy.