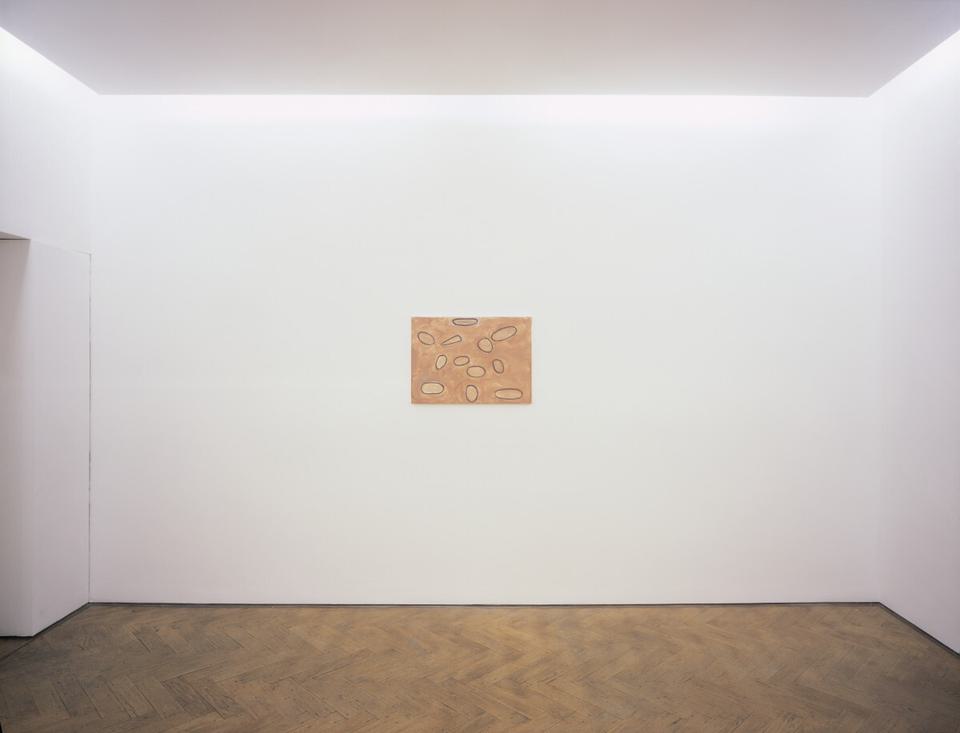 Dates
18 April – 25 May 2002
Belgian artist Raoul De Keyser exhibited four small light-filled paintings in the main gallery at White Cube Duke Street, and in the adjoining space, a selection of watercolours.

The paintings share a tonality of muted oranges and browns. Across 2 (Avond) (2000-2001) is an abstract canvas with floating lozenge-shaped areas against a vibrant burnt-orange background; another work, entitled Across 4 (Zonder) (2002), presents a large, rectangular orange area, inset with a slim section of dark forest-green and a white square. Characteristically, this picture slips in and out of representation: the painting could depict the façade of a modernist house, or could equally be simply an abstract study of shape and form.
De Keyser mostly paints modestly-scaled canvases that employ a sophisticated and very personal language of abstraction and a very personal language of abstraction that is both gestural and subtle. The paintings are layered or washed with muted tones, and feature primal organic shapes, grids, lines and strokes that seem to surface through the painting process itself. The artist's focus is on a bleached-out aesthetic, but unlike the work of fellow Belgian painter, Luc Tuymans, with whom he is often paired, his paintings are insular and inward-looking, the result of an exploration carried out on the surface of the canvas itself, rather than one focused on particular histories or narratives.

The starting point for De Keyser's work is often autobiographical, but as a result of the picture-making process, the meaning of his images become hidden and oblique. Although consisting of disparate marks, his paintings cohere by virtue of an overriding internal dynamic, and tonal subtlety—it is this dynamic, as well as the 'entry and exit points' in the canvas, that are key. The artist often pushes his compositions to the limit, with a series of diffuse strokes and shapes that seem to emerge, float and recede. The apparent looseness of syntax creates an atmosphere of nuance that invites and sustains multiple interpretations.