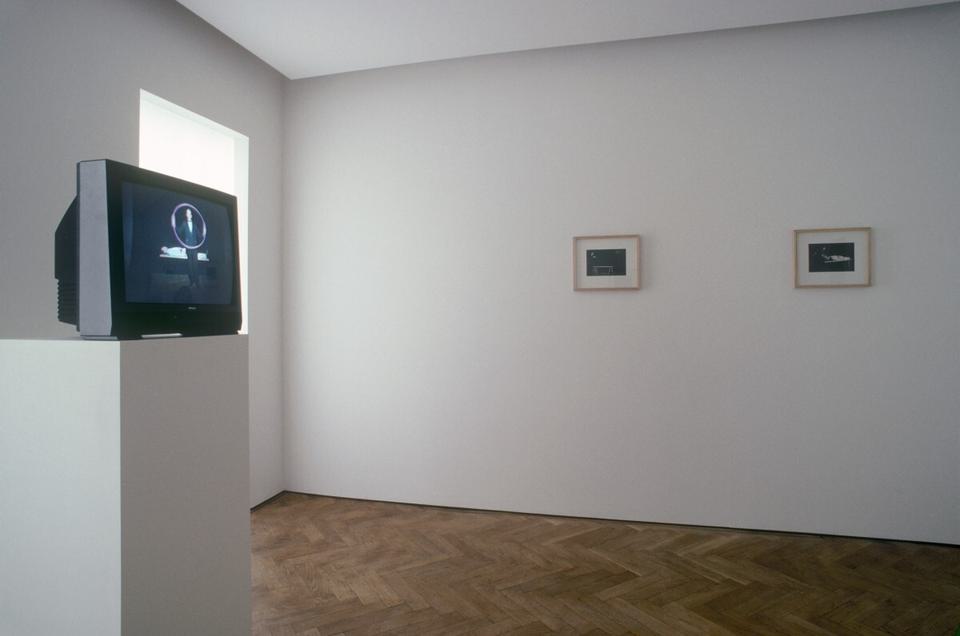 Gavin Turk
A Marvellous Force of Nature
17 September – 2 October 1993
Dates
17 September – 2 October 1993
Gavin Turk continually explores what it means to be an artist. His investigations subject avant-garde preoccupations with notions of authorship, authenticity and originality, to a rigorous and playful scrutiny. To this end, Turk makes frequent appearances in his own work, in a series of different and diverse guises.
In his video shown at White Cube, A Marvellous Force of Nature (1993), the artist takes centre stage as the prop for a magician who employs him in the performance of a 'floating artist' illusion. The video has the look of amateur footage: shot through a haze of cigarette smoke and the heads of onlookers, and accompanied by the occasional noise of shuffling feet and whispers. While the illusion itself may be one of the oldest tricks in the book, it is carried out with aplomb, as Turk taps into a vein of absurdist humour by resurrecting the long-faded glamour of variety shows and seedy dinner-club entertainers. As the act progresses, and Turk is seen levitating in mid-air, a suspense-building soundtrack joins with the magician's solemn, elaborate gestures, to conjure up a sense of occasion that gives the performance a real sense of ceremony.

In this work, Turk has turned himself into a prop: the artist as object, a device that reflects the theme of transformation, which is a persistent one in his work. In the past, he explored the potential of the artist's signature to assign value to blank canvases by converting them into artworks. In doing so, Turk paid his respects to the work of both Piero Manzoni and Marcel Duchamp, artists who famously explored the way in which a work of art is conferred iconic status. In Turk's work, combining art and magic encourages us to compare the mysterious 'aura' of the magician with that of the artist. It also focuses attention on the receptivity of the audience: both magic tricks and art require a leap of faith on the part of the viewer, that they collude with a 'performance' by momentarily suspending disbelief.