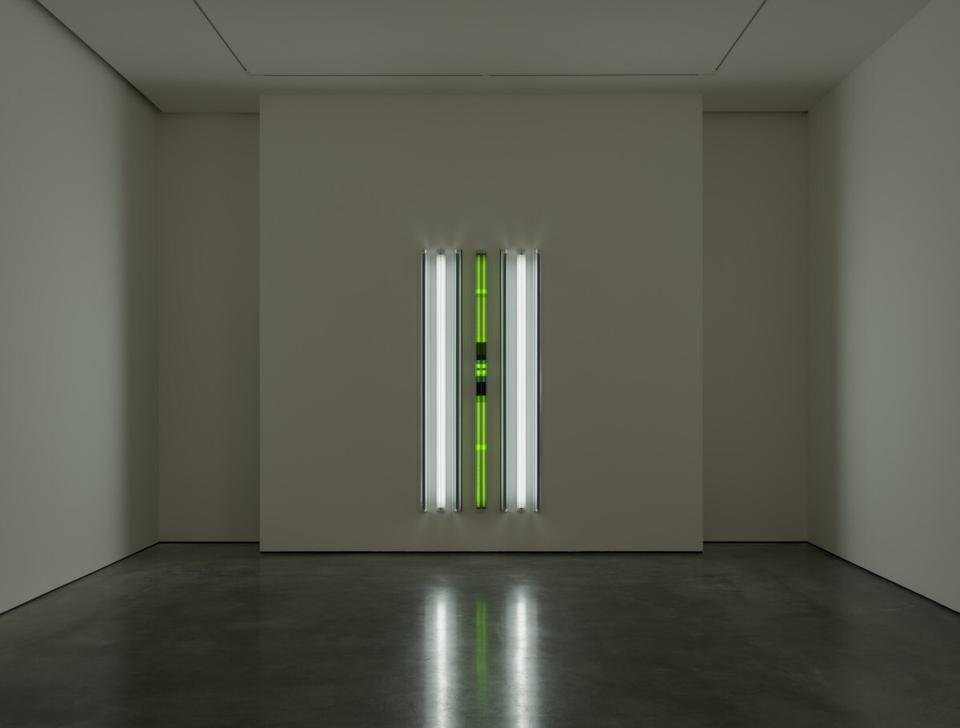 23 September – 15 November 2015
Dates
23 September – 15 November 2015
Location
144 – 152 Bermondsey Street
London SE1 3TQ

White Cube presented 2 x 2 x 2 x 2, an exhibition by Robert Irwin, one of the pivotal figures in recent American art. Irwin's oeuvre has spanned more than 60 years and includes painting, sculpture, installation and large-scale architectural projects. Minimal and perceptual, his works attempt to highlight particular spatial situations, acting like brackets for our phenomenological experience. This exhibition brought together three groups of works, including fluorescent works, transparent acrylic columns and a diptych.
Since the 1970s, Irwin has used light and subtle alterations of space to refocus the habituated eye, encouraging an awareness of the visual field around us. He has said that 'the pure subject of art is human perception': a conditional activity determined by context. In the 'cuts', Irwin creates a sequential experience of colour for the viewer, with a series of long, coloured fluorescent tubes placed on the wall in vertical lines. Each measuring 7 by 8 feet, the tubes are covered with various coloured gels to create an array of blended hues of intensity and weight. As he has previously stated 'all colour is equal in its 'place' … all colour can be used with a feel for its correctness. Colour has the ability to put life in inanimate situations.'

A diptych - Black Painting (2015) - was also displayed in the North Galleries. Two monochrome black squares, made with multiple layers of urethane paint and lacquer on honeycomb aluminium, are highly reflective, making the mirrored image the subject, while at the same time suggesting a void within the space. Irwin's investigation of colour relates to the work of Josef Albers and Barnett Newman but here particularly to Kazimir Malevich's Black Square (1913).
Two acrylic columns in the 9 x 9 x 9 gallery exploited both the verticality and volume of the architectural space. Irwin first conceived of these works as early as 1969. While almost invisible under certain light conditions they both obstruct and frame their surroundings, through a minimal interruption of its internal space. Irwin has said that the columns 'sit on a delicate edge', creating conditions where 'you don't think about whether it's art or not art. It's just about what you're seeing or not seeing.'