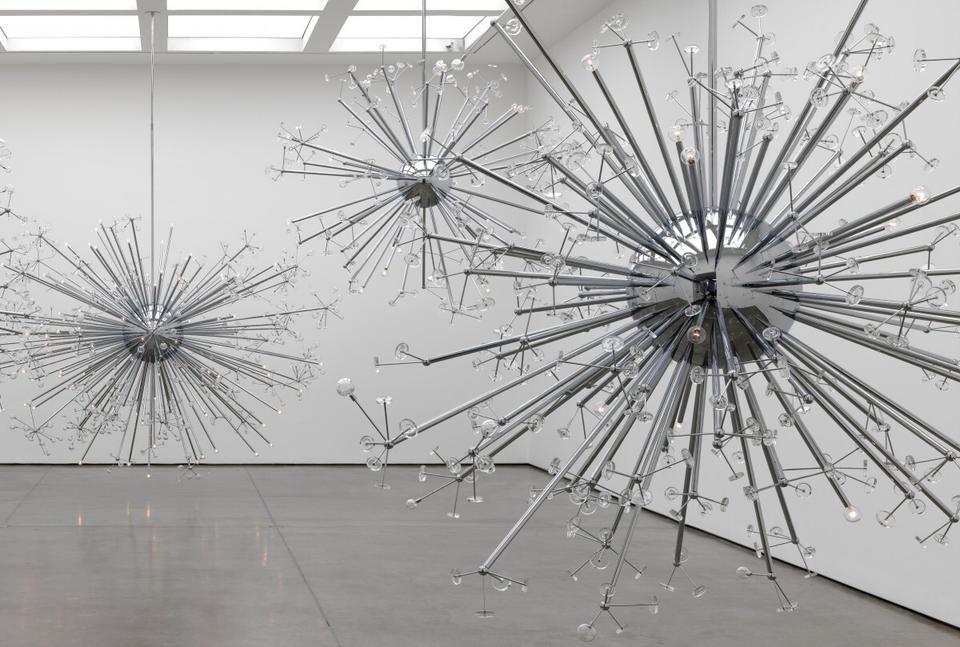 14 Octobre – 15 Novembre 2008
Date
14 Octobre – 15 Novembre 2008
Over the past decade, McElheny has carved out a unique space in contemporary art with sculptures and installations that fuse a sharp conceptual take on cultural history with his expertise in glass manufacturing, along with other materials. This exhibition, his second with White Cube, featured Island Universe, an installation consisting of five sculptural elements occupying the entire ground floor of the gallery. Each of these five elements in Island Universe is a kind of explosion of highly reflective chrome-plated aluminium, with a central sphere from which radiate rods of varying lengths; each rod ends with either a unique cluster of objects, which include smaller rods topped by hand-formed glass discs and globes, or a single light.
'Island Universe' is the most ambitious expression of a set of ideas that McElheny has been exploring for a number of years and which he first articulated with 'An End to Modernity' (2005). This spectacular sculpture, almost 5 metres across, is at once a play on the Lobmeyr-designed chandeliers in New York's Metropolitan Opera and a vivid diagram of the Big Bang. The design of these chandeliers and the discovery of the first data supporting the Big Bang both occurred in 1965, and McElheny sees the confluence of these two events as representative of a time when our understanding of modernity started to fall apart, to be replaced by a new set of narratives. 'Island Universe' is a fusion of design, science and the history of art, and the installation seems to have arrived intact from the mid-sixties; at the same time, the work is infused with contemporary sociology and cosmology.
McElheny collaborated with cosmologist David Weinberg for 'Island Universe' to create abstract sculptures that are scientifically accurate models of Big Bang theory as well as illustrations of the ideas that followed the general acceptance of the theory. The varying lengths of the rods are based on measurements of time, the clusters of glass discs and spheres accurately represent the clustering of galaxies in the universe, and the light bulbs mimic the brightest objects that exist, quasars. Island Universe proposes a set of possibilities that could have burst into existence depending on the amount of energy or matter present at the universe's origin. The installation creates a three-dimensional map of what cosmologists call 'The Multiverse', a set of variations and materializations of other potential universes. In this unlikely collision of interior design and cosmology, McElheny finds a host of ideas that intersect modernity's ruins, the history of metaphysics and abstract art to create a work of breathtaking formal beauty.
The exhibition also included a film, with a soundtrack commissioned by Paul Schütze. Filmed in Super 8 16mm on location at the Metropolitan Opera House in New York, each of its five sections depict the types of universes in the installation, and each section is titled based on the theoretical structure of each element, such as Small Scale Violence, Frozen Structure, and Late Emergence. The music and the editing convey a rhythm that shifts, freezes and develops in relation to the scientific speculations about other worlds.
A fully illustrated catalogue, with contributions from David Weinberg, Molly Nesbit, Thomas Ryckman, Craig Hogan and Craig Burnett accompanied the exhibition.
Josiah McElheny lives and works in New York. He has exhibited widely, including solo shows at Henry Art Gallery, Seattle (2008), Moderna Museet, Stockholm (2007), Museum of Modern Art, New York (2007), Centro Galego de Arte Contemporánea, Santiago de Compostela, Spain (2002), Yerba Buena Center for the Arts, San Francisco (2001), The Isabella Stewart Gardner Museum, Boston (1999). Group shows include the Wexner Center for the Arts, Ohio (2005),CCA Watts Institute for Contemporary Arts, San Francisco (2003), Art Gallery of Ontario, Toronto (2001), Whitney Biennial, New York (2000) and The Art Institute of Chicago, Chicago (1998).