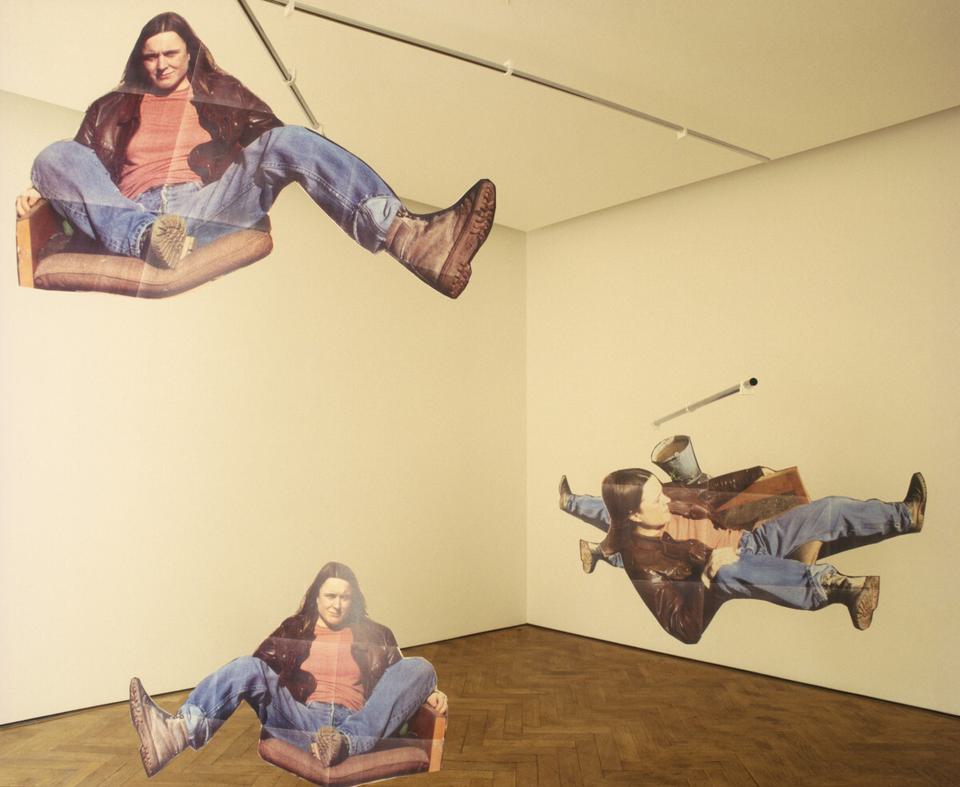 24 June – 7 September 1994
日期
24 June – 7 September 1994
White Cube presented Bucket of Tea (1994) by Sarah Lucas, a mobile suspended from the ceiling by a network of wires and rods, that featured four large, colour-photocopied self-portraits backed by mirrored styrene. The artist had made cut outs from a series of self-portrait photographs taken with a wide-angle lens, whose distortion served to increase the in-your-face attitude of the portraits. These pictures present Lucas languishing with laid-back defiance in an armchair, wearing jeans, an old leather jacket and worker's boots; she sits with legs apart and boots dramatically enlarged, pushed up into the foreground. The movement of the floating images conveyed a listless mood with the artist suspended in an uncertain equilibrium, this fragile condition seeming to undermine the tough self-confidence of the portraits.
Halfway up the stairs leading to the gallery space, Lucas presented Headstone for Tracey (1994), a concrete tombstone with the words 'fuck me while I'm sleeping' carved into its surface. In 1993 Lucas collaborated with Tracey Emin by setting up an art space in a shop on London's Whitechapel High Street. This rough ungainly object serves as a darkly humorous 'epitaph' for her friend and former collaborator.

In the adjoining space the artist showed three small photo collages that combined newspaper print and watercolour. These intimate works have a delicate appearance at odds with the confrontational stance Lucas adopts in her images. In one, (Volvo) Strange Eye (1994), she is seen lounging in a battered armchair with her crossed boots thrust so far forward into the viewfinder that they completely obscure her face.
Lucas makes concise, funny and direct works with an economy of means that often combine resistance with sensitivity and lightness of touch.