Introductions | Sara Flores
Introductions | Sara Flores
26 November 2021 – 18 January 2022
'Everything I paint first appears in me. Sometimes, I cannot dismiss the patterns from my mind. I go to sleep and they appear forming on the threads of the mosquito net. I close my eyes but I keep on seeing them. They come to me in dreams.'
One of the foremost contemporary artists emerging from the Amazonian basin, Sara Flores (b. 1950) lives and works in Peru, and is part of the Shipibo-Conibo People, an Indigenous group spread out alongside the Ucayali River. Flores's intricate, geometric paintings on textile rework and expand the traditional form of Kené, a Shipibo term that can mean 'design' and whose etymology probably links with the verb kéenti, which means to love or to care for.


Flores's Kené designs are hypnotic, abstract patterns rendering an overall image with a complex, vibrational power. Created using knowledge passed down matriarchally from generation to generation, it is part of a deeply entwined belief system that does not aim to represent but rather, to fix the fluidity of forms and images that inhabit the world of the spirit. Shipibo researcher and author Laureano Rios Cairuna has written: 'Kené designs are an expression of Shipibo creativity and reveal the symbolic form in which shamanic practices serve as the point of contact between the material world and the invisible forces of nature.'
---
Flores's work is hand-drawn in free form, precisely rendered without the aid of preparatory sketches or digital processes and executed with vegetable dyes on tucuyo, a canvas made from wild cotton. Their powerful design draws our gaze simultaneously in different directions across their surface using repetitive, maze-like tracery which recalls labyrinths, pathways or neural systems. In some paintings, Flores locates the image within a patterned border while in others, the repetitive image runs right up to the canvas edge, as if about to spill over beyond its visible limits.

Performing a careful balance between experimental innovation and traditional form, Flores projects and recasts the Shipibo vision, creating what has been described as a 'cybernetic codified system that not only represents but taps into the substrate of existence'. Shipibo artistic and healing practices seamlessly weave ritual, aesthetics, ecology, social structures and the supernatural into a complex, multifaceted whole. As Matteo Norzi, Executive Director at Shipibo-Conibo Center, New York, has written: 'Shipibo belonging involves not only the embodiment of physical, cognitive, spiritual and affective capacities but also requires no split between thoughts and feelings, mind and body.'
'Everything I paint first appears in me. Sometimes, I cannot dismiss the patterns from my mind. I go to sleep and they appear forming on the threads of the mosquito net. I close my eyes but I keep on seeing them. They come to me in dreams.'
Kené often references the visual and musical patterns of ayahuasca ceremonies and is thought of as healing design or a kind of 'design medicine' that can restore or create balance. Mobilising the transformative properties of art, there are certain diseases thought to be caused by harmful designs or energetic disorder that must be unraveled and re-imprinted with orderly ones.

The motifs in Kené have their origin in Shipibo cosmology and are inspired by the anaconda and the patterns on its skin. To learn their designs, the Shipibo take psychoactive plants, specifically kené waste and ayahuasca, whose twisted vine embodies the serpent's second self. It is believed that women see Kené in contemplations, visions or hallucinations, and over time these states materialise the designs.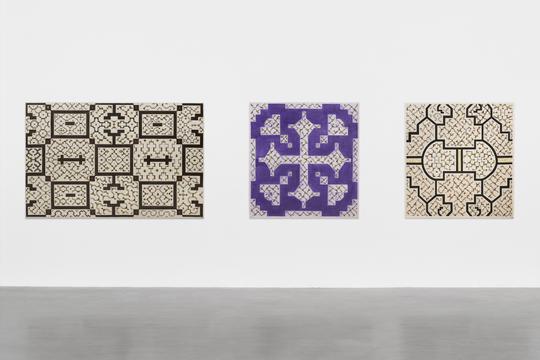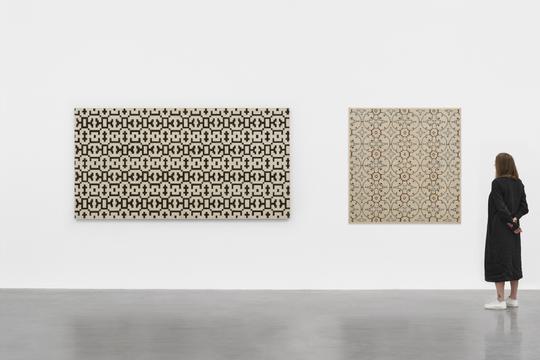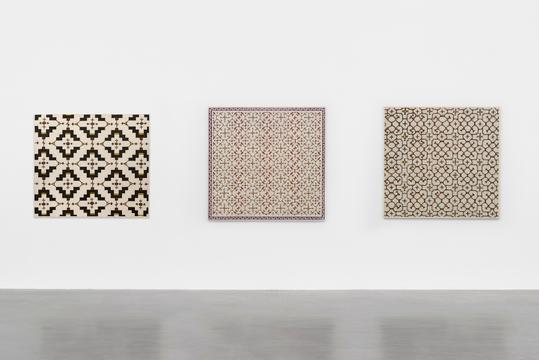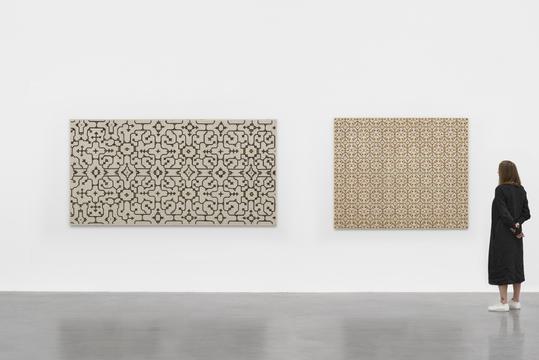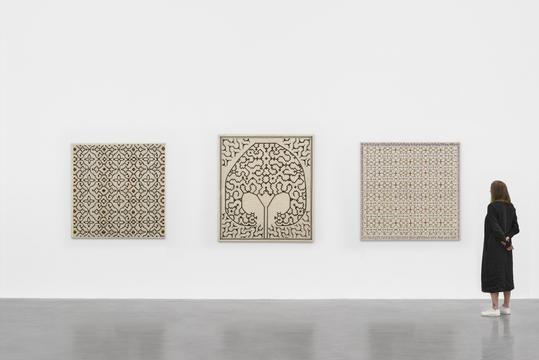 Listen: Brett Littman on Sara Flores
Director of the Isamu Noguchi Foundation and Garden Museum Brett Littman discusses the work of Sara Flores. Recorded at Newsstand Studios at the Rockefeller Center, New York. Duration 11:31
The preparation of colours and the spiritual process of Kené are part a complex relationship to land, water and plants from which both the vision of an artwork, and the tools to produce it, develop. Flores conceives and carries out her work much as a shaman would, exercising spiritual and physical discipline for several days prior to production. A subtle palette of colours is prepared for each panel from autochthone flora: the bark of yacushapana for brown/black; the leaves of amí for purple; the fruit of achiote for red; the root of guisador for yellow.

Following initial line drawing, the fabric is washed with a solution containing a highly alkaline river clay which functions as a fixer so that chemical reactions can trigger a change of colour. The yacushapana bark tincture, for example, which is often used for the principal lines, changes from a barely visible light brown to black, lending a higher contrast to the final work.
Flores began her own apprenticeship at the age of 14, under the guidance of her mother, and now often works alongside her own daughters in a process that allows the women to collaborate and engage in each other's work. In 1976, Flores co-founded Maroti Shobo, in the native community of Paohyan, which became the first women's co-operative of the Shipibo people. Still active, the organisation anticipated other co-operative efforts which are now part of the Shipibo socioeconomic proposal for an Indigenous future.

Experimenting within the many sub-categories of Kené design, Flores's work highlights the two sides of art making within Shipibo language: the craft, or menin, and the creative, or shinan, which is linked to the visionary imagination. The insistence of a design within the imagination – in a dream, inner vision or in daily life – suggests its potential connection with something neurological, rooted deep within the subconscious, where it is thought the spirits of Shipibo ancestors reside. Kené can therefore be considered not just as a two-dimensional image but as a portal to a wider synaesthetic experience.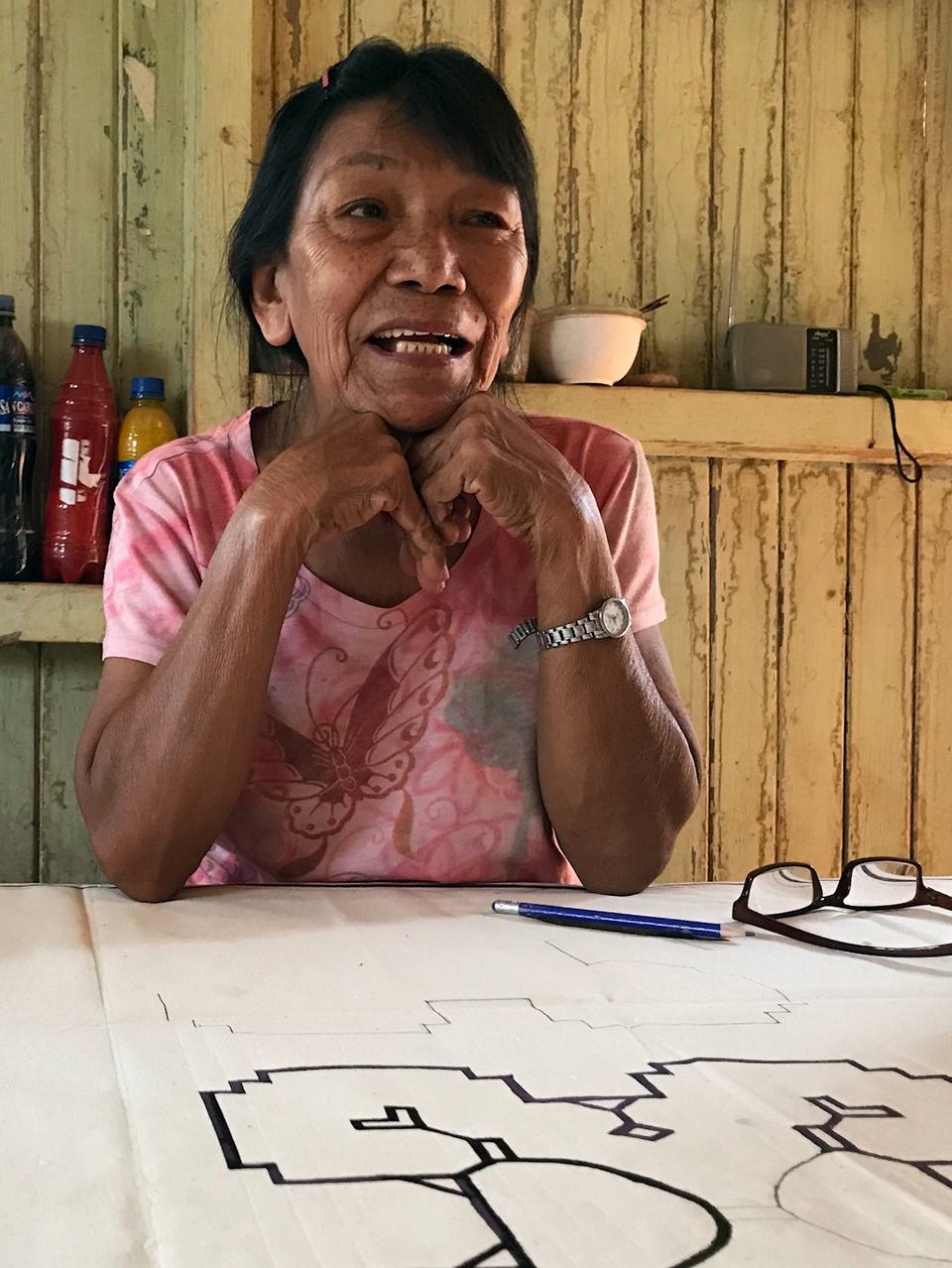 Sara Flores (b. 1950) lives and works in Peru, and is part of the Shipibo-Conibo People, an Indigenous group spread out alongside the Ucayali River. Selected recent solo exhibitions include the Outsider Art Fair, New York (2020) and selected recent group exhibitions include Drawing Lab, Centre d'art privé dédié au dessin contemporain, Paris (2020) and Austrian Cultural Forum, New York (2018).

This exhibition is a collaboration with the Shipibo-Conibo Center, New York. The Center is an art project in the form of a nonprofit organisation that works alongside Indigenous leadership in the Amazon toward Shipibo self-determination and territorial sovereignty in a sustainable future.