Introductions | Patrick Martinez
Introductions | Patrick Martinez
White Cube is pleased to present an online exhibition of works by Patrick Martinez. A multi-media artist, Martinez addresses race and socio-economic status to propose a dialogue founded in equality, empathy and connection. Alluding to a now-distant American Dream, in its place Martinez confronts the crisis of identity and belonging, economic disparity and institutional injustice that pervade his immediate surroundings.

Of Mexican, Filipino and Native American heritage, Martinez was born in 1980 in Pasadena, California, and now lives and works in Los Angeles. Celebrating the strong visual aesthetic of his native LA, and in particular the urban visual language of its Latino communities, his use of unconventional materials reflects a desire to harness the character of this environment and tap into its modes of communication. This imperative to make visible a marginalised community was further driven by the Covid pandemic and widespread protests of 2020: 'I always create with a sense of urgency, but 2020 was even more urgent. 2020 demanded your full attention. 2020 was a big emergency.'
---
Martinez regards his large-scale, sculptural mixed media paintings as landscapes that reflect the vibrant social geography of his current neighbourhood and that of his youth. In the painting Serpents (Welcome to the Jungle) (2022), Martinez combines the symbolic imagery of battling serpents (from the Murals of Cacaxtla in Central Mexico) with elements of vernacular architecture: stucco surfaces, decorative tiles from Mexican and Salvadorian restaurants and commercial neon signage found in small establishments all around LA. Layering varied gestures and composite materials in this monumental panel to mirror the rich accretions of the city, he highlights the current of entropy and collapse that characterises these large metropolises.

In response to the notion of the city as a site of memory - wherein surfaces are a collaborative, social canvas layered with graffiti and murals - Martinez demonstrates how symbols from early pre-Columbian art are stand-ins for identity and affiliation, given they are often used to denote a Mexican-owned establishment. The painting's title borrows from two songs significant to the artist during his teenage years - 'Welcome to the Jungle' by Guns n' Roses and 'The Message' by Grandmaster Flash and the Furious Five. The artist's reference to these tracks at once points to the lifestyle adjustment necessitated by big cities, as well as the precarious economic status of this community in LA.
'I return to the Cacaxtla mural paintings because they represent a hybridity that speaks to my mixed background. I imagine portraits of Malcolm X embedded in stucco, cohabiting the same space as the Cacaxtla figures.'
In Weeping Warrior (2022), a representation of a warrior, also taken from the Cacaxtla murals, is combined with neon, ceramic cake roses and tiles to recreate the wall of a typical stuccoed restaurant or bar. This composite surface, in parts fragile or appearing distressed, suggests a surface in between states, in the process of decay or perhaps regeneration. Set against a harsh, acid green background peppered with stucco roses, the warrior figure is an archetype for a form of toxic masculinity, which Martinez sees as being destructively prevalent in these communities.

By collapsing past with present, firmly locating the works within his neighbourhood and adopting imagery from the art of Latin America - from pre-Columbian jade masks to the murals of Socialist Realism - Martinez celebrates this urban community and in so doing, invites a potential change in perception.
Transporting viewers to the fringes of LA, in SGV Bougainvillea (2023) Martinez renders the brilliant pink flower so common to the area, often found cascading down the dilapidated walls of the rundown, often graffitied buildings. Here, the collision of nature and the urban environment serves to reflect his own sensate experience of driving at night through the San Gabriel Valley at the city's edges.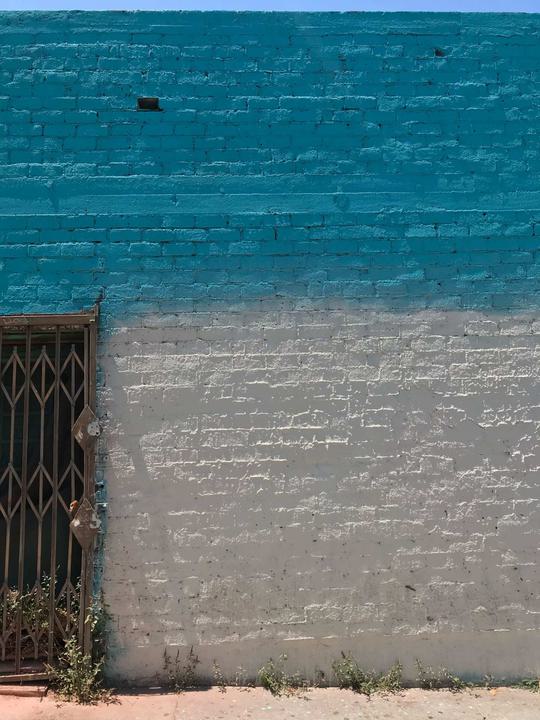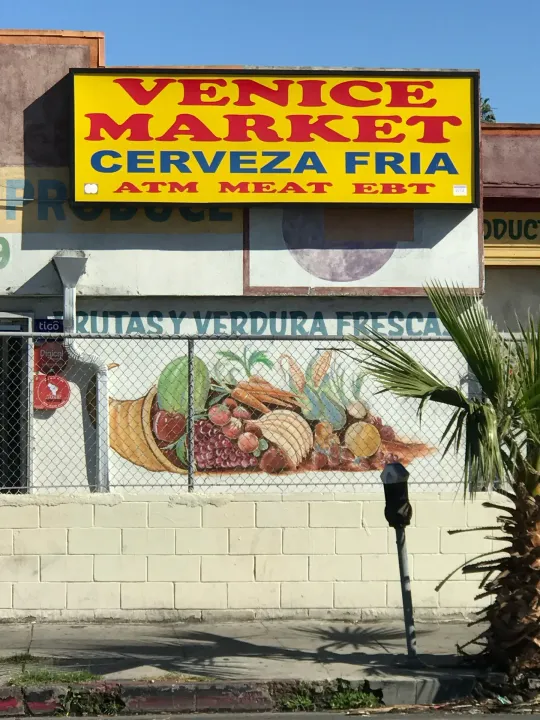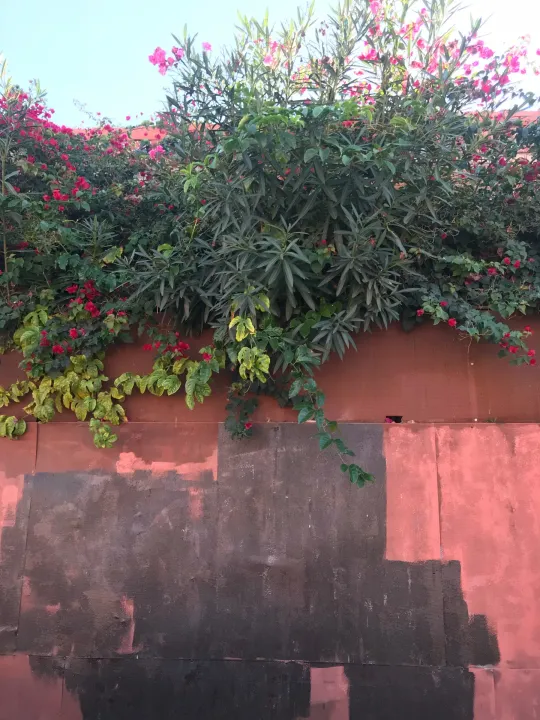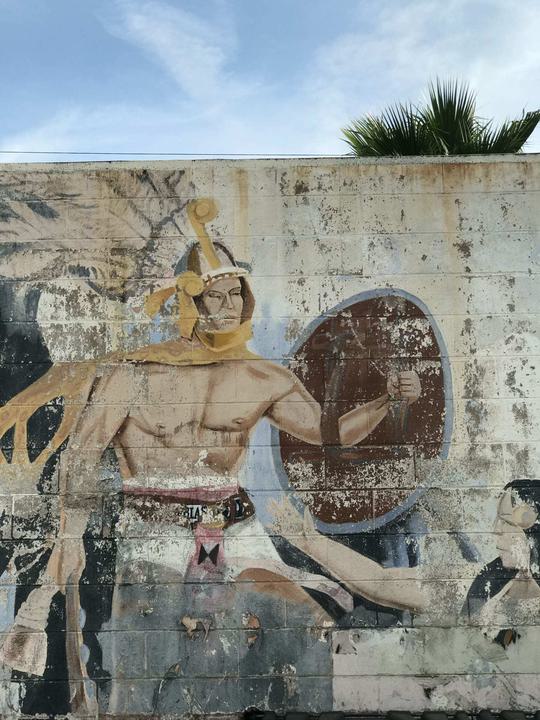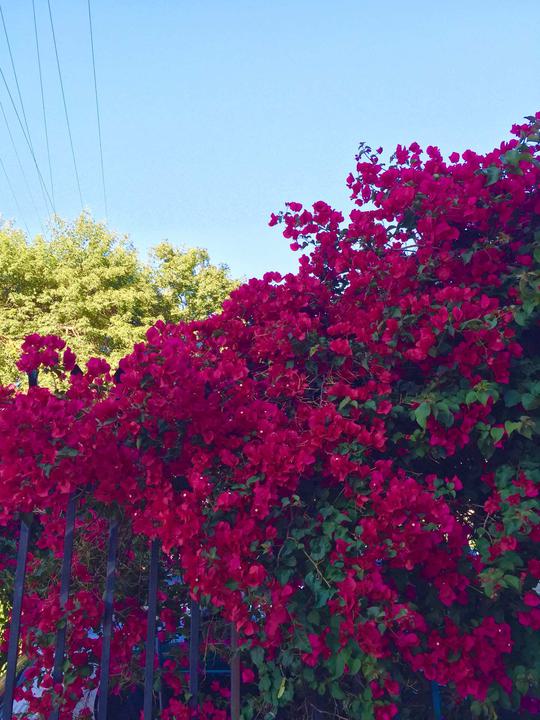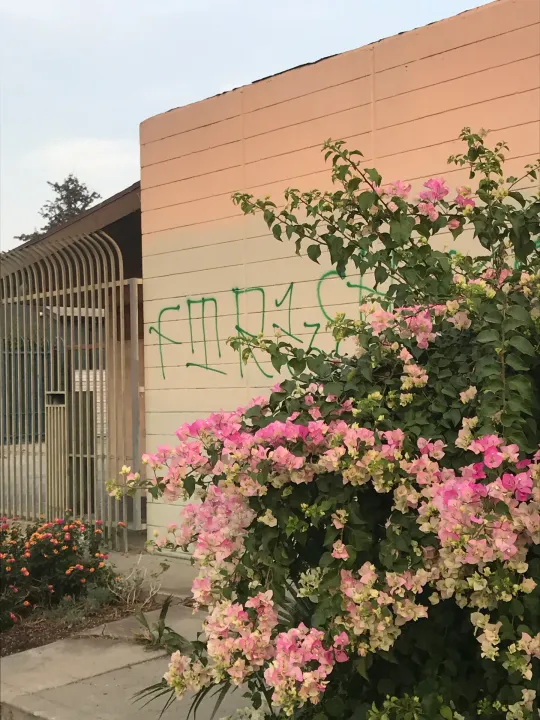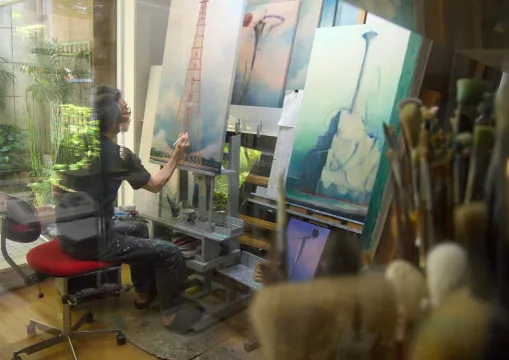 'I work from ancestral memory, imagination, photos, and the stories that expand to capture the multiplicity of our intertwined roots. I take materials from the city of Los Angeles to compose my landscapes. I currently continue to unearth and investigate this evolving city that I call my home.'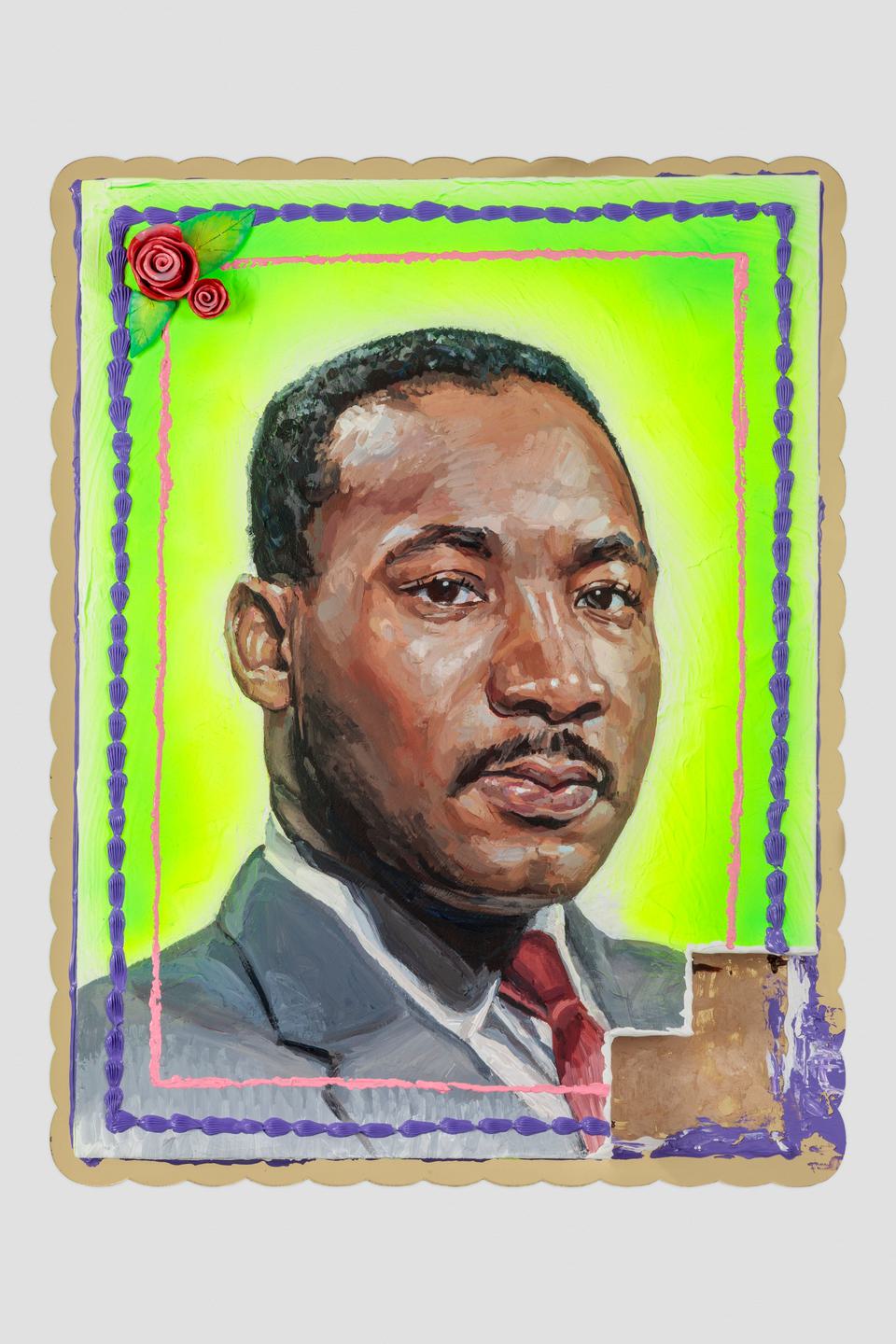 Patrick Martinez
Happy Birthday Martin Luther King Jr., 2023
Martinez's portrait paintings are part of an ongoing series in which he uses the form of the traditional birthday 'sheet cake', often decorated with edible printed photos of the individual being honoured, to connect this confectionary artform to the tradition of portraiture. In Happy Birthday Martin Luther King Jr. (2023), Martinez celebrates this iconic individual in the same manner as those of his local community celebrate their own family and friends.
In another work, Happy Birthday Chief Joseph (2023), Martinez takes as his subject the overlooked leader of the Wallowa band of the Nez Perce Tribe, reinvigorating the original black-and-white photograph of Chief Joseph with brilliant technicolour.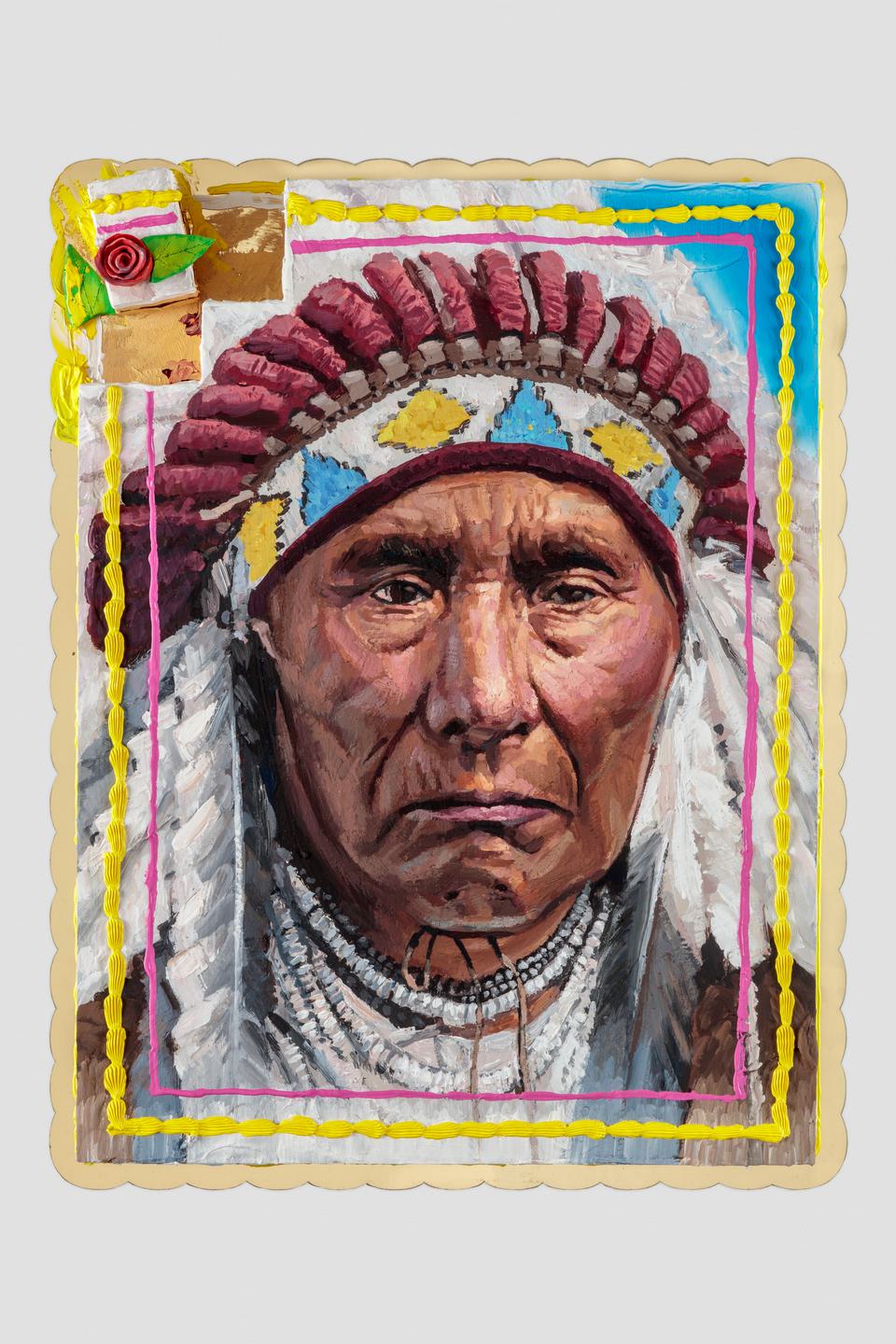 Patrick Martinez
Happy Birthday Chief Joseph, 2023
'I feel stripped from some of my history, and I think that "lost and found" idea is 100 percent American. Maybe I am creating my own story because of that lost history. I envision the art I make as artifacts that will speak to future generations while preserving the beautiful complexity of my roots.'
Martinez's ongoing series of neon sculptures, in which bold statements are written in neon on plexiglas panels, employ the impactful form of the storefront sign. Used to advertise products, job vacancies, or even offer religious salvation, these neon signs are a prominent feature of the visual landscape of most American cities. Quoting lines of poetry, fragments from rap songs or using blunt socio-political messages, these works engage with both contemporary social discourse and the history of neon sculpture, from Minimalism onwards. Appealing to a collective conscience, Martinez' focus is on personal, civic and cultural loss, and the desire is for diversity, inclusion and responsibility.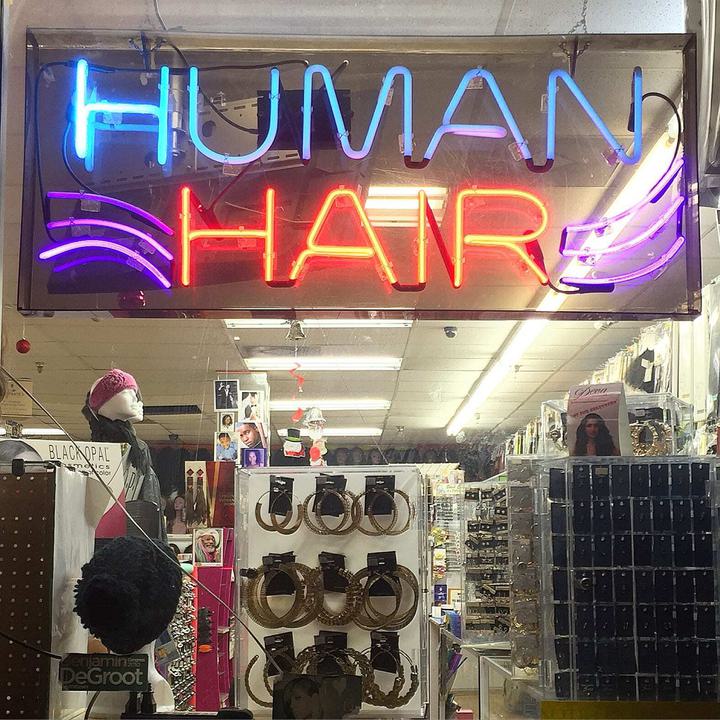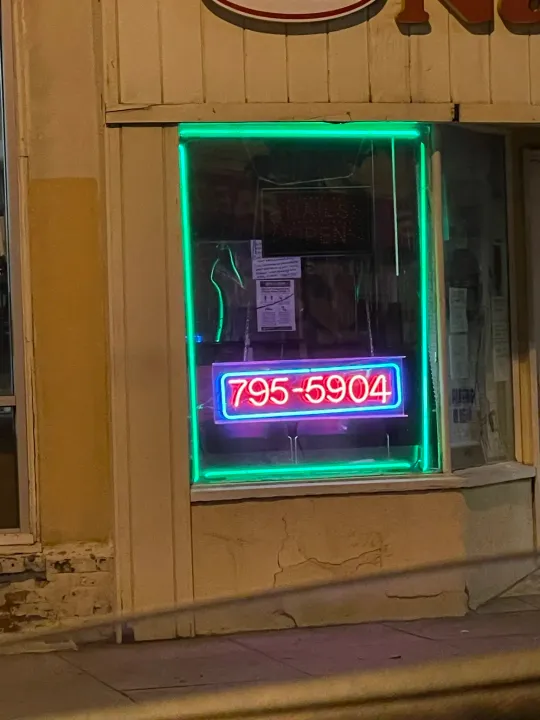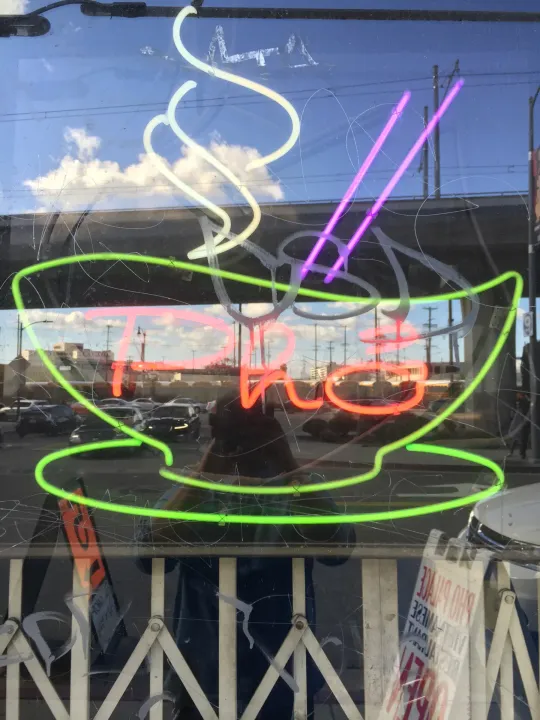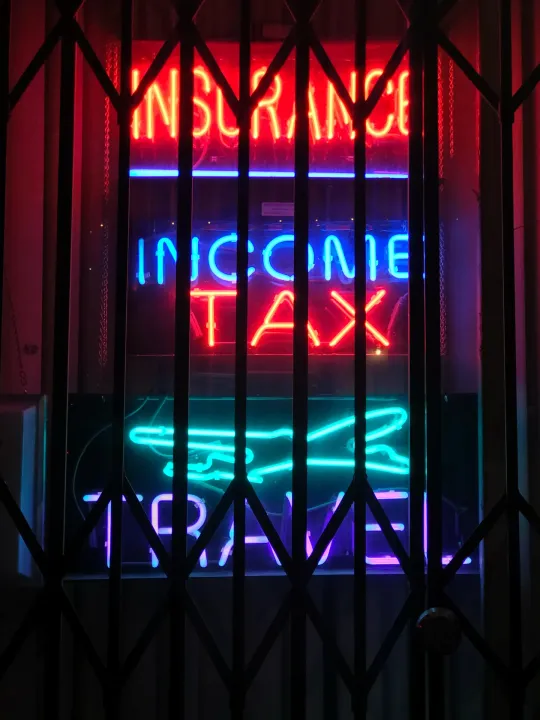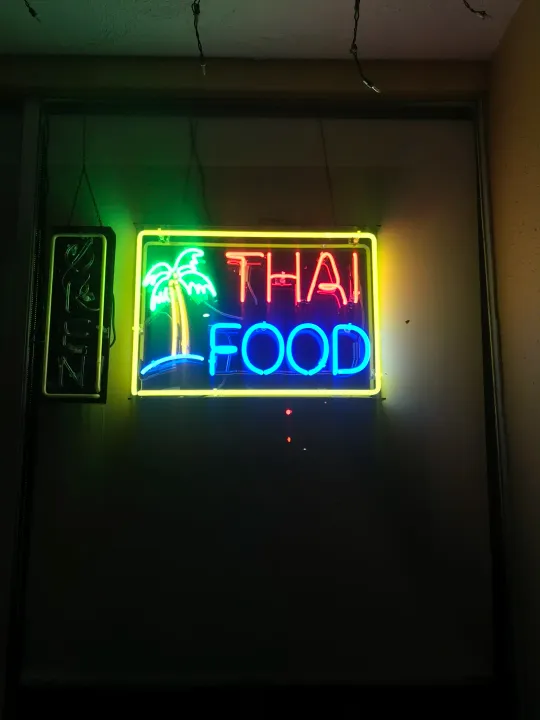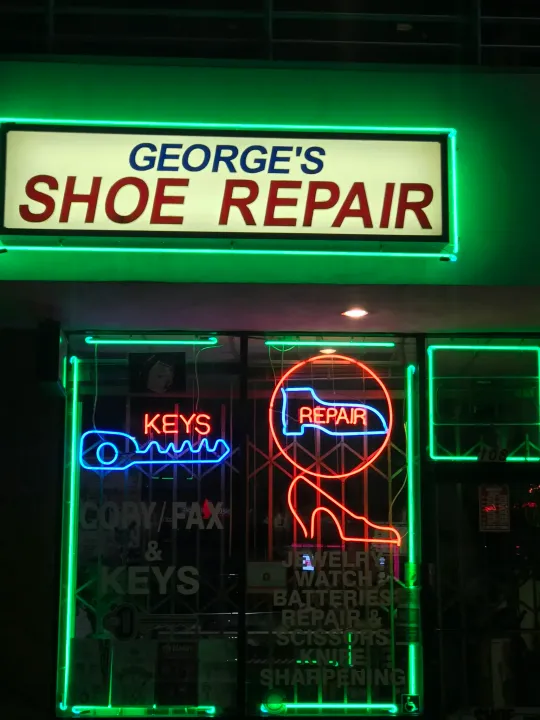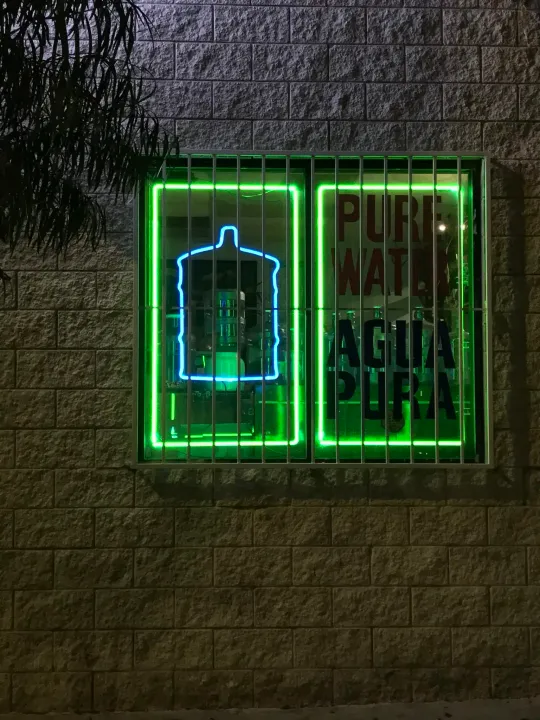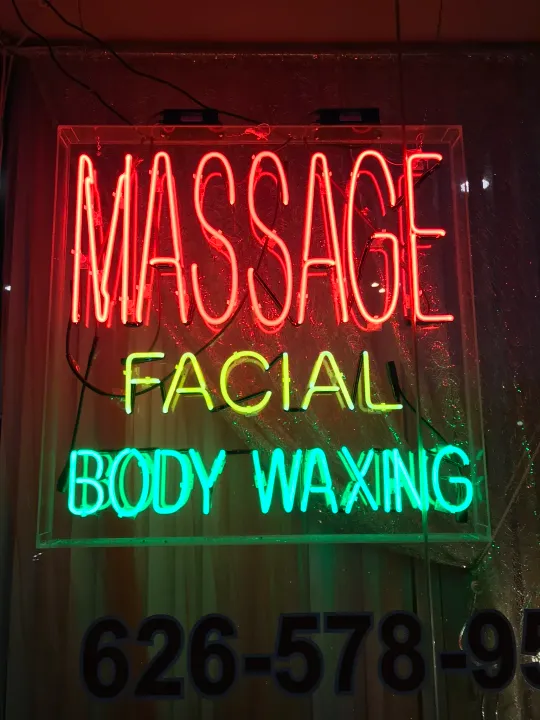 Inspired by the Pee Chee All Season Portfolio, the common American school folders used by children to store their papers, the 'Pee Chee' series transforms a ubiquitous stationery item into a document of social injustice. Replacing the folder's usual images of American athleticism with images of social activists or with victims of police violence, Martinez brings to the fore the violence and corruption endured by contemporary American society.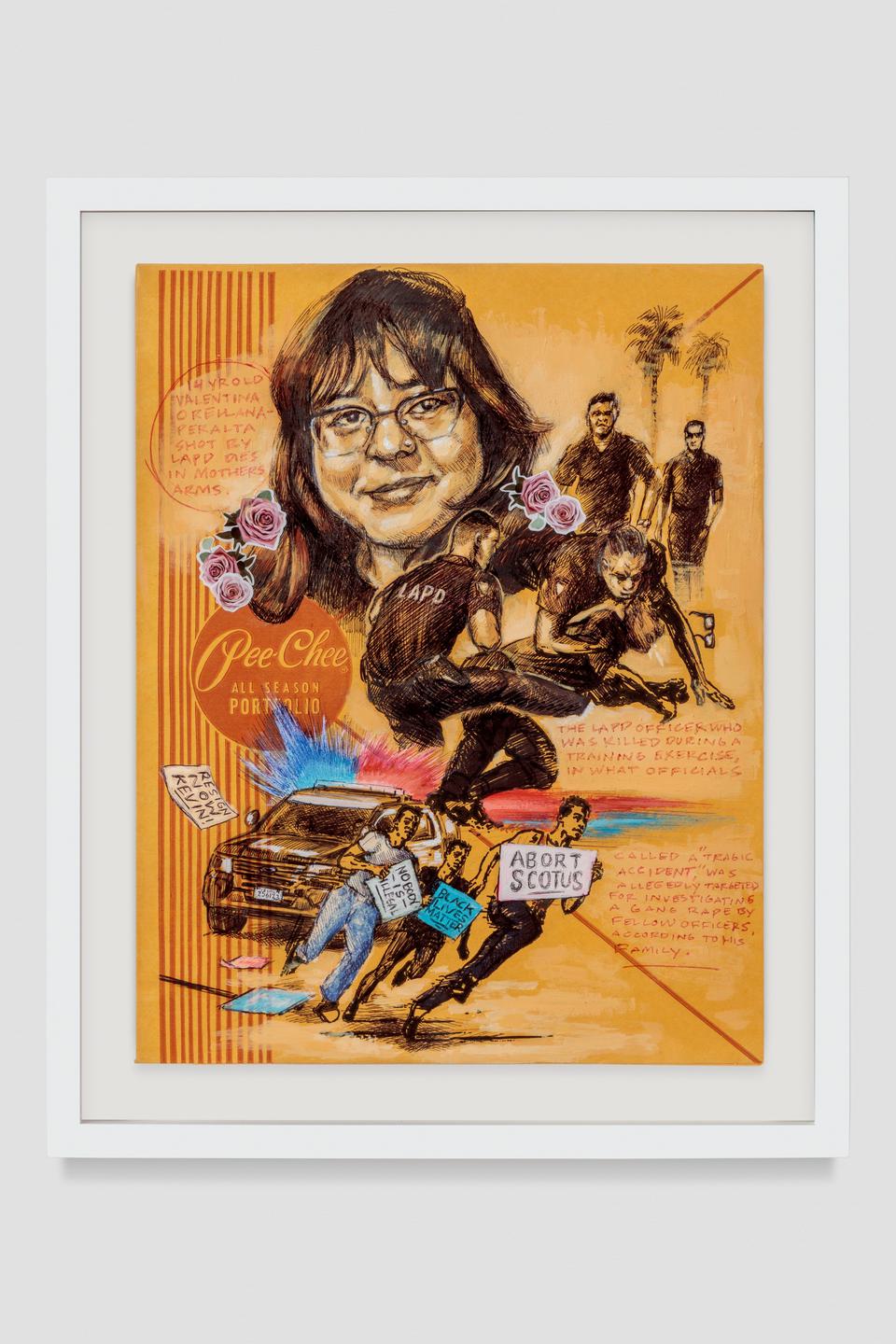 Patrick Martinez
LAPD Pee Chee, 2022
In LAPD Pee Chee (2022), Martinez uses a found Pee Chee folder as a ground to illustrate specific instances of such violence: a memorial portrait of Valentina Orellana-Peralta who was shot and killed by an Los Angeles Police Department officer while out Christmas shopping; a group of LAPD officers who brutally murdered a fellow officer, Houston Tipping, for allegedly investigating a gang rape by the LAPD; and a scene of protestors fleeing the police, referencing the treatment of individuals protesting the George Floyd tragedy in 2020.
Robb Elementary School Pee Chee (Frozen) (2023) records another terrible event, this time the mass shooting in 2022 in Uvalde, Texas, at Robb Elementary School. Martinez's image focuses on the ineffectual response by local enforcement organisations, whose over-equipped and undertrained officers were active proponents of 'Blue Lives Matter', the 'Black Lives Matter' countermovement.
Patrick Martinez
Robb Elementary School Pee Chee (Frozen), 2023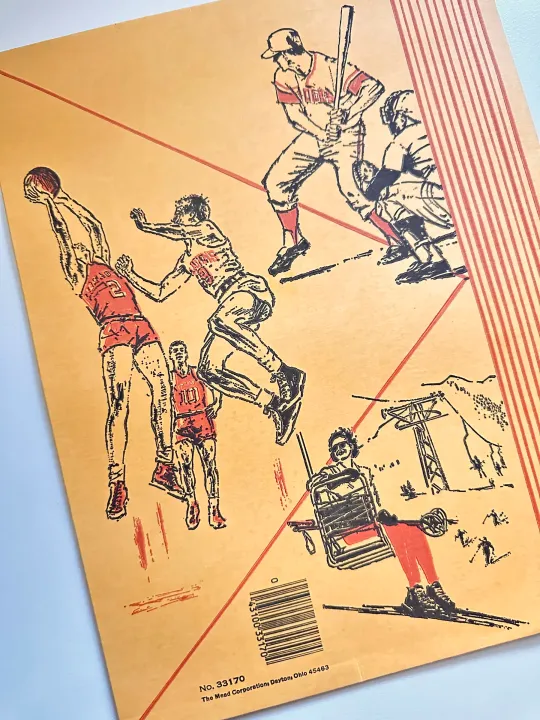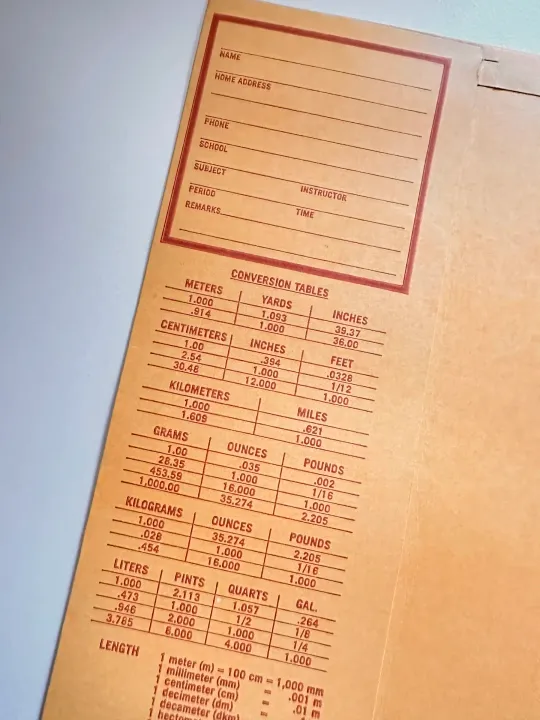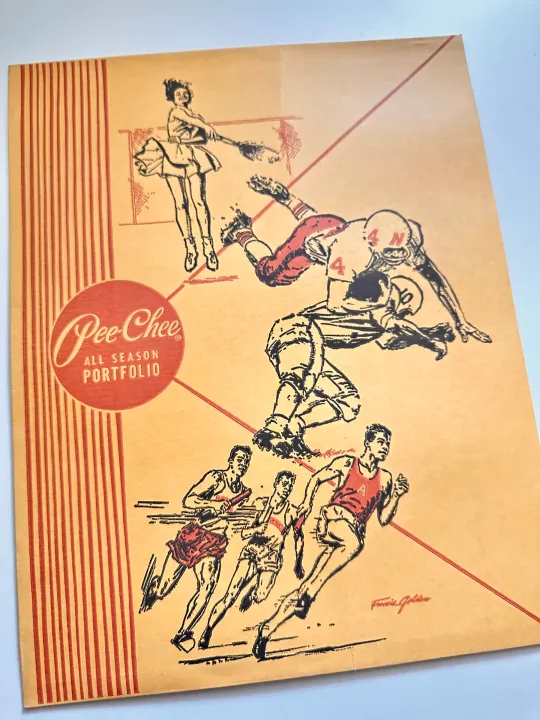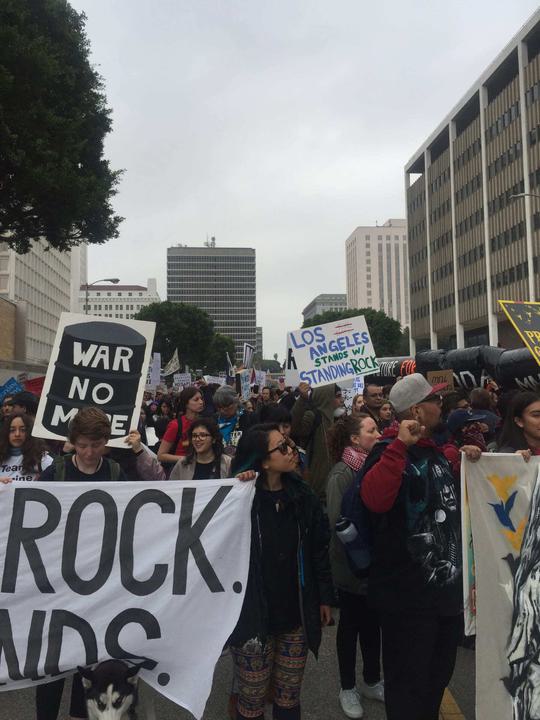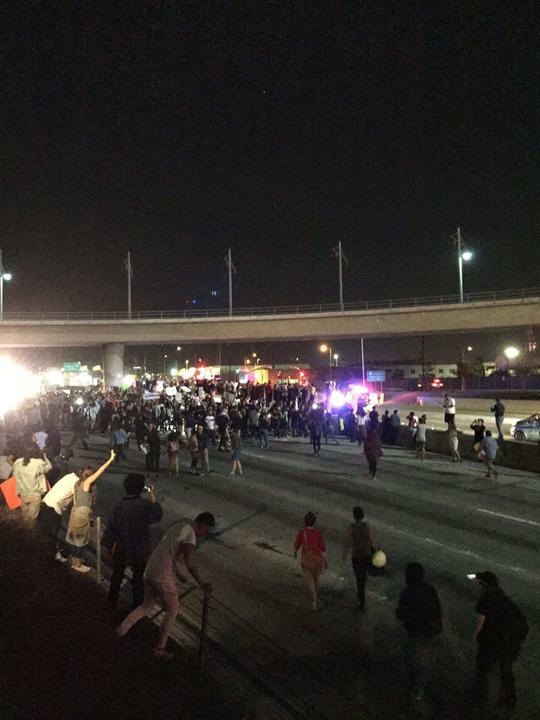 Patrick Martinez was born in 1980 in Pasadena, California, and lives and works in Los Angeles. Solo exhibitions include Tucson Museum of Art, Arizona (2021); Madison Museum of Contemporary Art, Wisconsin (2021); Vincent Price Art Museum, Los Angeles (2017); and Rollins Museum of Art, Florida (2017). He has participated in numerous group exhibitions including Crystal Bridges Museum of American Art, Bentonville, Arkansas (2022); Albright-Knox Art Gallery, Buffalo, New York (2021); Smithsonian National Portrait Gallery, Washington D.C. (2019); Columbus Museum of Art, Ohio (2019); Studio Museum in Harlem, New York (2017) and Dallas Contemporary, Texas (2014). Martinez has been granted a number of fellowships, awards, and residencies, including Atlantic Center for the Arts Residency, Florida (2022); Robert Rauschenberg Foundation Residency, New York (2020); Los Angeles DCA Cultural Trailblazers Award (2019) and California Community Foundation Fellowship, Los Angeles (2019). His work is held in many public collections, among which are Crystal Bridges Museum of American Art, Bentonville, Arizona; Los Angeles County Museum of Art; the Museum of Contemporary Art, Los Angeles; Pizzuti Collection, Columbus Museum of Art, Ohio; Rollins Museum of Art, Florida; Smithsonian National Museum of American History and Culture, Washington D.C.; Tucson Museum of Art, Arizona; and Whitney Museum of American Art, New York.

His forthcoming solo exhibition at the ICA, San Francisco, will open in September 2023.