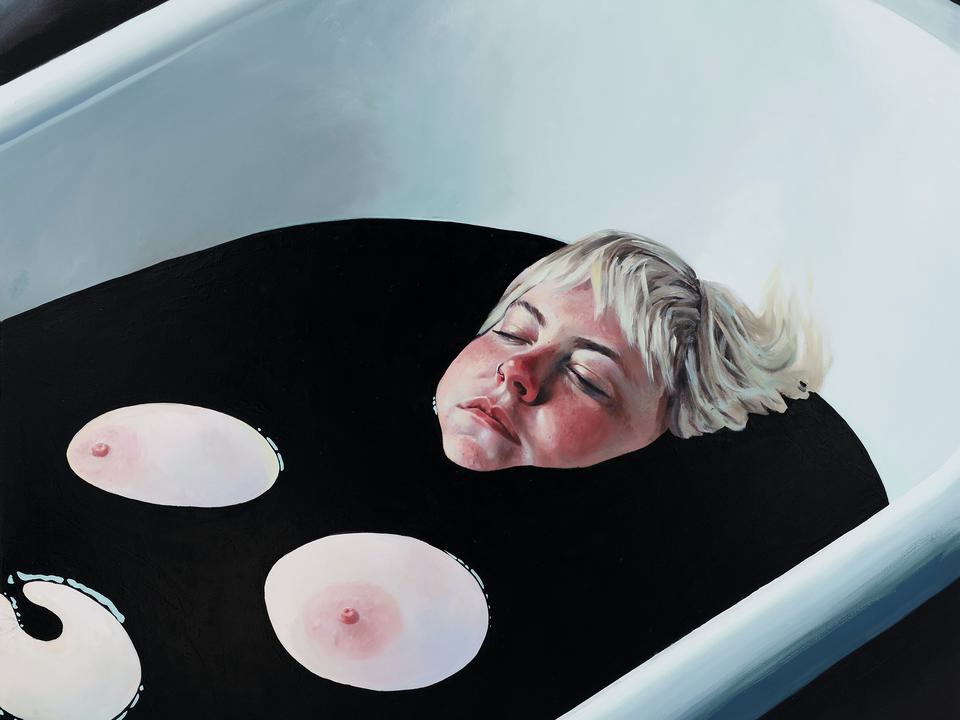 Introductions | Lydia Pettit
Introductions | Lydia Pettit
28 January – 3 August 2022
London-based American artist Lydia Pettit makes paintings and textile works that explore trauma, body image and self-identity. Using herself as a model, Pettit questions how the female image is registered and accepted and, in the process, addresses the complex impact of the objectification of women within society.
Pettit focuses on aspects of looking, self-belief and shame and how these are bound up with an idealised notion of the feminine. At the same time, her work provides a direct and unmediated insight into her own individual struggle, a narrative of self-empowerment resulting from personal traumatic life experience. Turning her focus inwards, and often depicting her own body nude, she meets the viewer's gaze, demanding the acceptance of her own supposed imperfections while simultaneously making the viewer question their perception of classical pictorial beauty.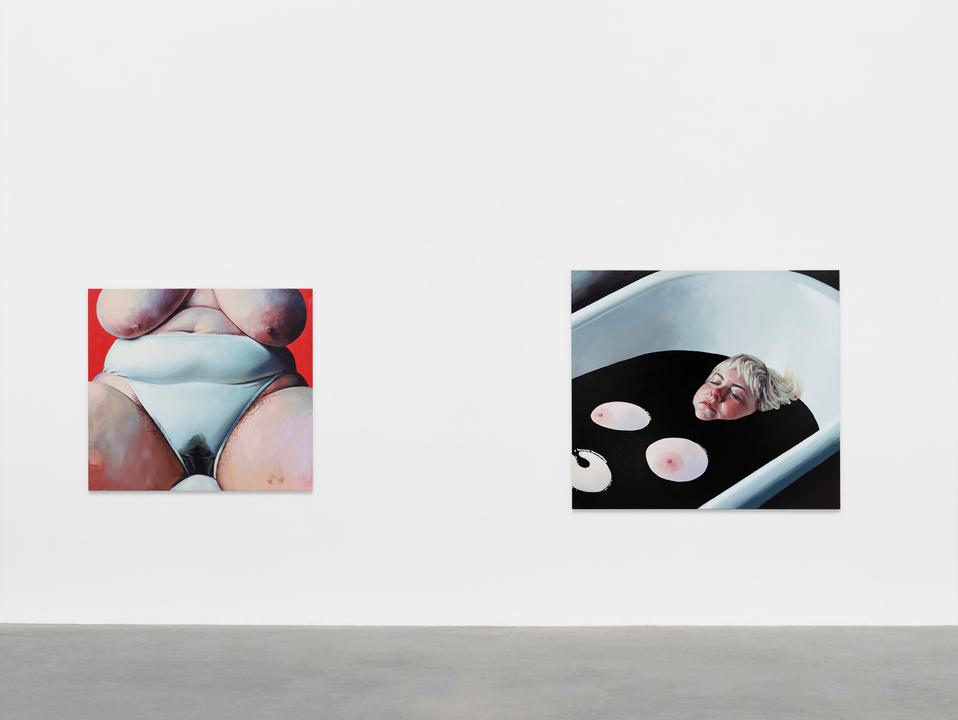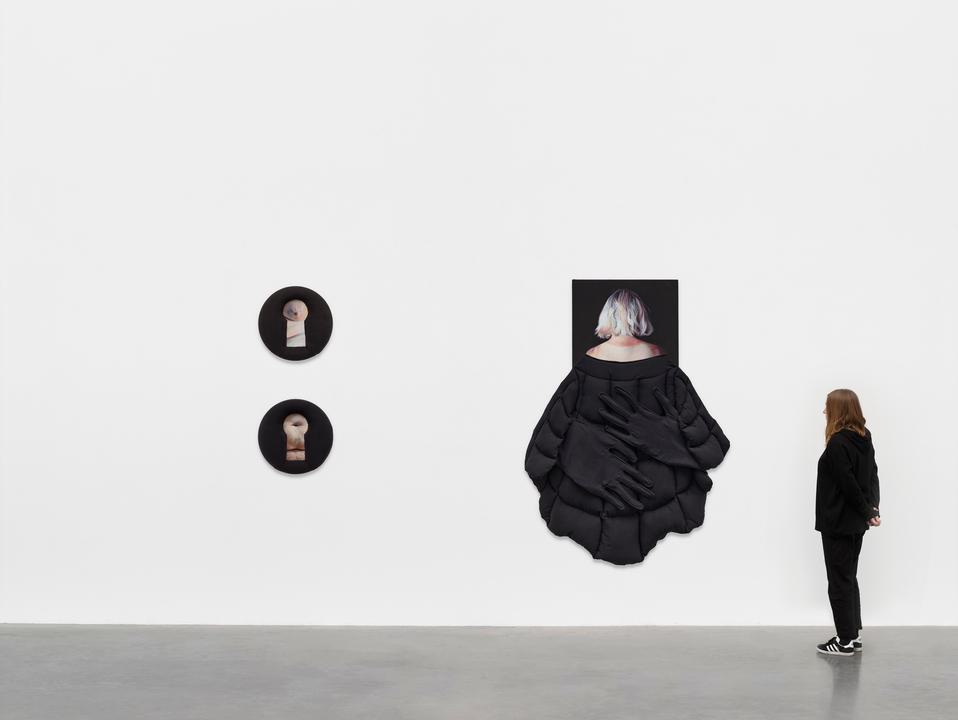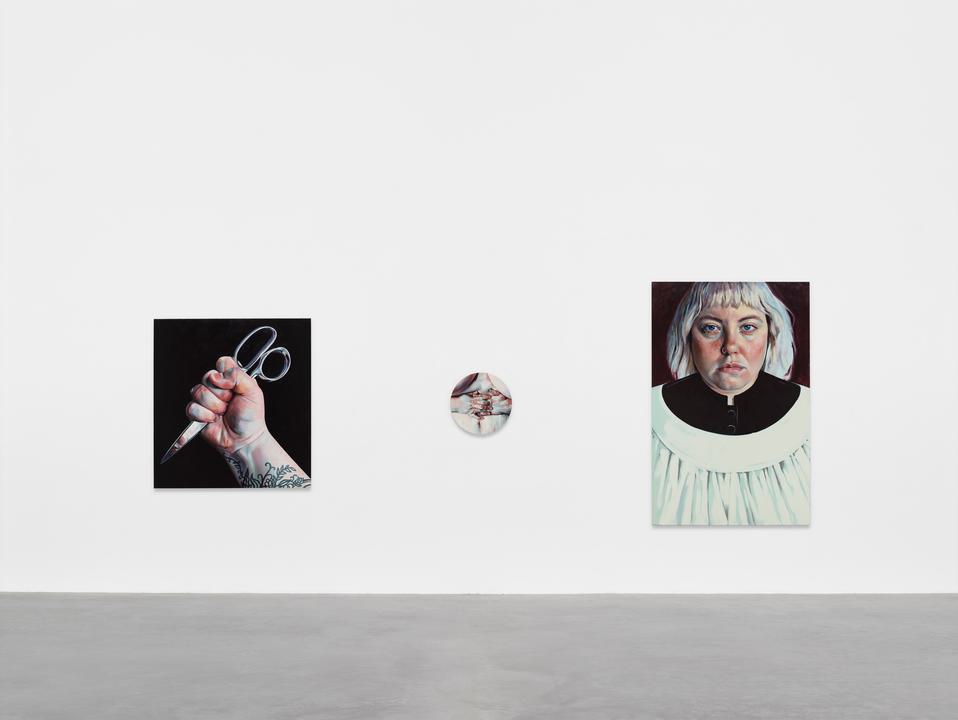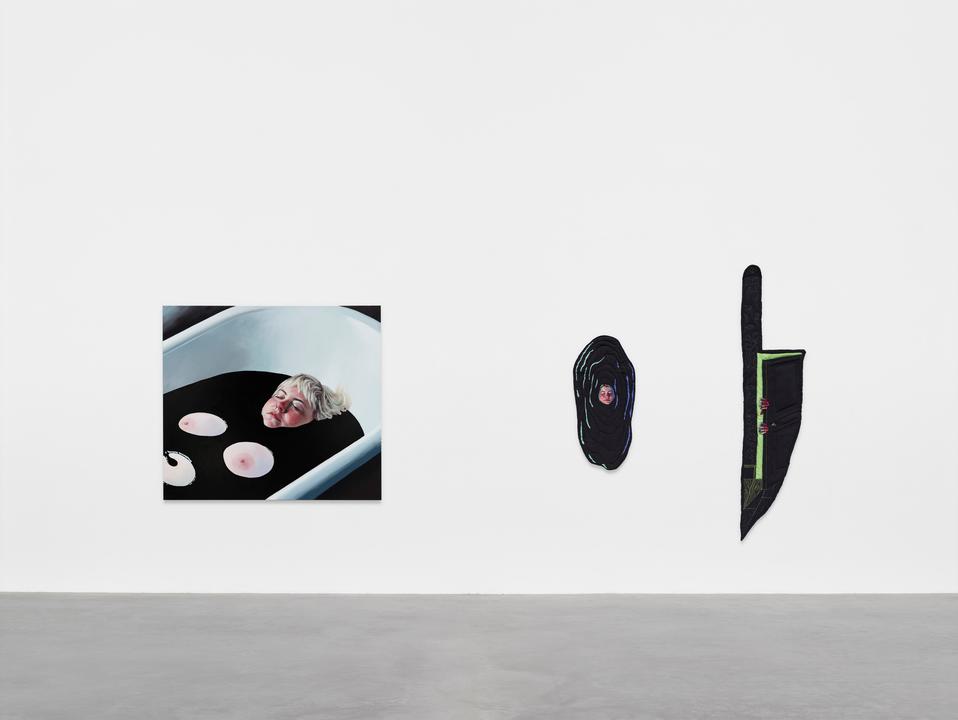 'My works are confrontational depictions of my own inward gaze, forcing the viewer to reckon with the realities of my body and mind, and their own viewpoints on the struggles women face with sexual abuse, trauma, body politics, and mental health.'
In I May Be Defective (2021), Pettit depicts herself in intimate close-up, cropped at the crotch and breasts, dressed in white underwear, a black stain visibly spreading from between her legs. Although an obvious allusion to menstruation, Pettit also nods to the 'dark stain' of horror movies, a stylised trope that infers the threat of a virus, bacteria, death or disease.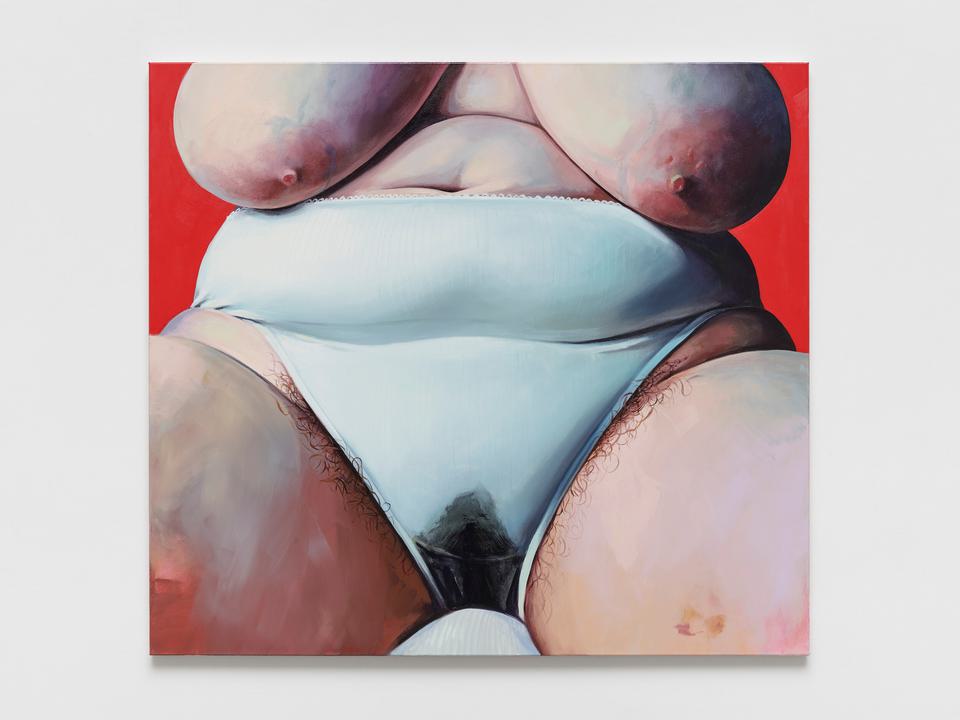 Lydia Pettit
I May Be Defective, 2021
'I see the picture plane as a mirror in which I can frankly regard myself.'
In Choir Girl (2021) the viewer is confronted by a portrait of the artist dressed in the black and white chorister's robes she wore as a child. Staring out at the viewer, Pettit is defiant. The subject of the paintings is from her own past when, as a 13-year-old choir girl, she was subjected to a shaming sexual encounter. The artist adopts the mechanisms of role play ('I am wearing my younger self', she has remarked), to lend emotional weight to pictorial symbolism and visibility to emotional trauma.
The Woman's Weapon (2021) shows the artist's raised tattooed arm, her hand tightly clutching a pair of scissors as if about to stab something outside the field of vision. A reference to female characters in horror movies whose preferred murder weapon is often scissors, Pettit's painting seems to question why this comically ineffectual tool should consistently be associated with a female protagonist.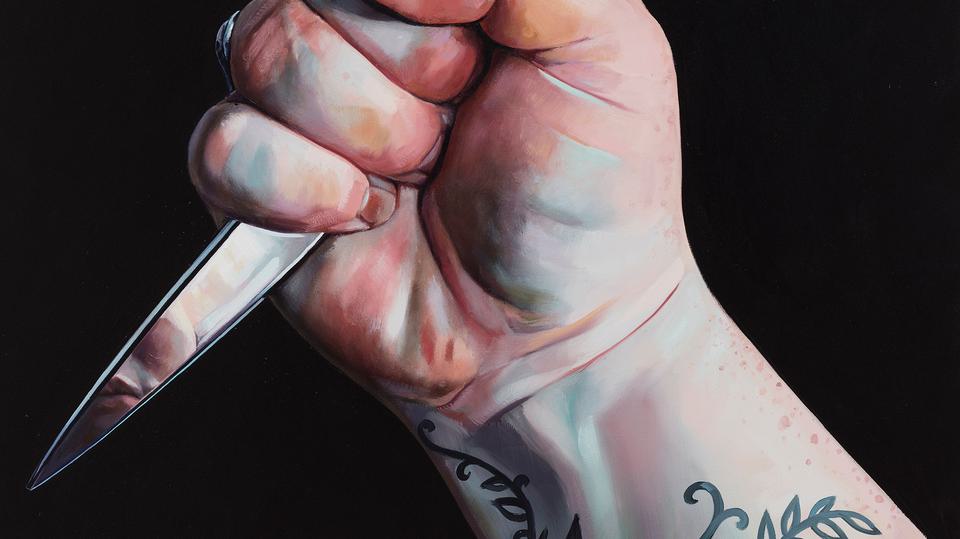 'For years my studio practice has turned into a therapeutic space of routine and reflection, where I can create works that serve as vignettes of recovery and growth, doubts and ruminations. I use self portraiture to tap into this introspection and repair my understanding of every element of my flesh, my face, the personality of my hands and belly.'
Pettit's textile works draw on a history of craft with its attendant association with 'women's work', and the methods of self-expression embedded in its traditional forms. Cocoon (2021), which combines the mediums of painting and textile, has a hallucinatory quality; a three dimensional painting-object that is uncanny in both structure and form. A painted self-portrait showing the back of the artist's head and sunburnt shoulders, it includes an undulating black quilt – like a puffer jacket – hanging from the surface of the canvas. Allowing the image to escape into three-dimensional space, as if the artist is in the process of shrugging off her coat, Pettit blends illusory with real in one confounding gesture.
Two small circular, tondo-like textile paintings record intimate vignettes of the artist's body, showing body parts viewed through a keyhole. Their pink and white fleshy tones sit in sharp contrast to the deep black of the surrounding framing device. The door that houses the keyhole is plump and soft to the touch contributing to a disquieting sense of voyeurism.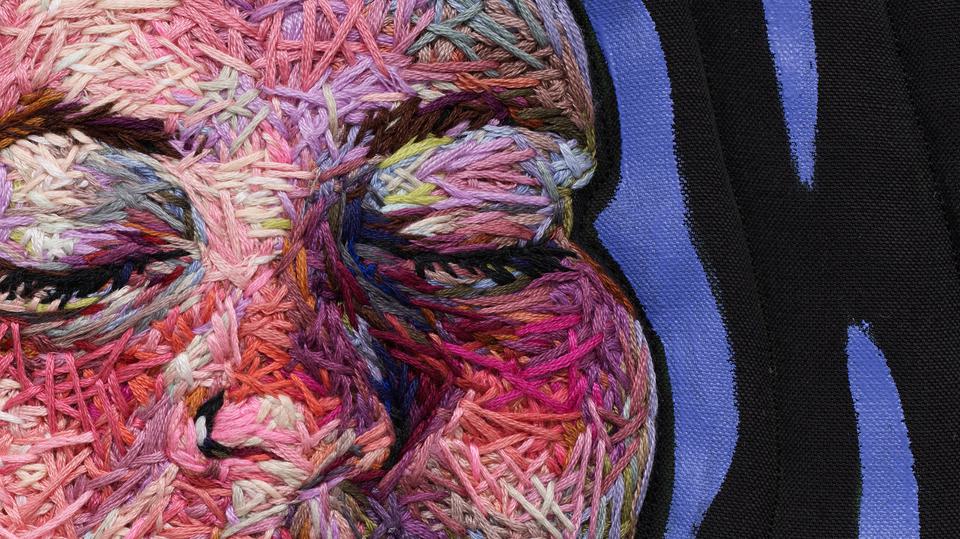 'The colour black plays a large part in this series, acting as both absence and presence – a void and a weight, enveloping and invading the figure. It describes the bits we lock away, the memories and ugly feelings that leak out and interrupt us.'
Two bloodied hands appear over the top of a quilt which takes the form of a knife but is also a door. Exquisitely rendered with precise stitching, it is both a picture and a three-dimensional object, structured and soft, its subject is ominous but its materiality welcoming and suggestive of comfort and warmth.
---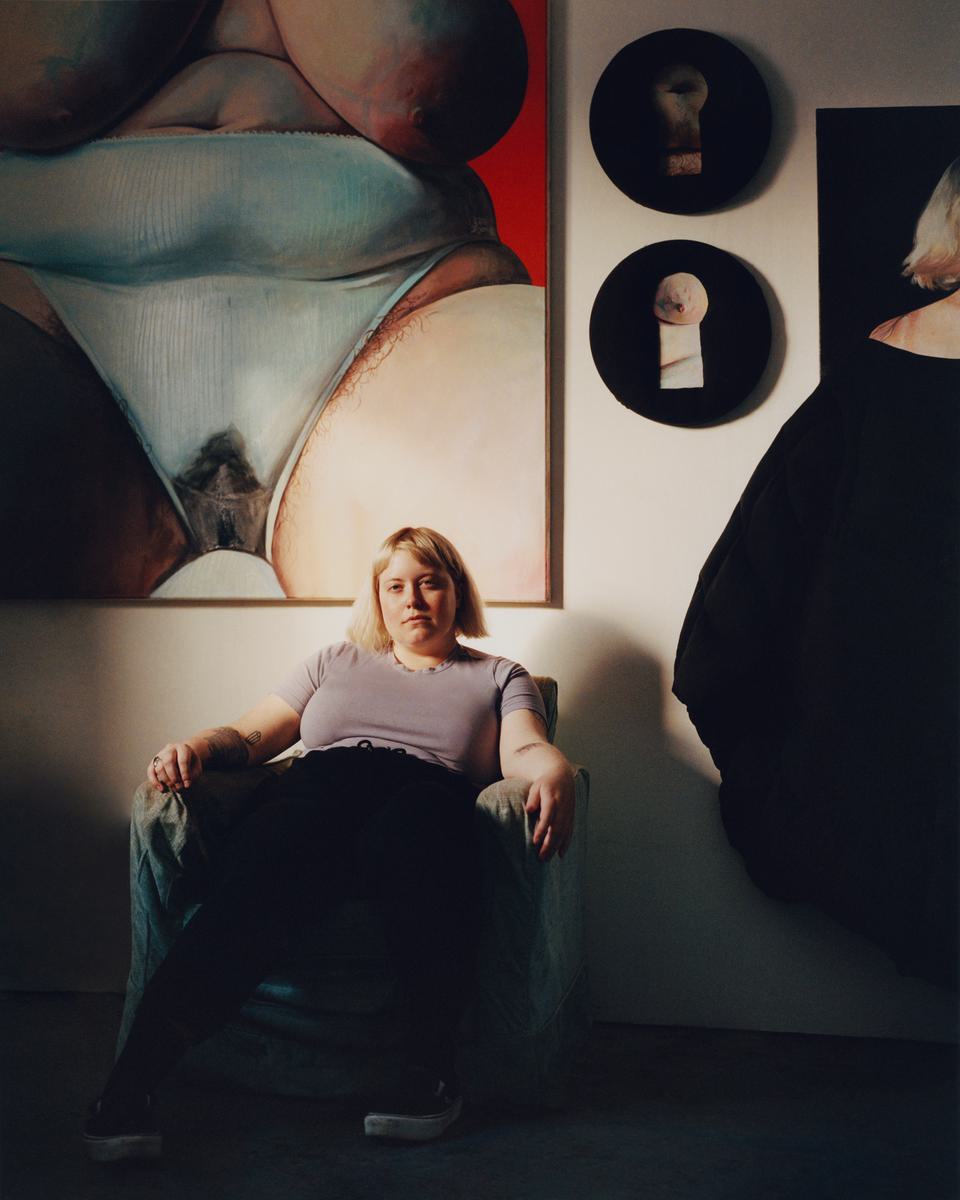 Lydia Pettit (b. 1991) is a painter and curator from Towson, Maryland, USA. She pursued her BFA at the Maryland Institute College of Art and is a two-time recipient of the Elizabeth Greenshields Foundation Grant. She obtained her MA at the Royal College of Art in 2020 and now lives and works in London. Selected solo exhibitions include Galerie Sébastien Bertrand, Geneva (2021) and School 33, Baltimore, MD (2018). Selected group exhibitions include Annka Kultys Gallery, London (2022); Jealous Gallery, London (2022); Bloomberg New Contemporaries 21, Firstsite, Colchester, UK, and South London Gallery, UK (both 2021); Timothy Taylor, London (2021); Saatchi Gallery, London (2020); Tomorrow: London, White Cube Online (2020); Fitzrovia Gallery, London (2019); Field Projects, New York (2018).
---