Introductions | Dyani White Hawk
Introductions | Dyani White Hawk
4 November 2022 – 6 January 2023
White Cube is pleased to present an online exhibition of works by Dyani White Hawk. As a Sičáŋğu Lakota artist, White Hawk's practice is informed by a Lakota worldview, which places at its centre the interrelatedness between all life and the land. Understanding culture as fluid and responsive to contemporary experiences, as curator Jade Powers has commented: '[White Hawk] visualises oral histories, shifts representation, subverts notions of hierarchy, and deliberately connects histories to bring Native art into the collective understanding of American art history.'
Finding belonging in the realm of abstraction, White Hawk's visual language is inspired by the histories of Lakota abstract art forms such as beadwork, porcupine quillwork and parfleche painting, as well as Euro/American abstract art forms, most notably within the eras of expressionism and colour field painting.
Born in Wisconsin, White Hawk earned a BFA from the Institute of American Indian Arts in Santa Fe, New Mexico (2008), where she studied painting and Indigenous arts. She received her MFA from the University of Wisconsin-Madison in 2011. As a graduate student, White Hawk began forging the visual languages and materials of Lakota abstraction and easel painting abstraction in ways that reflected her life experiences. Negotiating both her Lakota and European-American ancestry, White Hawk explores the intersections, parallels, and at times conflicting value systems of these cultures: 'Through the amalgamation of symbols and motifs derivative of both Lakota and easel painting abstraction, my artwork examines, dissects, and patches back together pieces of each in a means to provide an honest representation of self and culture.'
Six Native women stand side-by-side in the photo-sculpture I Am Your Relative (2022), made in collaboration with photographer Tom Jones (Ho-Chunk). Suspended and centred in a space, the installation features double-sided life-size images of women dressed in colourful, traditional skirts and black slogan t-shirts. The words on their shirts together form a sentence – a profound message which addresses the history and ongoing epidemic of violence perpetuated against Native women, girls, and two-spirit relatives: 'I am, more than your desire, more than your fantasy, more than your mascot, ancestral love prayer sacrifice, your relative'. Developed from a 2017 performance at a fundraising event for Global Rights for Women, I Am Your Relative humanises and honours Indigenous women, and recognises the vital contributions each provide to their communities and society. Standing as a collective front, their individuality, strength and diversity is foregrounded.

White Hawk challenges any singular reading of abstraction. She identifies the language of abstraction as a human expression carried out by infinite people and communities the globe over, as a means to convey complex thoughts and ideas through expressive and poignant compositions, iconography and symbolism. She is personally connected to and inspired by the generations of Lakota women who have practiced abstraction in paint, beadwork, porcupine quillwork and beyond. Her works advocate for field wide critique on the history of abstraction − how it is taught in academic establishments and presented in institutional spaces − calling out oppressive hierarchies and calling for a deep and honest recognition of Indigenous and female contributions. As fellow Lakota artist, Keith BraveHeart, states: 'Her artworks manifest transcendence and emit voices that include those of the many great Lakota women artists we will never know.'
Dyani White Hawk
Wačháŋtognaka | Nurture, Takes Care of Them, 2019
Made in collaboration with Highpoint Editions in Minneapolis, Wačháŋtognaka | Nurture (2019) and Wókage | Create (2019) from the 'Takes Care of Them' series are inspired by Plains style women's dentalium dresses – wool dresses which feature yokes adorned with rows of dentalium shells.
White Hawk explains: 'Through acts of creation, nurturing, leadership, love, and protection carried out in infinite forms, our grandmothers, aunties, sisters, cousins, nieces, and friends collectively care for our communities […] these works speak to the importance of kinship roles and tribal structures that emphasise the necessity of extended family, tribal and communal ties as meaningful and significant relationships necessary for the rearing of healthy and happy individuals and communities.'
Dyani White Hawk
Wókaǧe | Create, Takes Care of Them, 2019

For the artist, abstract painting is a form of cultural continuity. Her paintings can be viewed as significant acts within a long history of oppression on colonised homelands. In her canvases, which are often made collaboratively, White Hawk literally weaves together aspects of her ancestry, reflecting on the intersectionality of cultures and artistic forms that have collectively shaped the history of abstraction on the American continent.
White Hawk's multi-media paintings utilise loomed lane, and flat stitch beadwork techniques, sewn directly onto acrylic and oil painted canvases. Characterised by organic and geometric forms and with a bold chromatic vibrancy, they are finely detailed and precise in their execution. Her colour palette is rooted in the natural world, referencing 'gifts from the land' such as porcupine quills, glass beads, metals, minerals, stone, and beyond. Through a combination of paintin techniques, the rhythm of the beadwork and careful consideration of scale and composition, each work is intended to activate a feeling of movement and energy exchange between viewer and painting.
Watch the trailer for LISTEN (2020)
LISTEN (begun in 2020), is an ongoing multi-channel video project, created in collaboration with filmmaker Razelle Benally (Oglala Lakota/Diné). Eight of eleven films made to date, constitute the first chapter of the project. They feature Native women on their ancestral lands, sharing experiences in their Indigenous languages, through stories, songs, prayers and poems. Without subtitles or translation, White Hawk creates a layer of poetic obfuscation between the audience and subject, asking us to tune-in to the immersive auditory experience and cadence of the languages. The first chapter includes Seneca, Dakota, Ojibwe, Diné, Tiwa, Hocąk, Cocopah and Kwatsáan language speakers, a small sampling of the many Indigenous languages of North America. The work impresses upon viewers the profound impacts of genocide, assimilation, and systematic erasure, while expressing gratitude for the role that Indigenous women have played in cultural continuity predating, and enduring, the long history of colonisation.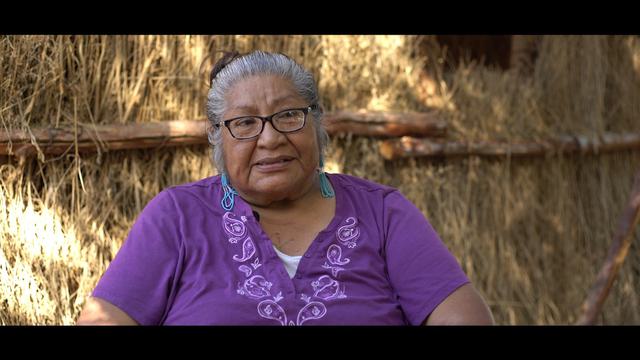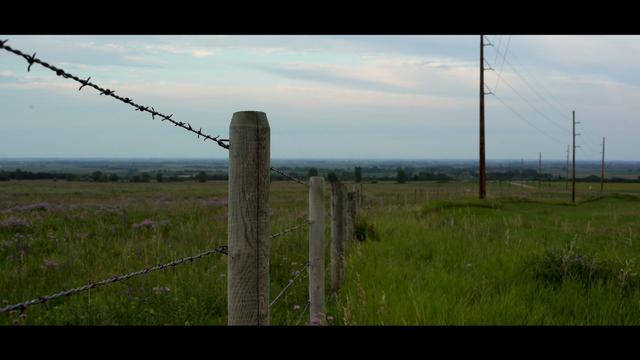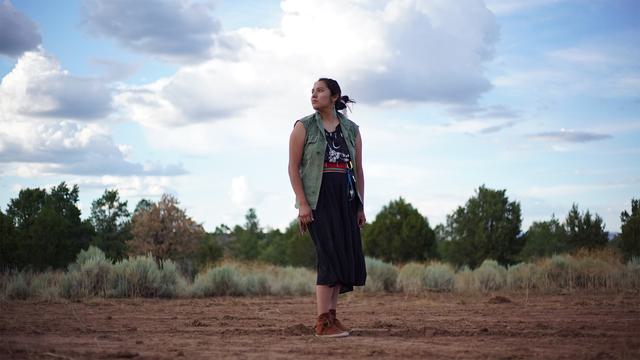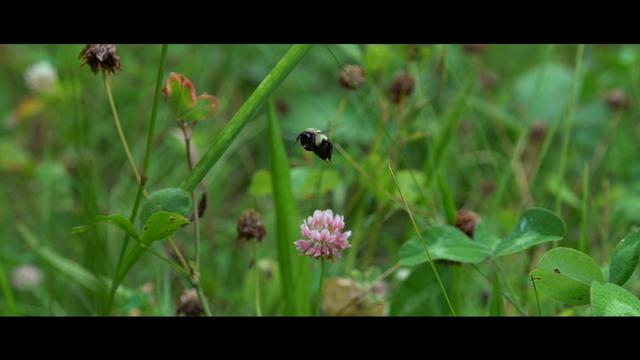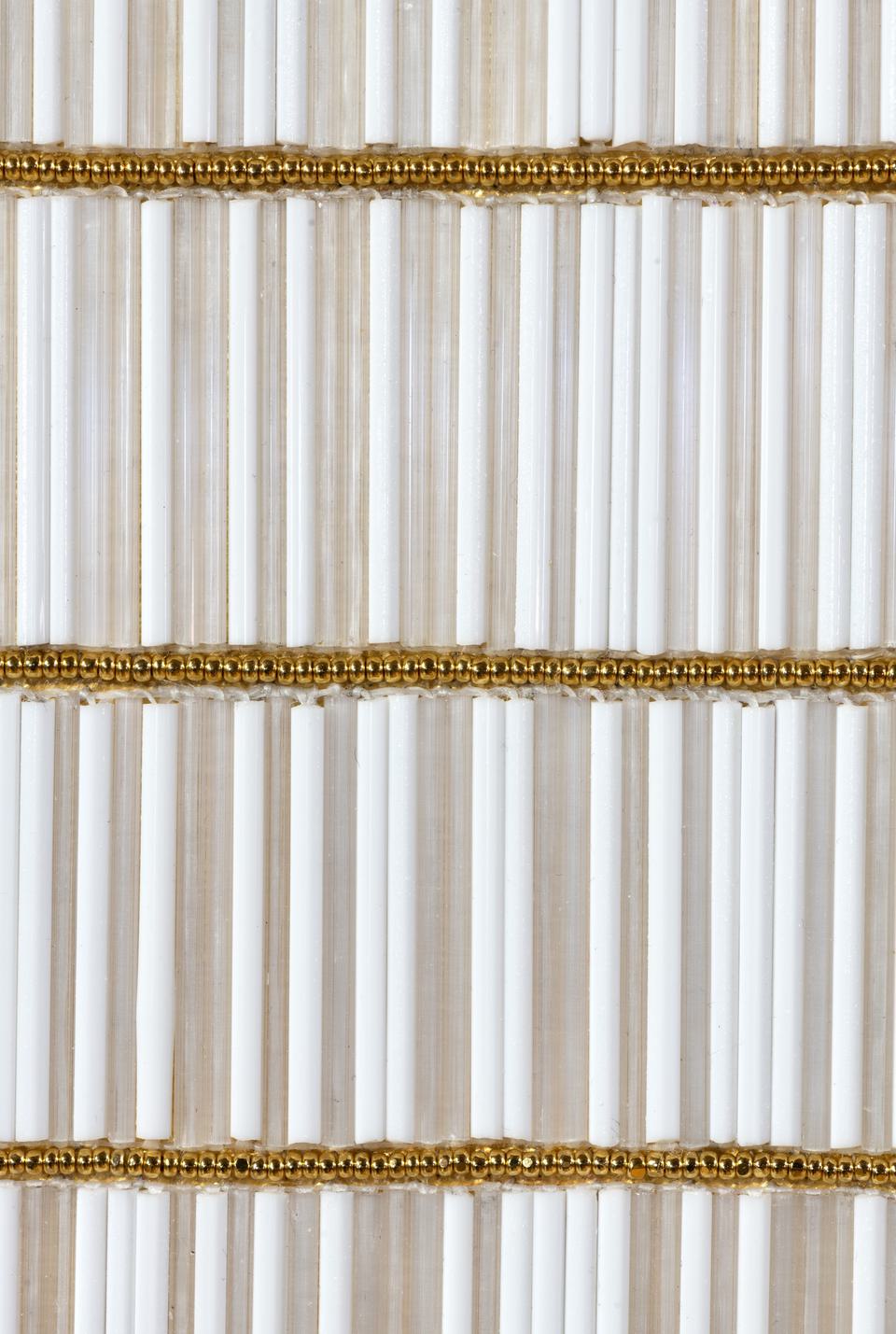 Dyani White Hawk (Sičáŋğu Lakota) was born in Madison, Wisconsin in 1976 and lives and works in Minneapolis. White Hawk received an AA from Haskell Indian Nations University, Lawrence, Kansas (2003) as well as a BFA from the Institute of American Indian Arts, Santa Fe (2008), and she completed an MFA at the University of Wisconsin-Madison (2011). Recent solo exhibitions include Museum of Contemporary Art, Denver (2022); Kemper Museum of Contemporary Art, Kansas City (2021); Plains Art Museum, Fargo, North Dakota (2020); and The Lilley Museum, University of Nevada, Reno (2019). White Hawk's work has been included in numerous group exhibitions including Center for Contemporary Arts Santa Fe, New Mexico (2022); Tucson Museum of Art, Arizona (2022); Whitney Biennial, New York (2022); Crystal Bridges Museum of American Art, Bentonville, Arizona (2021); Renwick Gallery of the Smithsonian American Art Museum, Washington DC (2020); and Museum of Contemporary Art North Miami (2018).