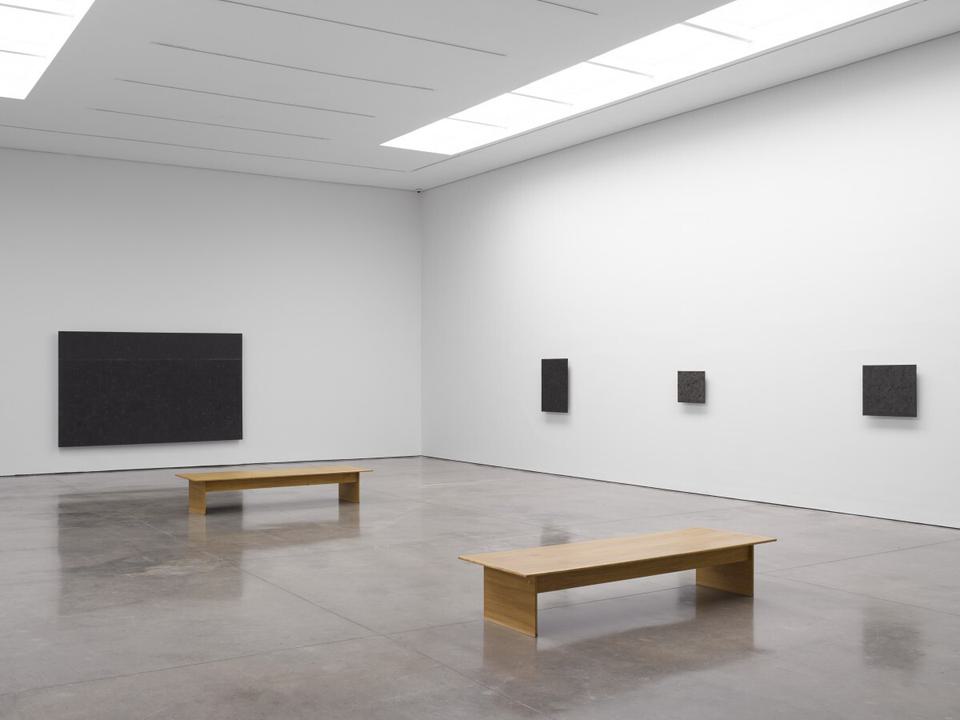 Park Seo-Bo
ZIGZAG: Ecriture 1983-1992
20 January – 11 March 2017
Dates
20 January – 11 March 2017
Location
25 – 26 Mason's Yard
London SW1Y 6BU

White Cube presented its second exhibition by the leading exponent of the Dansaekhwa movement, Park Seo-Bo. This exhibition featured Park's signature 'Ecriture' series of paintings, which have remained his focus for the past fifty years. However, this exhibition foregrounded one particular group within the overall series, informally referred to as the 'zigzag' paintings, which were produced between the mid-1980s and early 1990s, as well as a number of his most recent 'Ecriture' works.
Park's work draws on the history of Western abstraction in painting, as well as the tradition of Korean calligraphy, enabled by an introspective methodology that has its origins in Taoist and Buddhist philosophy. First begun in the late 1960s, the 'Ecriture' series embrace this spiritual approach and are inextricably linked to notions of time, space and material, concepts which underpin all of the artist's work. In the early works, Park used repeated pencil lines incised into a still-wet monochromatic painted surface, and the later works expand upon this language through the introduction of hanji, a traditional Korean paper hand-made from mulberry bark, which is adhered to the canvas surface. This development, along with the introduction of colour, enabled an expansive transformation of his practice while continuing the quest for emptiness though reduction.

Park studied Korean brush painting during the Korean War and then when he moved to the Western region of Korea he became familiar with the culture of indigenous papers. It was during this time that Park learned of paper's inextricable connection to every aspect of domestic life: mulberry paper, for example, is often sealed with oil and used for flooring in traditional Korean houses. For Park this discovery led to him becoming 'emotionally and intimately connected with it materially on the one hand, and spiritually on the other' 1. The 'Ecriture' works from the 1980s onwards feature several layers of hanji strips soaked with a painstakingly created water-based paint mix, using Japanese Go Fun natural pigment made from crushed sea shells, acrylic and a soot-based paint and applied to the canvas when the surface is still wet. Using sharp bamboo sticks, fluted lead sticks or sometimes his own hand, he incised it with diagonal lines to create dynamic compositions or simple overall grids, adding further pigment during the final step. Created from repeated, sustained pressure in the manner of calligraphy, the lines push out the pulp in the paper, contributing to the overall surface texture of the work and enabling a fusion between image and the work's material, physical composition. Notably, in one of the most monumental works in the exhibition, Ecriture No. 870907 (1987), the artist used only Go Fun pigment, without any primer or other paint substance, which over time has given the work a distinctive patina.
'I think colour, which is organic, can be used as a tool for healing,' he has said. 'Images dissolve; I believe in the power of colour itself.' 2 Though predominantly white, grey or black, in some works Park uses bright, primary colours painted as an acrylic ground before the Hanji paper is laid down, allowing pockets of colour from different layers to punctuate the finished surface. In two recent works from 2014 and 2016, he uses bright red pigment and furrowed vertical lines to animate the picture surface. Although the rhythmical, dynamic patterns of the later 'Ecriture' paintings might contrast formally to the monochromatic language of the earlier works, ultimately their methodology remains the same and as Lee Yil has observed, all are the product of 'formative time', requiring fine technical skill and sustained focus within a limited amount of time.
Park Seo-Bo graduated from the painting department of Hong-Ik University in Seoul in 1954 from where he received an Honorary Doctorate in 2000. He has been widely lauded throughout his career for championing Korean art, and was awarded the Silver Crown Cultural Medal in Korea in 2011. His work has been exhibited internationally, including the Venice Biennale (1988 and 2015); Samsung Museum of Art, Seoul (2014); Busan Museum of Art, South Korea (2010); Portland Museum of Art, Oregon (2010); Singapore Art Museum (2008); Kunsthalle Wien, Vienna (2007); The Miyagi Museum of Art, Sendai (1993); Tate Liverpool, UK (1992); Brooklyn Museum, New York (1981), and Expo '67, Montreal (1967)and is currently on view in the collection displays at Tate Modern, London. His work is included in the collections of the Hirshhorn Museum and Sculpture Garden, Washington; Solomon R. Guggenheim Museum, New York; M+, Hong Kong; Guggenheim Abu Dhabi, UAE; The National Museum of Contemporary Art, Seoul; and the Museum of Contemporary Art, Tokyo, amongst others.

1. 'In Conversation: Seo-Bo Park with Robert Morgan', The Brooklyn Rail, July 2006
2. Lee Yil, 'Park Seo-Bo's Ecriture Revisited – On Park Seo-Bo's Solo Exhibition', 1991