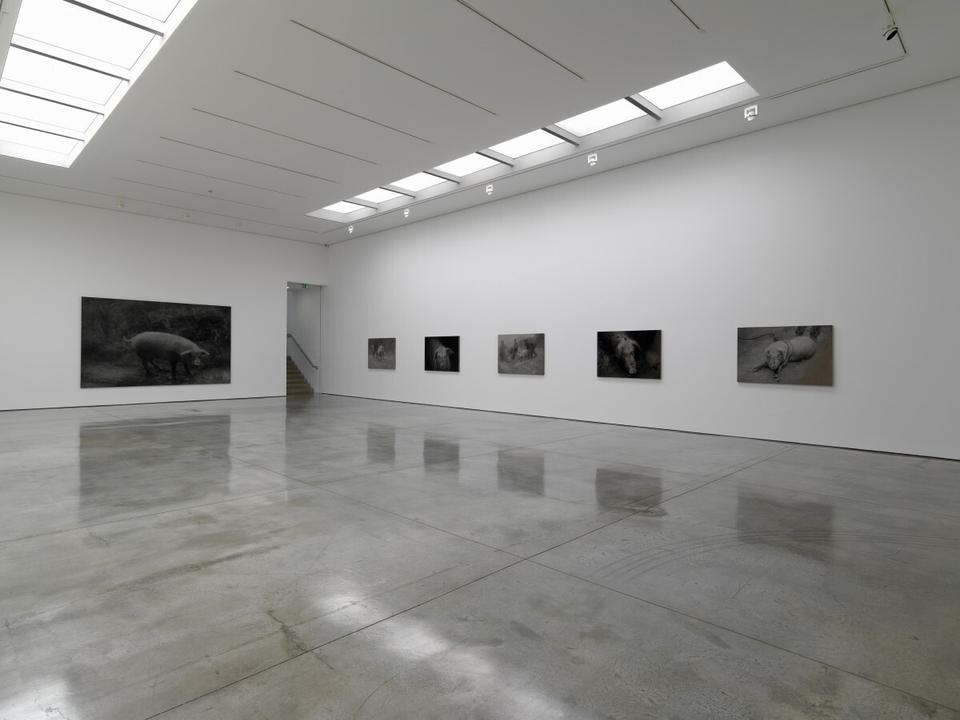 4 September – 3 October 2009
Dates
4 September – 3 October 2009
Location
25 – 26 Mason's Yard
London SW1Y 6BU

While known primarily for his performances in the early 1990s, which involved feats of physical and psychological endurance, Zhang Huan's recent work has featured sculptures and paintings that explore themes of memory and spirituality and how these relate to Buddhist practice.
In May 2008, an earthquake reaching 8.0 on the Richter scale struck the Sichuan Province of China, killing more than 60,000 people. Amidst the tragedy, there was a pig that lived, trapped, for 49 days after the quake, surviving on rainwater, rotten wood and a small amount of foraged feed. His survival was hailed as a miracle and he was given the name 'Zhu Gangqiang' ('Cast – Iron – Pig'). According to Buddhist scripture, 49 days is the amount of time that a soul remains on earth between death and transmigration. This pig's fortitude resonated with Zhang Huan, who drew broad parallels with his own narrative as both outsider and survivor, while the drive to persevere and retain hope, even under extreme pressure, recalls the spirit of Zhang in his early performance art.

Using incense ash from Buddhist temples as his medium, Zhang Huan created a series of paintings on linen honouring Zhu Gangqiang, along with a number of vanitas paintings featuring skulls. Both groups of work celebrate the fleeting, sometimes heroic, nature of existence and the quiet, inevitability of the life cycle.
Zhang Huan was born in 1965 in Anyang City, Henan Province, and lives and works in Shanghai, China. From 1998 to 2005, he lived in New York, where he gained international recognition. He has had solo exhibitions at the Asia Society, New York, Vancouver Art Gallery and the Norton Museum of Art, Florida and has featured in group exhibitions including the Whitney Biennial in 2002. In September 2009, Zhang Huan will direct his first opera, Semele (by George Frideric Handel), at La Monnaie, Brussels, 8, 10, 12, 18, 29, 22, 24, 27 & 29 September 2009, La Monnaie de Munt, La Monnaie, 070 23 39 39, www.lamonnaie.be | www.demunt.be.
A fully illustrated artist's book, including an interview with the artist by Liu Jingjing accompanied the exhibition.