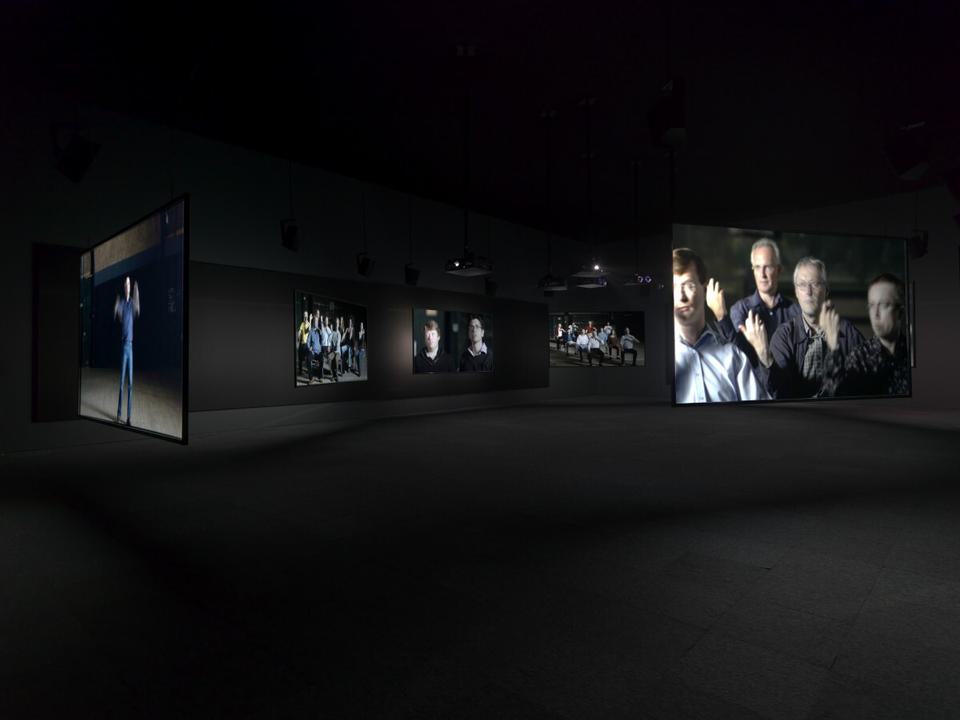 24 October – 29 November 2008
Dates
24 October – 29 November 2008
Location
25 – 26 Mason's Yard
London SW1Y 6BU

In this body of new work, which included three groups of photographs and a large-scale film installation, Sam Taylor-Wood continues to explore the themes of absence and mortality that gives her work such strength, pathos and resonance.
White Cube Mason's Yard

In the ground-floor gallery, Taylor-Wood presented a series of photographs based on Emily Brontë's Wuthering Heights. Titled 'Ghosts' and shot on the moors near Top Withens, Yorkshire, the pictures depict a beautiful and expressive landscape, and yet one that is also bleak, almost exhausted, as if the landscape itself expressed the novel's brutal take on the themes of desire, thwarted love and suffering. One picture depicts two leafless trees, one large and dominant, the other appearing to turn away meekly, in a relationship that seems to embody that between Catherine and Heathcliff. In another, a brisk wind pushes some yellow-grey grass along a ridge beneath a moody sky. Although the photographs are suffused with the chill of winter, the harsh beauty of the landscape gives the photographs a hint of vibrancy and resilience.
In the lower ground-floor gallery, Taylor-Wood presented 'Sigh', a large-scale, multi-screen installation made in collaboration with the BBC Concert Orchestra. In a dark, rundown studio, members of the orchestra sit in their everyday clothes. They start to play a piece of music, but without their instruments, sawing and blowing the empty spaces where their violins, cellos or flutes should be. Though the music is clear and audible, the absence of the instruments renders the sound oddly incorporeal. Taylor-Wood shot each section of the orchestra in different takes and these individual films are projected onto multiple screens within the gallery space, playing with the viewer's spatial perception of both the music and each section of the orchestra. At the front of the gallery, the conductor leads the denuded orchestra in a private, ghostly performance. Sigh features a newly commissioned score by the Academy Award-winning composer Anne Dudley.
No.1 The Piazza, Covent Garden
The exhibition continued at No.1 The Piazza, Covent Garden with two more bodies of new work. After Dark is a series of photographs of clowns in dilapidated, post-industrial settings. Each of the pictures features a clown or a pair of clowns waiting around, or doing very little; any hint of performance has a haunting, melancholy tone. In one, a clown teeters at the edge of a tube platform, as if he's about to step off into an oncoming train. In another, a clown climbs into an abandoned factory while light streams through the dust-charged air. The comic potential of these scenes is offset by an air of dereliction and concealment. This mood of absurdity carries through to a group of self-portraits called Escape Artist. Reminiscent of the artist's earlier Self Portrait Suspended series, these photographs show the artist suspended, impossibly, from brightly coloured helium balloons. Slumped and heavy, the artist's body contrasts with the vivid, inflated balloons that seem to raise her heavenward.
A fully illustrated catalogue with texts by Craig Burnett and Justine Picardie and published by White Cube/Steidl accompanied the exhibition.
Sam Taylor-Wood was born in London in 1967 and has had numerous group and solo exhibitions, including the Venice Biennale (1997) and The Turner Prize (1998). Solo exhibitions include Kunsthalle Zurich (1997), Louisiana Museum of Modern Art, Humlebaek (1997), Hirshhorn Museum and Sculpture Garden, Washington DC (1999), Museo Nacional Centro de Arte Reina Sofía, Madrid (2000), Hayward Gallery, London (2002), State Russian Museum, St Petersburg (2004), MCA, Moscow (2004), BALTIC, Gateshead (2006), MCA Sydney (2006), MoCA Cleveland (2008) and Contemporary Art Museum, Houston (2008).
The relationship between White Cube and Covent Garden London developed as the result of Covent Garden's longstanding support of the arts and its status as one of London's key cultural destinations. This initiative wass part of Covent Garden's diverse rolling programme of innovative events and collaborations.