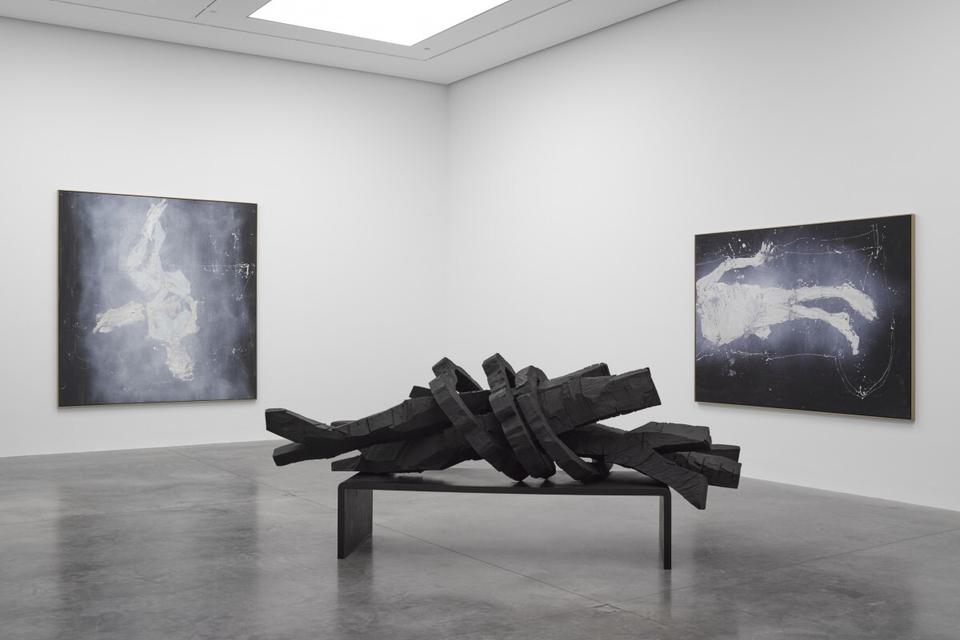 Georg Baselitz
Wir fahren aus (We're off)
27 April – 3 July 2016
Dates
27 April – 3 July 2016
Location
144 – 152 Bermondsey Street
London SE1 3TQ

White Cube Bermondsey presented a major exhibition of works by Georg Baselitz, including new large-scale paintings, sculpture and works on paper. The exhibition brought together two familiar strands within the artist's practice: portraiture and the process of 'remixing', whereby images are repeated and reinterpreted over time using different techniques and mediums.
For the new, monumental paintings installed across several of the galleries, Baselitz took inspiration from Otto Dix's candid portrait of his elderly parents sitting side by side on a worn-out sofa (The Artist's Parents, 1924). In these works, Baselitz revisits an early double-portrait of himself and his wife Elke, from 1975 entitled Bedroom, reinterpreting the image using recent polaroids of himself and Elke nude, sitting in a similar position as Dix's parents. Painted using a predominantly black and white palette, through portraiture Baselitz explores notions of time passing, physicality and the self, themes powerfully addressed in the earlier, celebrated 'Avignon' canvases exhibited at the 2015 Venice Biennale. Continuing to expand his painterly techniques, Baselitz disrupts an easy consumption or reading of his images by using both a characteristic inversion as well as an all-over sprayed 'haze', which blurs or diffuses compositional clarity. The paintings take on a spectral, transcendent quality, as if seen through a fog that only gradually lifts as we begin to discern the figures, making reception of them slower, and pushing them towards abstraction. This effect culminates in a near-black monochrome installed in South Gallery II.

The 9x9x9 gallery was devoted to a new, large-scale bronze sculpture entitled Zero Dom (2015). Roughly hewn in wood and then cast in bronze with Baselitz's trademark matt, black patina, the sculpture presents five almost comically elongated legs dressed in familiar high-heels, extending a recurrent motif that was used most recently in paintings and sculpture first exhibited at White Cube at Glyndebourne and White Cube Hong Kong.
In the North Gallery, an extensive series of dynamic new drawings again focus on portraiture. In these delicate, candid and colourful works, Baselitz obsessively depicts Elke in a single pose. Sitting on a chair, nude, facing the artist, she is drawn with deft, swiftly executed black lines and filled in with bold washes of colour. In a couple of these drawings, Baselitz returns to himself as subject, reclining on a bed and truncated at either neck or waist and then doubled or repeated four times across the paper, creating mirrored compositions that seem to emphasise the universal experience that is ageing and mortality.