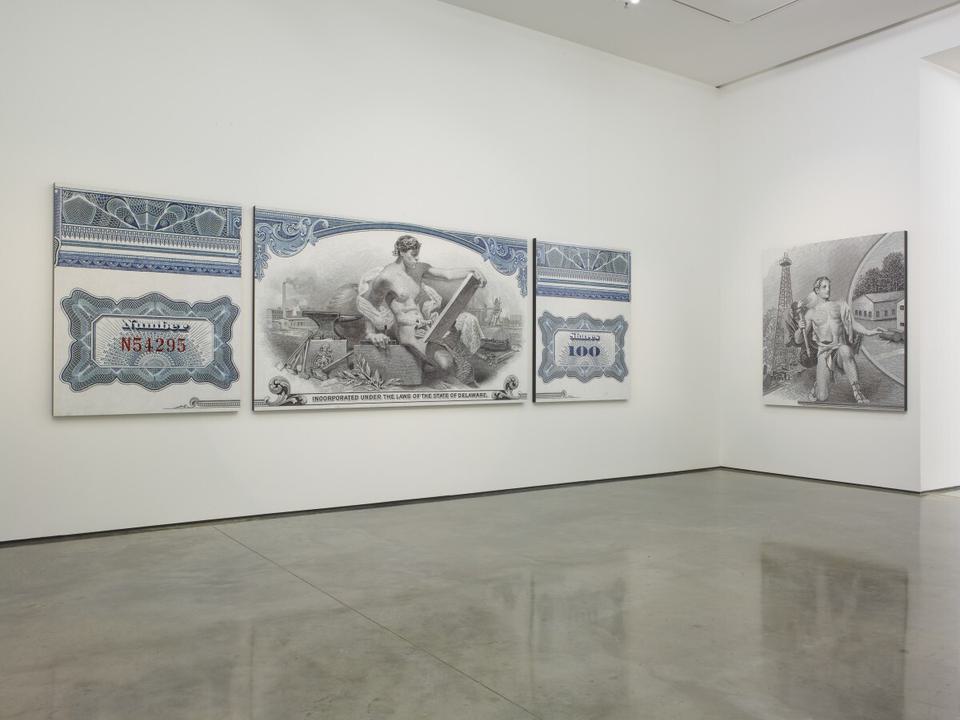 7 September – 11 November 2012
Dates
7 September – 11 November 2012
Location
144 – 152 Bermondsey Street
London SE1 3TQ

Originally trained as a filmmaker in Los Angeles, William E. Jones' artistic practice analyses the political content of archival material – such as found film footage or documentary photographs – to highlight the inherent relationship between images and power.
For this exhibition, Jones has been a scripophilist, appropriating nineteenth and twentieth century stock certificates that traditionally symbolise monetary value through the pictorialisation of idealised manhood and physical strength. Inspired by the recent crash of the Euro and the US recession, Jones examined numerous company share certificates that had illustrated headers, such as those of the Harlem and New York Railroad or the Inland Steel Company, Pittsburgh. These certificates depict allegorical figures such as an Adonis-like man wearing a crown of leaves or a heroic manual labourer wielding an axe or sledgehammer, which have been selected and montaged together from the catalogue of standard engravings that were held by printing companies. These incongruous figures, with their collaged anatomical parts, were designed to reflect an image of solid investment and represented what Jarett Kobek has described as, "the principle authority of an unknown, faceless entity". Jones has enlarged and printed these images to a human scale to further instil their heroic yet, ill-proportioned designs, each colour coded to represent their honouree value.

Alongside this installation of prints, Jones is presenting two recent films: Mission Mind Control (2012) and Maneuver (2011). Both films continue to question the control strategies implemented by authorities such as the Central Intelligence Agency (CIA). In Mission Mind Control, Jones uses a taped recording from a 1979 television programme on the CIA as well as the commercials in between its broadcast, digitally abstracting the imagery into a psychedelic animation which he then periodically re-inserts into the original footage. This flip-flop method hints at themes of brainwashing – not only by the media but also by the CIA who were covertly experimenting with hallucinogenic drugs at the time. Taken from a Soviet film called 'Heirs of Victory' (1975), Maneuver commemorates the final advancement of allied forces in World War II whereupon the Soviet army soldiers are filmed heroically diving into and, inversely, out of a wall of flames. Jones carefully re-choreographed the figures in this loop so that they mirror each other, immersing them from time to time into a moiré of coloured interference.

William E. Jones was born in Canton, Ohio in 1962. He currently lives and works in Los Angeles. Recent exhibitions include: The Whitney Biennial, New York (2008), Wexner Center for the Arts, Columbus, Ohio (2009) and 12th Istanbul Biennial, Turkey (2011). Solo presentations of his films have taken place at Tate Modern (2005), San Francisco Museum of Modern Art (2006), Andy Warhol Museum, Pittsburgh (2007) and Museum of Modern Art, New York (2010). William will be doing a Q&A on Saturday, September 8th, 2012 at 3pm to coincide with an Artists' Film Club screening of his work at the Institute of Contemporary Arts, London.