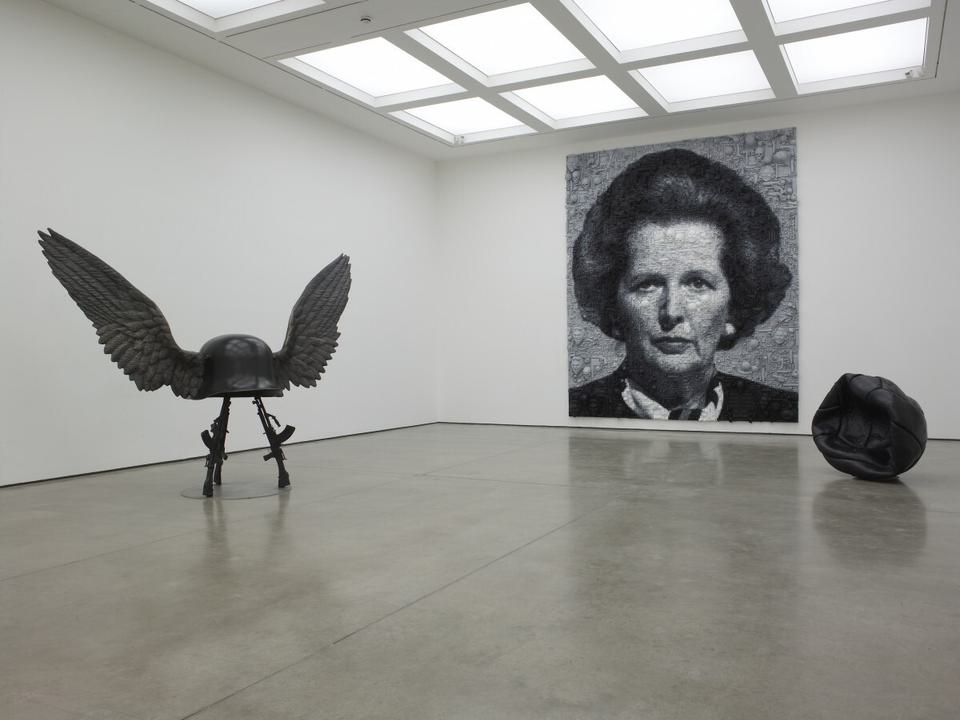 27 February – 28 March 2009
Dates
27 February – 28 March 2009
White Cube Hoxton Square presents 'White Riot', an exhibition of new work by the British artist Marcus Harvey.

Harvey is best known for his infamous portrait of Myra Hindley, which came to prominence in the 'Sensation' exhibition at the Royal Academy of Arts, London (1997). His new relief, Maggie, seeks to be no less powerful or provocative, acting as the centrepiece of 'White Riot', a title taken from the 1977 debut single by punk band The Clash – released two years before Margaret Thatcher became the first female British Prime Minister. Harvey's large-scale black and white portrait is based on a famous photograph of Thatcher taken at the launch of the 1987 Tory Party election manifesto. It is composed of over 15,000 plaster-cast objects ranging from vegetables to sex toys; these individual elements refer both directly and indirectly to aspects of the former Prime Minister's perceived media profile, evident femininity and background as a grocer's daughter from Grantham. Maggie can therefore be read both as the portrait of an individual and as a map of British history, identity and change, both prior to and during the height of Thatcher's period in power. Harvey further remarks that 'Thatcher's image has a magnetic, dark, complicated sexual allure that's hard for me to define – it's not exactly feminine and it does come with a pungent whiff of testosterone'.
Alongside Maggie, Harvey presented three monumental bronze sculptures. Victoria, a deflated 1960's football, suggests bygone World Cup glory. Nike, a winged WWII helmet resting on rifle barrels, forms a classical parody of military heroism. The Lord High Admiral is modelled on the statue of Sir Winston Churchill situated in London's Parliament Square that was vandalised by the May Day demonstrators in 2000, who added a slice of grass turf, providing him with a green Mohican. Harvey says of the vandalised statue: 'It has become a new icon, not a cartoon. I grew up as part of the punk generation, and rather than serving to satirise Churchill, the Mohican gives ownership to that generation and underlines his own reputation as someone who stood aside from the establishment.'

Harvey's commentary on the construction of British social and cultural identity is further explored in the panoramic painting titled Albus (the Latin for 'white'). It is also suggested that this was the name given to the British Isles by the Romans upon seeing the white cliffs of Dover. Harvey depicts the barrier-like cliffs across dark, choppy waters, intensely painted with the hand in a heavy white impasto evoking an underlying restless energy and anarchism. Based on a photograph taken by the artist, the painting presents, in his own words 'an objectified view of one of the enduring icons of British identity - Old Blighty.' Here, the unifying theme of the entire exhibition is made clear, namely an exploration and celebration of both British and English cultural identity.
Marcus Harvey was born in Leeds in 1963 and he lives and works in London. Since his first exhibition at White Cube, Duke Street (1994) he has had solo exhibitions at Galleria Marabini, Milan (2008), Galleria Marabini Bologna, (2005 and 2007), Galleria Mimmo Scognamiglio, Naples (2005) and Mary Boone Gallery, New York (2002). Group Exhibitions include 'You Dig the Tunnel, I'll Hide the Soil', White Cube Hoxton Square (2008) and 'In the darkest hour there may be light: Works from Damien Hirst's murderme collection', Serpentine Gallery, London (2006). In 2004, Harvey co-founded and continues to edit the magazine 'Turps Banana' which produces two issues a year. It is a publication devoted to painting and is written by painters. (www.turpsbanana.com).