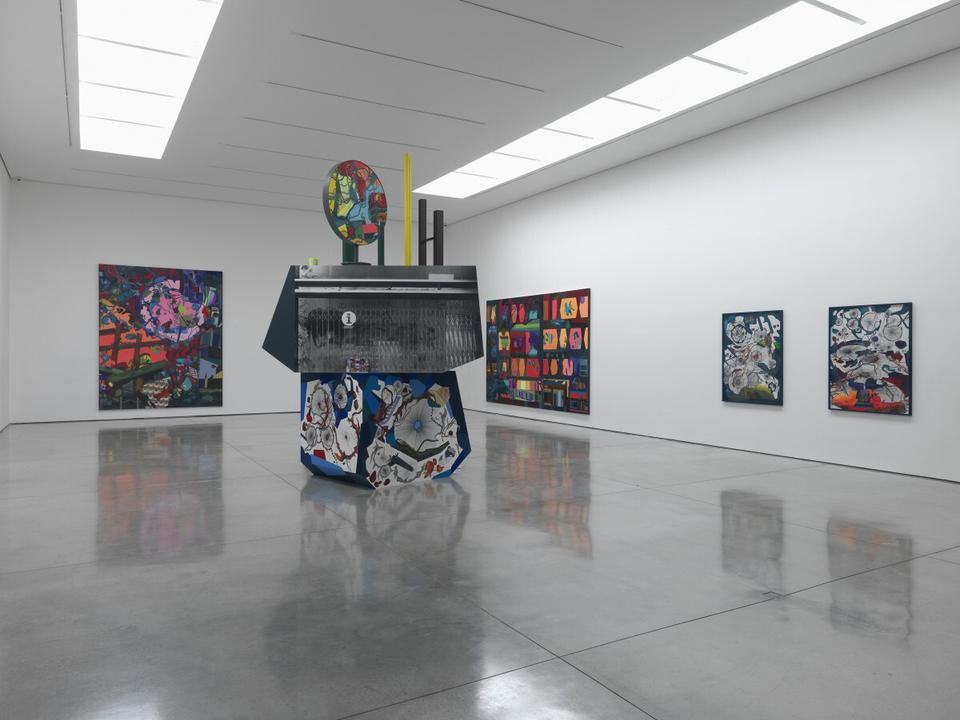 10 February – 1 April 2010
Dates
10 February – 1 April 2010
Location
25 – 26 Mason's Yard
London SW1Y 6BU

White Cube Mason's Yard is pleased to announce an exhibition of new work by Franz Ackermann, his third with the gallery. Ackermann transformed the ground-floor gallery with an installation entitled 'Wait', while the lower-level gallery featured a group of interconnected but standalone paintings that continue to explore his themes of borders, travel and globalisation.
The anchoring presence in the installation 'Wait' is a large painting titled Citizen that depicts the goggled face of a military pilot. This character, immense and disembodied, seems to watch over the ground-floor gallery, in which the viewer is surrounded by a vertiginous environment. Ackermann fills the space with a variety of media: a wall-mounted painting that spins (with the seven deadly sins written in German on its frame), a video, a wall painting and chunks of untreated logs are all possible objects and surfaces that compete for the viewer's attention. Framing the room, and facing the pilot, a painting that measures 5 metres across – its surface composed of architectural fragments, flashes of riotous colour and allusions to Biblical narrative – creates a border to the gallery and the installation. While 'Wait' offers a space where the viewer can reflect on the instability of signs and symbols in everyday life, the installation also generates a mood of surveillance, as if this visual abundance were simultaneously festive and sinister.

In the centre of the lower-level gallery, Ackermann installed a large-scale three-dimensional work composed of bars, found material and two cube-like structures, with every side of these painted or plastered, like a billboard, with large-scale photographs. Atop this structure, the artist has placed a small tondo that rotates like a logo or sign. This intervention into the gallery creates an unstable focal point, and this sense of uncontainable energy is picked up in the paintings. These large-scale works play with the viewer's sense of space, with multi-layered surfaces on which figurative elements and expressive abstraction compete for the viewer's attention. Living 1 and Living 2, for instance, have façade-like surfaces composed of geometric blocks of interlocking colour patterns overlaid by organic forms, with glimpses of beaches or street scenes visible amid the colour fields and sinewy lines. The divisions and borders in Ackermann's work are both formal and thematic, alluding to everything from the vast interiors of Tintoretto's paintings to the generic architecture of global mega-cities and the jagged abstractions of the American painter Stuart Davis. This serves to create a space in which the history of art and our urban environment seem inextricably intertwined.
Franz Ackermann was born in 1963 in Neumarkt St Veit, Germany, and lives and works in Berlin. He has exhibited extensively internationally, including solo exhibitions at Kunsthalle Bonn (2009), Kunsthalle St Gallen, Switzerland (2008), Irish Museum of Modern Art, Dublin (2005), Kunsthalle Basel (2002), Stedelijk Museum, Amsterdam (2002), Castello di Rivoli, Turin (2000) and Portikus Frankfurt am Main (1997).