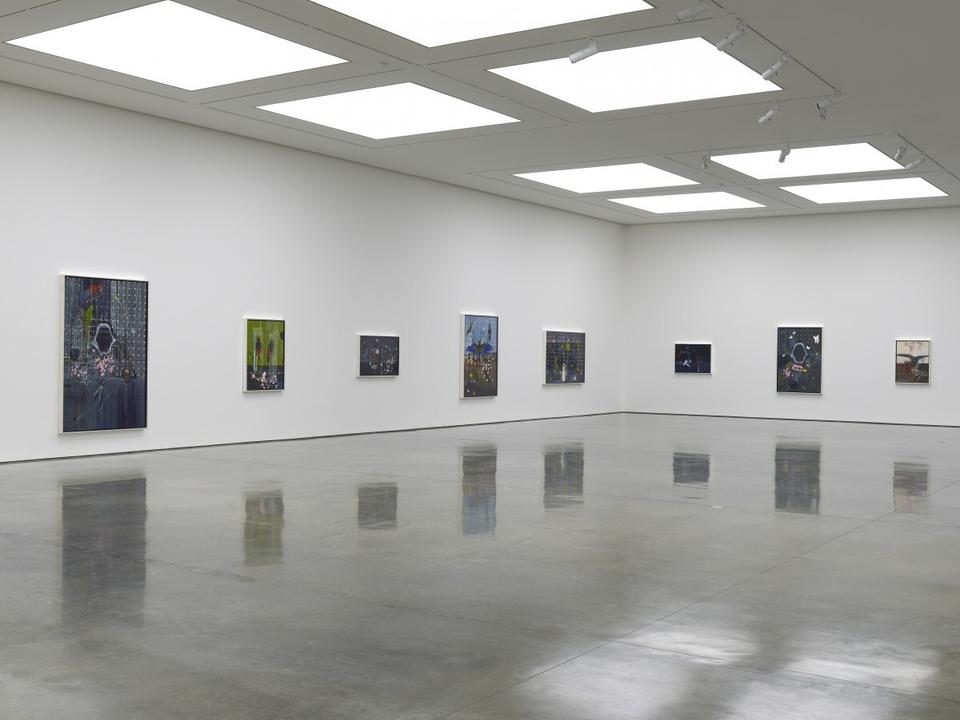 Dates
23 May – 8 July 2012
Location
144 – 152 Bermondsey Street
London SE1 3TQ

For his first exhibition at White Cube Bermondsey, Damien Hirst presented a series of dynamic new paintings that he started working on in the summer of 2010. The exhibition coincided with the first UK retrospective of Hirst's work at Tate Modern.

Painting has always been an important part of Hirst's oeuvre, but unlike the spot paintings and photorealist series which were made using a collaborative studio process, this body of work is altogether more personal: painted from life, by Hirst in his Devon studio.
The paintings, often intimate in size, could be seen as traditional still life, depicting an array of carefully arranged elements, both natural and inanimate, sometimes momento mori, alongside objects and formal devices that have made their appearance in Hirst's sculptures and installations before. Exquisitely coloured birds on display stands or in simple glass boxes, butterflies, fruit and cherry blossom at the peak of its beauty, intimate the pure joy of spring's transition into summer but also the temporal significance of this natural phenomenon. Next to these bucolic objects, more sinister symbols take their place: oversized scissors, a shark's gaping jawbone, bell jars and even several lonely single or conjoined foetuses floating in jars, elements that are displaced from the laboratory table rather than the domestic one. Some objects are painted with clarity and impasto; others appear hazy and faint, as if they are somehow more insubstantial, part of a sudden apparition or dream-like vision.

In Blossom with Water Glass or Two Parrots, the support structure of the table has been removed so that the objects simply float, isolated, against a solid azure blue background, implying a dizzying sense of space and a flattening out or stretching of depth and perspective. In some works the lines of the original drawings have been left, or the image has been overlaid with regular white spots as if a rudimentary grid has been used to create some distance from the sheer beauty of the arrangement in an attempt to retain a minimal sense of order. In other works, such as Sorrow or A Magpie, the solid background has been striated as if seen through a curtain of rain.
With their bold handling of paint, accents of bright colour and sharply defined highlights, these works invoke a sense of the moment, a creative urgency. Different textures, depths of colour, tactility and paint application work to create beguiling images that collage various different emotive qualities, setting them apart from the conceptualism of Hirst's earlier work. As Manuela Mena has written in her catalogue essay: "Hirst creates his system of inextricably woven and flexible order... to create space: he is not tied to perspective, contrasts of light and shadow, planes of flat colours. He has addressed the subject of still-life with a code of expression that is entirely his own."
Damien Hirst was born in 1965 in Bristol, UK. He lives and works in London and Devon. He has participated in numerous group exhibitions including 'Our Magic Hour', Yokohama Triennale, 'The Luminous Interval', Guggenheim Museum, Bilbao, 'Modern British Sculpture', Royal Academy of Arts, London (all 2011), 'Pop Life', National Gallery of Canada, Ottawa, Hamburger Kunsthalle (both 2010) and Tate Modern, London (2009), 'Barock', MADRE, Naples (2009), 'Color Chart', Museum of Modern Art, New York, Broad Contemporary Art Museum and LACMA, Los Angeles (all 2008), 'Play Back', Musée de la Ville de Paris (2007), 'Re-Object', Kunsthaus Bregenz (2007), 'Into Me / Out of Me', P.S.1 Contemporary Art Center, New York (2006), 'In-A-Gadda-Da-Vida', Tate Britain (2004), the 50th Venice Biennale (2003) and 'Century City', Tate Modern, London (2001). Solo exhibitions include 'Cornucopia', The Oceanographic Museum of Monaco (2010), 'No Love Lost', The Wallace Collection, London (2009), 'Requiem', Pinchuk Art Centre, Kiev (2009), 'For the Love of God', Rijksmuseum, Amsterdam (2008), Astrup Fearnley Museet fur Moderne Kunst, Oslo (2005), Museum of Fine Arts, Boston (2005) and 'The Agony and the Ecstasy', Archaeological Museum, Naples (2004). An exhibition of the artist's private collection, 'Murderme', was held at Serpentine Gallery, London in 2006. He received the DAAD fellowship in Berlin in 1994 and the Turner Prize in 1995.
Tate Modern is currently exhibiting the most comprehensive survey of the artist's work to date: 'Damien Hirst', Tate Modern, London, until 9 September 2012.
A fully illustrated catalogue with a text by Manuela Mena, Senior Curator, Prado Museum and Damien Hirst in conversation with curator and writer Francesco Bonami, will be published to accompany the exhibition.