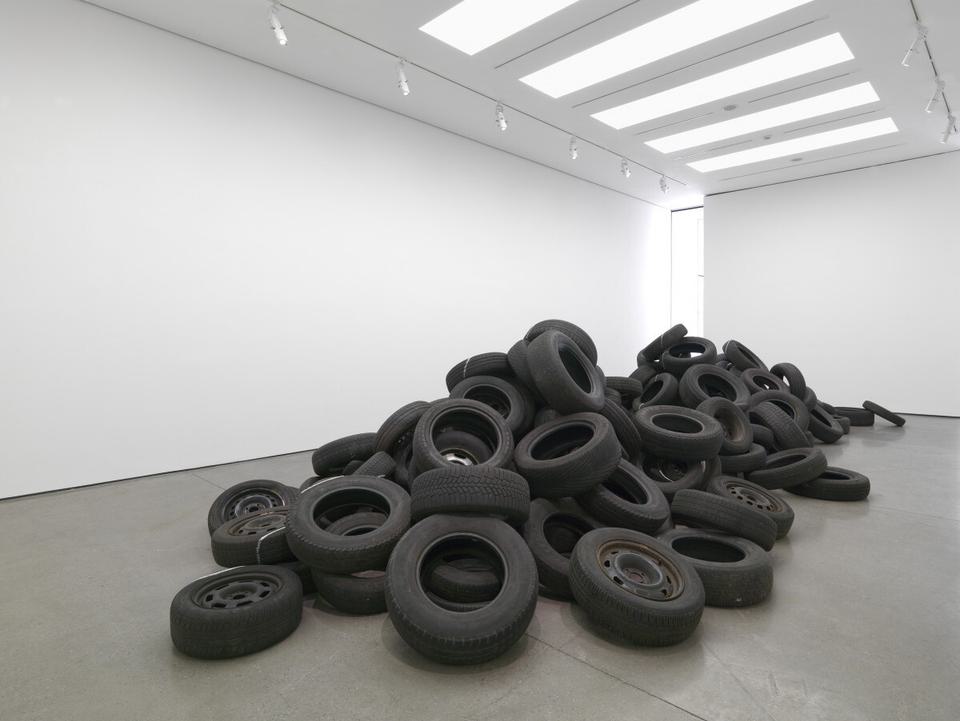 18 July – 8 September 2012
Dates
18 July – 8 September 2012
Location
25 – 26 Mason's Yard
London SW1Y 6BU

Furthering his exploration of man-made and organic systems and the transformative qualities of materials, this body of work employs salt as a narrative and metaphorical device to examine notions of human intervention, exchange and play and the ways in which these are dictated by physical forces.
In the ground floor gallery, Ortega presented Congo River, an installation consisting of car tyres placed irregularly in the centre of the exhibition space. Ortega has drawn a delicate line in salt along their surface to dissect the gallery. The drawing appears like a topographical mark taken from a map but could equally reference a line of cocaine. Ortega is interested in salt for its historical importance both as a method of preservation – particularly of meat – and as a powerful symbol of economic exchange, of which cocaine could be seen as the modern-day equivalent. The title 'Congo River' relates to Joseph Conrad's novel, Heart of Darkness, as well as to Francis Ford Coppola's epic film Apocalypse Now, both of which use a journey along a river as a mythical and symbolic setting to examine notions of colonial repatriation, fear of the unknown and the 'other'.

Ortega continued this reference with his sculpture in the lower ground floor gallery; a nine-metre long submarine entitled Hollow/stuffed, market law. Here, the title refers to T.S. Eliot's famous, five-part poem The Hollow Men (1925) which in turn is a reference to the "hollow sham" that is Mr Kurtz, the main character from Conrad's novel. The sculpture, based on a plastic model of a World War II German Type XXI submarine, is made from industrial food sacks stuffed with salt and suspended from the ceiling, like a mythical boat. A small hole in the lowest part of the sculpture allows the salt to escape and slowly pile up on the floor during the course of this exhibition. For Ortega, the sculpture is a reference to the alternative, more recent use of submarines as a way to illicitly traffic cocaine along the coasts of South America into Mexico, and a key link in the chain between producer and consumer. At first glance, the submarine appears overbearing and aggressive but on closer inspection, this immobile and deflated vehicle is rendered useless by its homemade appearance and inability to protect its contents from the effects of gravity. Whether through an act of sabotage or failed construction, the leaking structure points to an abandoned project similar to the tyres upstairs. Indeed, Ortega has likened the structure, with its soft underbelly and rigid back, to a discarded animal in death and also to a kind of political caricature since it is a humorous and useless object which belies the weight of its political and economic subject.
In lower ground floor lift lobby, Ortega has extended the salt metaphor to explore its function in the origins of photography with the floor-based installation Preserve Image. This installation consists of a bicycle discarded on the floor, underneath which is a pool of salt. It appears as if the salt has been poured from above, so that directly below the metal frame of the bike is its own negative image – or shadow – where the salt has been unable to reach. Beside this work, which creates its own camera-less image, Ortega has placed another sculpture entitled Petrified consisting of a series of concrete casts of cameras taken from the artist's own collection, a nod to the ability of the camera to 'freeze' time and space.