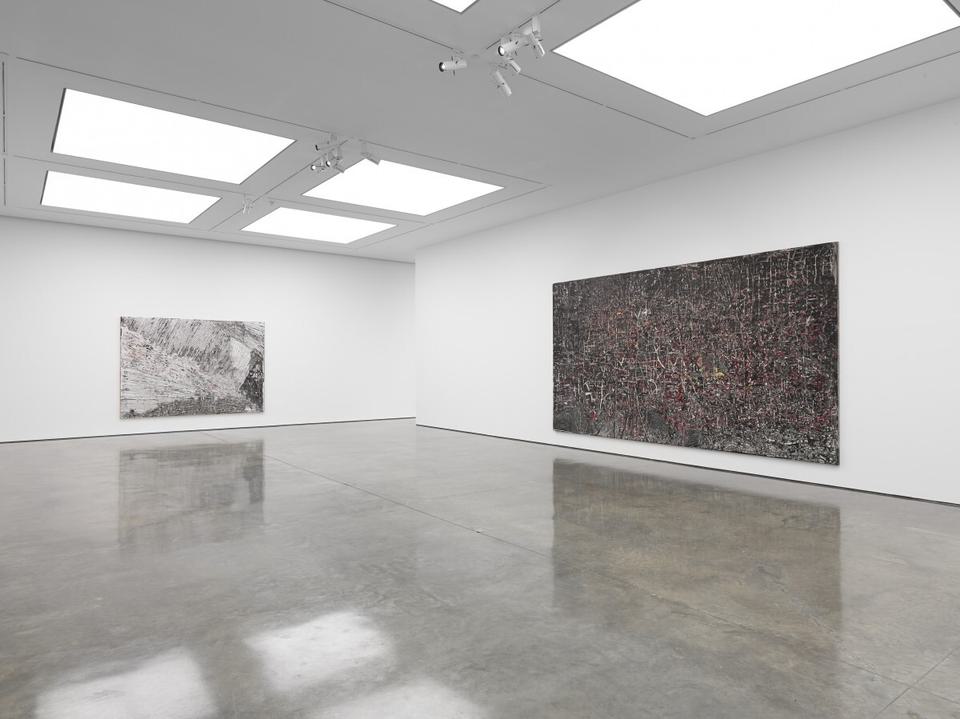 Mark Bradford
Through Darkest America by Truck and Tank
16 October 2013 – 12 January 2014
Dates
16 October 2013 – 12 January 2014
Location
144 – 152 Bermondsey Street
London SE1 3TQ

White Cube Bermondsey presented 'Through Darkest America by Truck and Tank', a major exhibition of work by Mark Bradford and his second with the gallery. Using materials found in the urban environment, such as billboard sheets, posters and news print, Bradford's expansive, multi-layered collaged paintings explore the dynamics of social abstraction, where image is fused with context.
The title of the exhibition is drawn from a chapter in the memoir of the former American president Dwight D Eisenhower in which he relates his experience as a member of the Transcontinental Motor Convoy of 1919. This encounter, coupled with his observations in Germany during the Second World War, led to the adoption of a nationwide highway system in the US in the 1950s. Applying the map of the interstate roads as a point of origin for a number of paintings in the exhibition, Bradford deftly combined abstract compositions with topographical points of reference that shift in and out of focus. The creation of the freeways, borne out of military exigency to deploy troops across the country, also arbitrarily ripped through communities, including Bradford's own in south central Los Angeles. Similarly, ruptures, fractures, incisions and segregations echo throughout the work.

In paintings such as The Last Telegraph (2013), passages of dense and dark colour are cut and sanded to reveal intricate cartographic arteries momentarily suggesting the heat and energy of lava flows. The surface of Riding the Cut Vein (2013) is interrupted by an incandescent diagonal fissure, analogous to a natural phenomenon convulsing through a synthetic conurbation. Palimpsests of shimmering networks and tributaries ripple throughout Shoot the Coin (2013), while in Nodding Gunpowder (2013), monochromatic striations are woven in patterns surging back and forth.
Bradford's masterful manipulation of materials and techniques, which confound and mesmerise in equal measure, belies the fact that the paintings are comprised entirely of paper rather than paint. Gestural marks glide across compositions such as Journal Entry (2013)—based on episodes from Eisenhower's diary - suggesting intuitive expression rather than controlled labour, while in works such as 'Biting the Book' décollaged sections appear swept aside in spontaneous action.
In 9x9x9, Bradford created a site-specific installation Receive Calls from Your Cell Phone in Jail (2013). Based on a merchant poster found in his neighbourhood, this work focuses on an aspect of the economic and racial demographics of his locale, where social crisis is transformed into commercial opportunity and exploitation. Comprising one hundred and fifty canvases, installed in horizontal and vertical rows from floor to ceiling, each panel bears trace elements of the primary message. Positioning the viewer at the centre of the piece, a panoptic survey of the individual panels conveys an impression of solitary cells within a maximum security prison.
'Through Darkest America by Truck and Tank' is accompanied by a fully illustrated publication, featuring a conversation between the artist and Susan May, and a text by Christopher Bedford.